Pandemic or not, young people remain key to elections — and democracy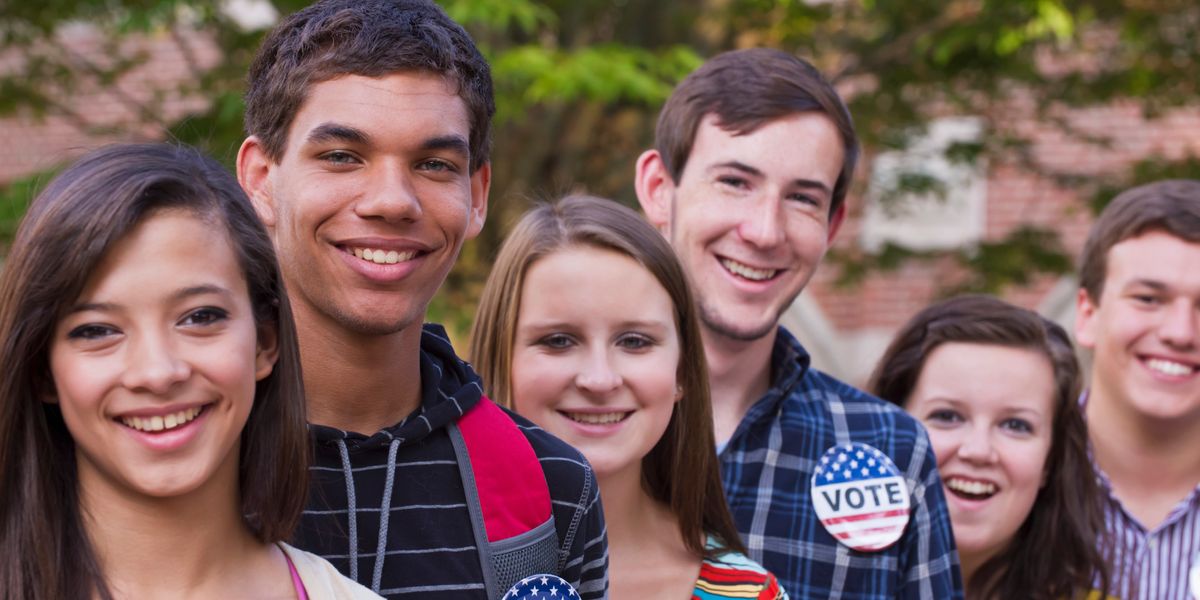 Ariel Skelley/Getty Images
Kiesa is director of impact for CIRCLE, which conducts research on the civic engagement of young voters at Tufts University.
---
The 2020 election will almost certainly be unlike any other in modern history, as Americans will vote this November in the shadow of Covid-19.
Many election administrators, democracy advocates and media are understandably focused on the unique challenges posed by holding an election during a pandemic. But we should not forget one of the perennial opportunities and challenges for a representative and vibrant democracy: ensuring all young people can participate equitably in elections.
At CIRCLE, formally the Tufts Center for Information & Research on Civic Learning and Engagement at the Tisch College of Civic Life, we have been studying youth political participation for nearly two decades. Young people have historically turned out at lower rates than older adults, but recent elections have been encouraging. In 2018, we estimated 28 percent of voters younger than 30 cast a ballot — their highest turnout ever in a midterm election and more than double the rate of four years before.
That boost was fueled by the tireless work of advocates, organizers and young people themselves, many of whom reached out to engage their peers. The restrictions forced by the coronavirus, necessary as they may be to slow the spread of the deadly disease, threaten to prevent a repeat of such crucial efforts this year.
Sign up for The Fulcrum newsletter
Campuses and schools closed this spring, and maybe again this fall, eliminate important places for registering young voters and giving them opportunities for political engagement. Such newer voters often need information and help navigating the elections process — and social distancing makes such outreach more difficult. And the process itself may be changing, with many states altering their usual systems to expand voting by mail.
These challenges can be overcome, but only if stakeholders make concerted efforts to consider young adults' needs. We should all be invested in assuring every one of them feels prepared and motivated to vote, especially those from historically marginalized communities.
It matters for the health of our democracy: There are more than 47 million potential voters younger than 30, and their voices are vital to the conversation about issues that will affect them for the rest of their lives.
And it matters for equity: There are differences in youth turnout based on educational attainment, race and ethnicity — and other factors that first reflect but then perpetuate inequality and marginalization from civic life.
Campaigns and candidates have another reason to care: Young people can decide elections.
We recently issued this year's version of our Youth Electoral Significance Index. Relying on more than a dozen measures of demographics, recent voting patterns and electoral competitiveness, it ranks states and districts where young voters have the biggest potential to decide House and Senate elections as well as the presidency.
And while it does not predict youth turnout or who will get elected, there is evidence the young cast decisive votes in the most competitive races. Two years ago, for example, the election produced a party switch in 30 of the 50 House districts where we saw the youth vote as most influential.
Here are three of the most important takeaways from our YESI report for 2020:
Picking the president. The 2016 election was decided in Wisconsin, Pennsylvania, Florida and Michigan. Donald Trump won them all by less than 2 percentage points, while young people cast many times more votes than his margin of victory. Those states are central to the outcome again this year — and place first, second, fourth and seventh in our youth vote presidential power ranking. Put simply: Young people are positioned to decide whether Trump or Joe Biden is elected.
Impact everywhere. Nineteen states are represented across our three different top 10 rankings — for the youth vote's influence on the presidential, Senate and House outcomes. They include red states and blue states from every corner of the country, from Colorado to New Hampshire and Minnesota to Alabama.
Youth of color. People of color make up more than half the youth electorate in Arizona (No. 4 in our Senate ranking), Florida (No. 4 on the presidential list) and Georgia (No. 8 for Senate). They represent almost 300,000 potential voters in Alabama (No. 10 Senate). Native American youth in Montana (No. 5 Senate) could impact what looks to be a close race there, as could the 387,000 young black voters and almost 150,000 young Latinos in North Carolina (No. 2 Senate and No. 3 presidential), and the 225,000 young black voters in Michigan (No. 7 for both president and Senate).
YESI is a powerful tool for all stakeholders seeking to increase youth electoral engagement. The young care deeply about having an impact, and evidence they can sway elections can be a significant motivator in getting them to register and then vote.
Parties and candidates can see the states where investing in youth outreach can yield the most important results. Local organizations and advocates can point to their state rankings as reason for resources. University leaders can see the virtue of helping their students vote, whether they're on or off campus. Journalists can be reminded that the youth vote is a big story.
The rankings are also a call to action for advocates and politicians who don't see their states in the rankings.
Pandemic or not, close election or not, youth matter a great deal to our democracy. In every state, they are an engine driving campaigns by volunteering, organizing, registering peers and making their voices heard by the candidates. Even if they won't cast decisive votes in federal elections, they can influence state and local races that often turn on issues that matter to them.
Young people need and deserve support to step into these opportunities; they are important for their own civic development and contribute to a culture of electoral participation that stands to strengthen their electoral impact — and the country's future — for decades.
The time to start reaching out to youth about the election is now. The pandemic makes these efforts more challenging, but no less important.