The next generation can save democracy globally — but cannot go it alone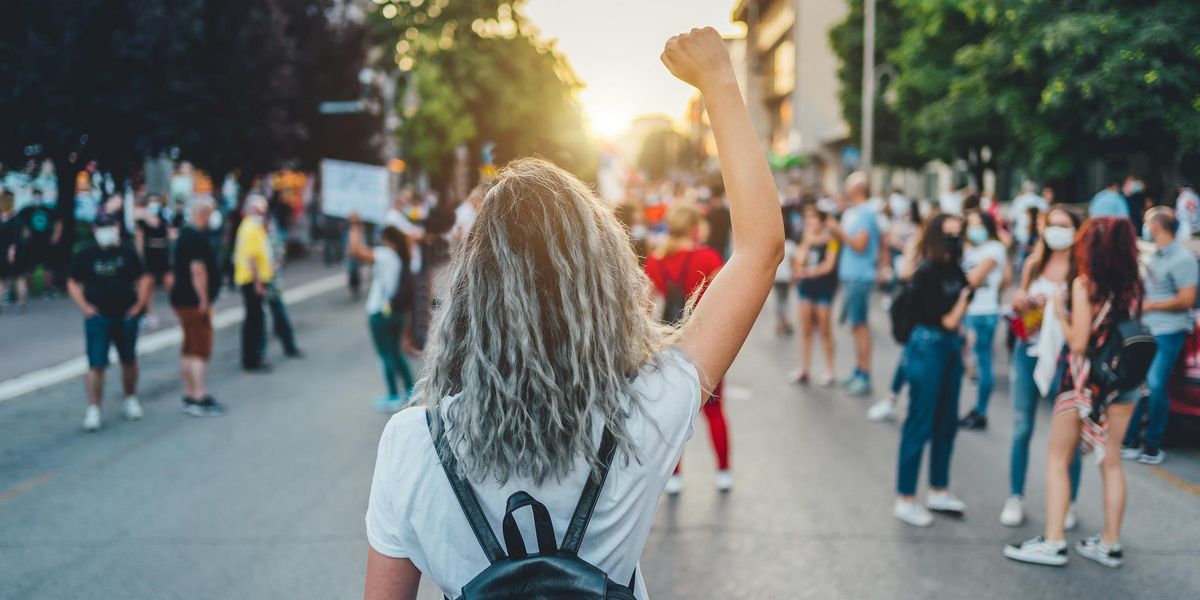 LordHenriVoton/Getty Images
Meadows and Press are recent college graduates and junior fellows at the Carnegie Endowment for International Peace, a nonpartisan foreign policy think tank.
---
The future of global democracy is startlingly uncertain.
Nearly 70 percent of countries exhibited signs of democratic decline last year, The Economist Intelligence Unit has concluded, while Freedom House's newest annual "Freedom in the World" report finds a decline in global freedom for a 15th consecutive year. And events of the past few months — from the attempted insurrection in the United States to a military coup in Myanmar — underscore the universality of democracy's present struggle.
As consolidated and fledgling democracies alike flounder, concern over the future of democracy has become a global topic of conversation, with some analysts and political leaders looking to younger generations for solutions to democracy's ills. But young peoples' mixed views on democracy, combined with the grim realities of any post-pandemic economic recovery, call into question optimistic narratives about a new generation's capacity for democratic renovation.
Recent data on youth involvement in politics present a complicated picture. Last year's presidential election, for example, saw record-breaking youth turnout: More than half of eligible Americans younger than 30 cast a ballot — an increase of 10 percentage points from 2016 and the highest rate of youth participation in nearly 50 years. In the 2019 European elections, record turnout was driven by a surge in participation by young people, with voters younger than 25 registering a 14-point turnout increase from 2014. South Korea saw its best turnout since 1992 in the National Assembly elections, bolstered by enthusiasm from young voters.
Sign up for The Fulcrum newsletter
Beyond the ballot box, youth have also taken to the streets to make their voices heard, fueling the most significant protest wave in the last half-century. Young people led protests against long-standing economic inequality in Chile, against police brutality in Nigeria, against corruption in Lebanon and against endemic youth unemployment in Tunisia.
Youth political participation in many democracies is indeed on the rise, and cross-national surveys highlight high levels of optimism among young adults about their capacity to achieve positive social change. But that doesn't mean these people are inherently pro-democracy. In fact, many are doubting the ability of their democracies to deliver.
Today's young people are more dissatisfied with their democracies' performance than older people were when they were young. In Western Europe and Latin America, for example, a recent Cambridge University study found that, that while Baby Boomers started off relatively satisfied with democratic performance and became even more so, millennials' levels of satisfaction started out lower and have worsened.
Two additional factors bode ill for the notion that young adult political participation could be democracy's saving grace.
First, in the wake of the global pandemic, the economic outlook for millennials and their Generation Z counterparts remains dismal.
Youth unemployment rates are high and on the rise across the world, and the effects of the Covid-related recession are likely to be felt for at least the next decade. Furthermore, economists project that a bifurcated — or K-shaped — post-Covid recovery may be the most realistic expectation: Middle-income, white-collar workers may fare relatively well while younger people, who are more likely to have less secure jobs in industries such as tourism and hospitality, may be left behind.
Second, many young people hold troubling views about the necessity of "strong leaders" — either on the left or the right — to bring about political change.
Far-right political organizations such as the Jobbik Party in Hungary, the AfD in Germany and Greece's Golden Dawn have indeed benefited from surprising levels of youth support. What's more, the Cambridge report finds that several countries — including Brazil, Bolivia and Hungary, which have all elected illiberal populist leaders — have seen short-term increases in youth satisfaction with their governments.
Youth disillusionment with the mainstream democratic order is contributing to a search for alternatives, illiberal or not. If democracy further fails to deliver, this pro-populist strain could grow over time.
It's difficult to overstate the significance of this forecast: In consolidated democracies such as the United States and Great Britain, where democratic dissatisfaction is strongly correlated with high levels of economic inequality, an unequal pace of recovery may foment disillusionment. Young people who are already disenchanted with democracy may grow more dissatisfied or gravitate towards more extreme candidates.
Policymakers must not overlook these subtleties when crafting sustainable solutions to democratic erosion. Removing barriers to youth political participation, from restrictive registration policies to candidate age minimums, could help to reduce feelings of political alienation driving youth populist support. But there's also no guarantee that younger candidates will necessarily be good for democracy.
As such, policies focused on facilitating youth political inclusion must be supplemented with structural reforms meant to both improve quality of governance and counter illiberal narratives.
This will be no easy feat.
For governments, improving the quality of governance and delivery of public services may be rendered nearly impossible due to the severe political polarization that continues to plague democracies worldwide. But while solving the problems of government service delivery is a common refrain, less often discussed is how governments must simultaneously manage constituent expectations, which influence perceived government performance and satisfaction. Exercises in deliberative and community-based governance, like participatory budgeting, could help to build trust among young people, even in challenging governing contexts.
Finally, as antidemocratic forces become more adept at eroding truth for political gain, civil society actors across technology and education sectors must also invest in building digital literacy skills and countering misinformation. While older people may be more likely to share misinformation, studies show that adolescents also have a tough time distinguishing between fake news and trustworthy information online.
Investing in youth-focused media and information literacy initiatives could both improve youth digital literacy and give young people the tools they need to help their parents and grandparents learn the same best practices.
Galvanizing a new generation of democratic defenders is vital for democratic sustainability. But democracies cannot rest on their laurels. They must confront the democratic recession by actively working with and for their youngest constituents, or risk losing a generation's support for democracy itself.