Young people found more ways to engage in politics in 2020
https://twitter.com/davidmeyers?lang=en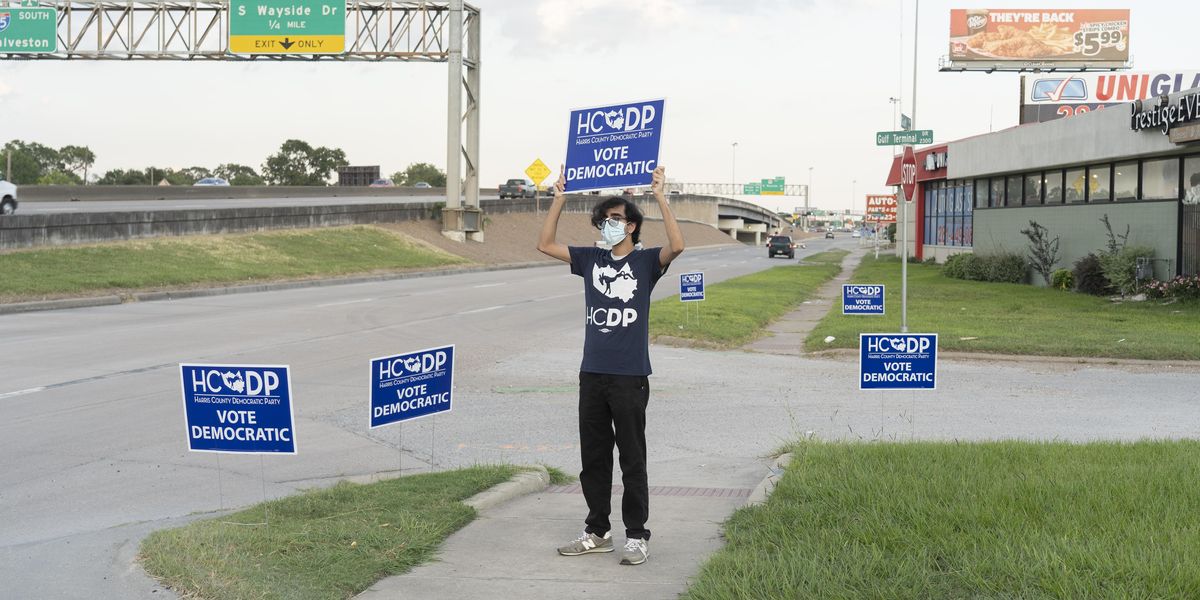 Go Nakamura/Getty Images
Much has been made of the increase in voter participation among young people in 2020. But the act of casting a ballot represents just one method of civic engagement, and young people significantly increased their participation in other political activities last year.
New data released Tuesday by Tufts University's Center for Information & Research on Civic Learning and Engagement found that nearly three times as many people ages 18 to 24 said in late 2020 that they have donated to a political campaign or registered others to vote, as compared to 2018. And the percent of young people who volunteered for a political campaign more than doubled in the same time frame.
---
CIRCLE'S research team provided The Fulcrum with data comparing six forms of civic engagement for 18-24-year olds. The data is based on post-election polls, and the questions did not specify specific time frames for the engagements, meaning respondents could consider pre-2020 participation.
In addition to the big jumps in volunteering for campaigns, donating to campaigns and registering voters, the youth cohort showed modest increases in their efforts to convince others to vote and discussing political issues with friends.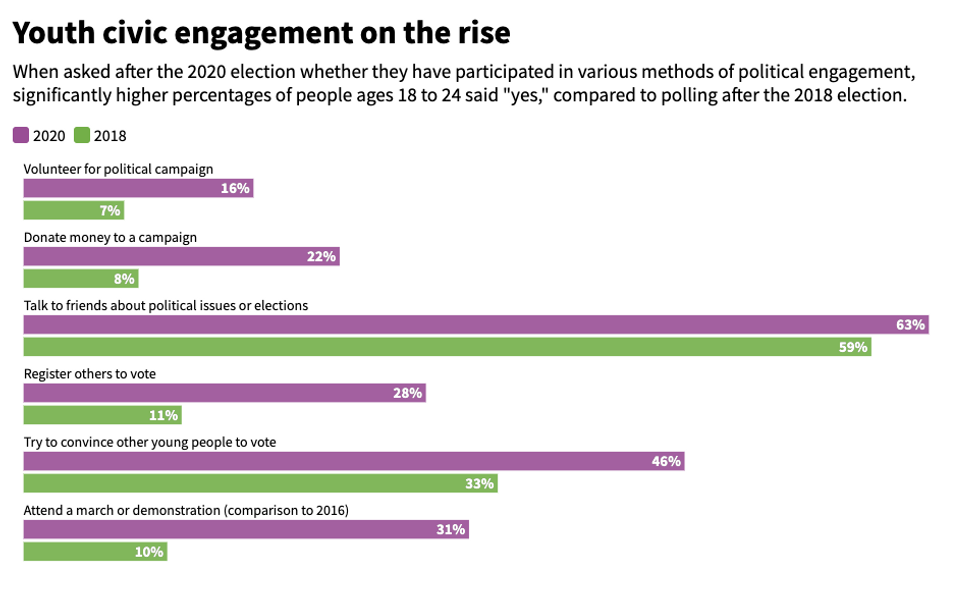 Source: CIRCLE at Tufts University
One additional engagement, attending a march or demonstration, was compared to data from 2016. Four years ago, 10 percent of young people said they did so. The rate skyrocketed to 31 percent in 2020 — not surprising in a year of protests over racial injustice.

Sign up for The Fulcrum newsletter
"The 2020 election cycle further cemented the younger generation's capacity to organize and effect change, often based on their shared commitment to racial and environmental justice," said CIRCLE Director Kei Kawashima-Ginsberg.
The most recent data suggests that while young people on both ends of the political spectrum are inclined to find some way to engage in politics, Democrats are generally more positive about the role of their age group. Among people ages 18 to 29, nearly 90 percent of those who voted for Joe Biden said their generation should participate in decision making, has a responsibility to do so or has the power to effect change. Among those who voted for Donald Trump, those percentages were in the mid-70s.
"Now that the elections are behind us, young people are poised to seize their power to make change on issues they care about and to strengthen our democracy. They know that their continued engagement is needed now more than ever," said Alan Solomont, dean of Tisch College, which houses the CIRCLE program at Tufts.
The 2020 survey was conducted by Gallup for CIRCLE. In 2016 and 2018, the program used the polling firm GfK.