Bipartisan accord in the Senate for more election cash, but how much?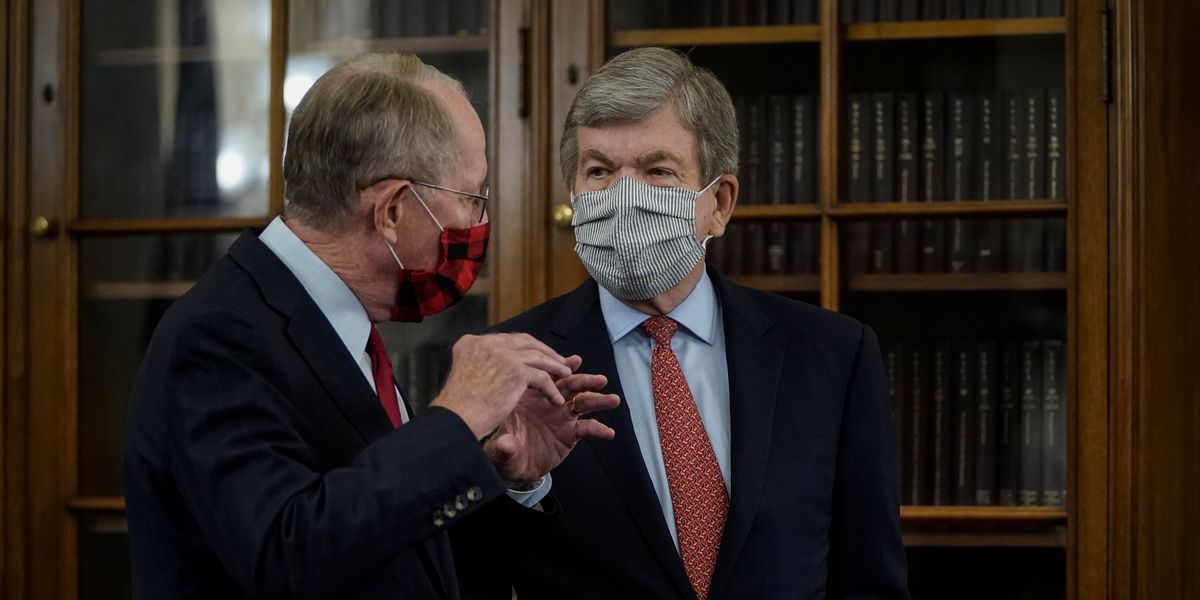 Drew Angerer/Getty Images
A bipartisan consensus has become clear in Congress that states need more federal help, and quickly, or else their elections in November risk becoming dangerously unhealthy, inefficient and unreliable — mainly because they might not be ready to deliver and count the torrent of mail ballots requested by voters anxious about the coronavirus.

All the witnesses made essentially that point Wednesday in a Senate hearing. And they had a clearly receptive ear from Roy Blunt of Missouri, who convened the session as the Republican leadership's point person on election funding.
But Blunt did not reveal how much he was willing to include in the next pandemic economic relief bill, negotiations on which have gotten off to a scattershot start in Congress this week. Republicans have been fighting among themselves about much the economic rescue package should cost and which of President Trump's expensive ideas to include.
---
"Voters in this country must be able to cast a ballot safely and securely and without putting their health at risk — both this fall in the general election and in the remaining primary elections leading up to the general election," Blunt said, adding that he was "trying to identify the right amount of new money" both needed and politically possible.
Sign up for The Fulcrum newsletter
That was a clear signal GOP leaders will include money for elections in the legislation — knowing much of it will be spent to support expanded voting, which the president insists without evidence will assure "the most corrupt election in our nation's history," as he tweeted this week.
"We need to prepare for an unprecedented flood of mail-in ballots by ensuring the Postal Service has sufficient funding and makes no detrimental changes to their operation that could have a negative impact on elections this fall," Minority Leader Chuck Schumer said at the hearing — raising an issue that is separate from aid to the states, but if unaddressed has the potential to cripple the election.
One witness was Rick Steam, the Republican elections director in St. Louis County, the most populous jurisdiction in Blunt's state. He said 45 percent of votes in local elections in June were cast by mail, quadruple the usual share, and that he's expecting an even bigger vote-by-mail burst in the August primaries and the November presidential contest.
Temporary workers had to be hired to process the deluge last month, he said, and his budget does not anticipate such hiring for two more elections this year.
Congress delivered $400 million to the states in March to smooth their elections, but only if they provided a 20 percent match. The witnesses — including two GOP secretaries of state, Tre Hargett of Tennessee and Mac Warner of West Virginia — pleaded for Congress to release those strings.
Voting rights groups and election officials say another $3.6 billion would be needed to cover all the unanticipated costs. The House has approved that money in its version of the economic rescue bill now being negotiated.
Election officials could use the cash to pay for postage, paper and printing of absentee ballots. It's now too late to buy automated mail sorting systems in time for November, so the money could also be used to hire more human tabulators like the crew in St. Louis.
"Without additional mandates from the federal government or through the courts, we feel good about where we are financially," Hargett testified about the situation in Tennessee, which has strict excuse requirements that hold mail voting to a minimum. "However, if a court decision were to require us to do absentee no-excuse or universal vote-by-mail, that would be a game changer for us."