Policy dispute mediators reveal their 'secret sauce' for bridging partisan and other divides
https://twitter.com/saramswann?lang=en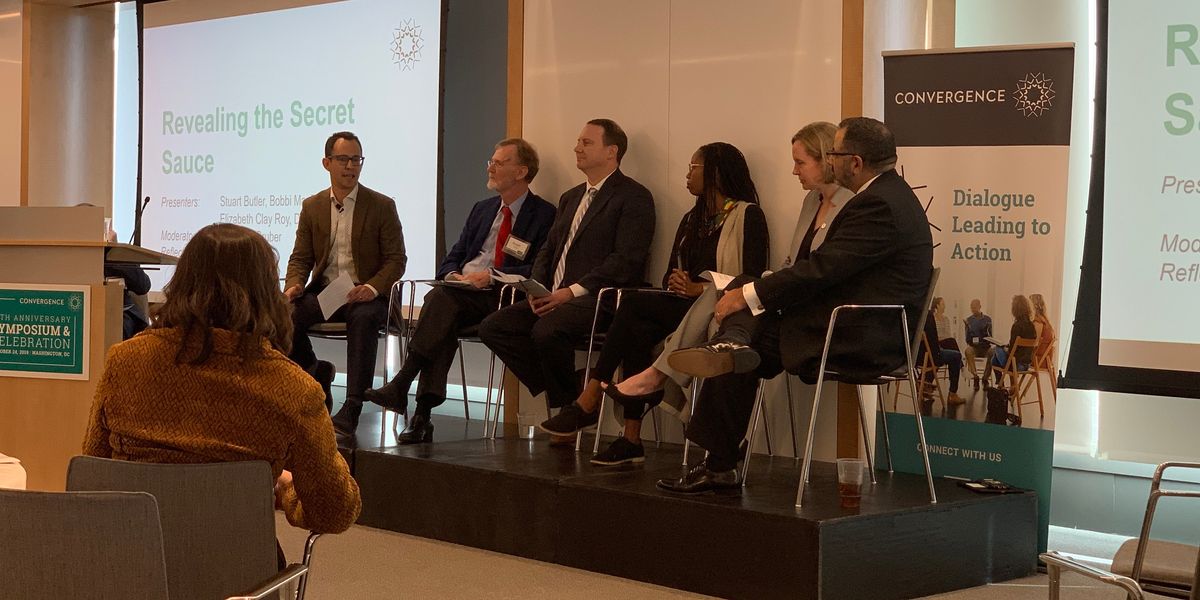 Sara Swann/The Fulcrum
After a decade of getting people on opposite ideological sides to find middle ground on some of the country's most divisive policy fights, the nonprofit mediator organization Convergence has decided to celebrate by revealing the "secret sauce" to its collaborative success.
Five people who have first-hand experience with the organization's methodology spoke about what sets its techniques apart at a 10-year anniversary symposium in Washington on Thursday.
The sharing was designed to help others whose work is mired on the long roster of intractable policy disputes, including on many of the issues that are keeping Amercan democracy in poor working order.
---
Convergence aims to bring people — academics, community leaders, policy advocates, elected officials, business executives and other experts — of all different backgrounds together to work toward solutions to the most pressing issues, such as revamping the education system, reforming the congressional budget process and improving reentry for people after they get out of jail.
For the panelists, the secret to Convergence's effectiveness boils down to the environment in which issues were discussed and the longer time period they had to consider possible solutions.
The panelists uniformly cited the organization's ability to create a culture of trust and respect. At the beginning of a deliberation, the Convergence team would often ask participants from opposing points of view to imagine what the next 30 years looks like, rather than what the immediate policy solutions should be.
Sign up for The Fulcrum newsletter
"On that there is a lot of common ground. It's a wonderful way to begin," said Elizabeth Clay Roy, who worked on a project to enhance economic mobility in low-income communities. Her group did eventually discuss more "thorny" issues, and disagreement came to the surface, but starting with the long-term outlook helped them "build trust and find solutions."
Matt Owens, whose project was focused on restarting the broken federal budget process, said he was surprised by how fast people in his group felt comfortable enough to speak candidly, attributing this openness to the environment Convergence created.
Another way Convergence helps build relationships among people who disagree passionately is through shared meals outside of the scheduled work sessions. Even two people with different perspectives or backgrounds sitting together at dinner will find some kind of common ground for a conversation, moderator Jonathan Gruber said.
Convergence's patience to see the process through also boosts its successfulness, the panelists said. Because these group meetings are held over several weeks or months, with breaks in between, participants have more time to learn, share and collaborate on solutions.
"There's a common feeling in Washington, 'If we get everyone to go to a summit on a weekend, we can hammer it out' — but that doesn't always work," said Stuart Butler, who has served as an adviser and participant on multiple Convergence projects.
By working over a longer period of time, Convergence also accommodates busy work schedules, which is often the case with the stakeholders assigned to work out these issues, he added. Next steps also tend to fall into place in between meetings since they have more time to mull over possible solutions.
"Time and space really matter when you're trying to tackle something that's hard," Owens said. If these two aspects aren't taken into account, stakeholders will "skirt over top" of an issue, rather than strike at the heart of it, he said.
From Your Site Articles
Related Articles Around the Web