Mail voting gets a bit easier in three blue states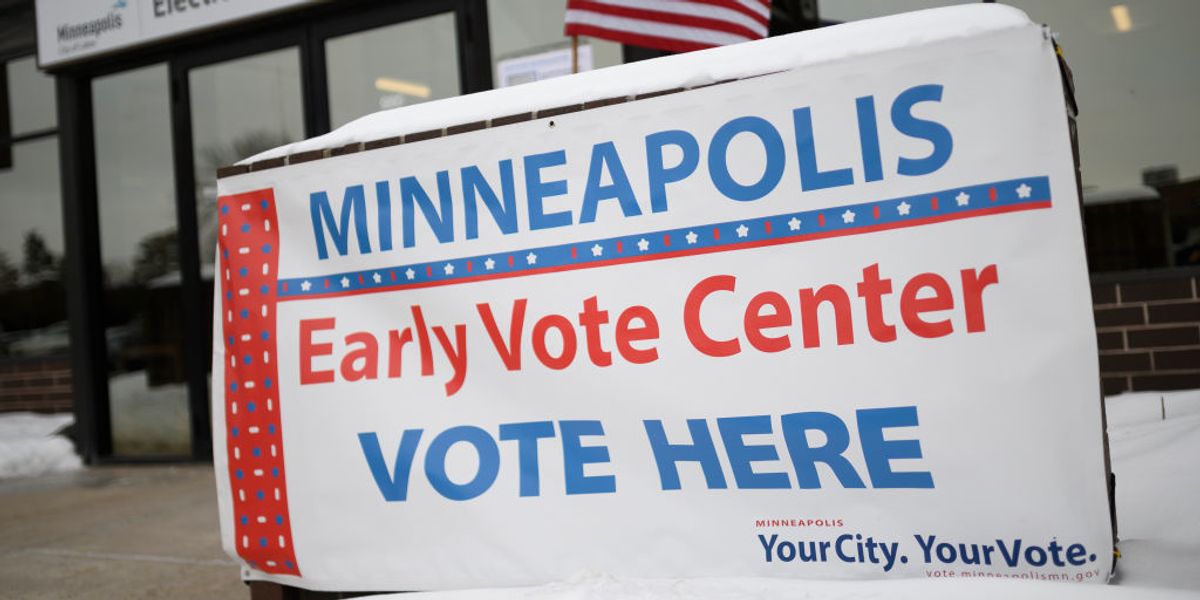 Stephen Maturen/Getty Images
Minnesotans will be able to provide, and receive, an unlimited amount of help in the casting and delivery of absentee ballots starting this fall, a state judge has decided.
The ruling was one of three moves across the country Tuesday toward easing the regulation of voting by mail, which is going to soar this fall because of the coronavirus. All were in states already looking solidly blue on the presidential election map, and so not in President Trump's sights as he makes unsubstantiated claims about mailed ballots rigging the election.
A judge in Rhode Island struck down the state's mandate that a witness or notary countersign every absentee ballot envelope, leaving only 10 states maintaining such a rule for November. And legislators in neighboring Connecticut voted overwhelmingly to drop excused requirements for voting absentee, if only this year.
---
These are the details:
Minnesota
Judge Thomas Gilligan, Jr. blocked enforcement of a state law that restricts a person from helping more than three others cast their ballots because of blindness or another disability — or the inability to read or write in English. He also blocked a provision that puts the same restriction on helping voters return or mail absentee ballots.
The rulings came in a lawsuit filed by the Democratic organizations that run House and Senate campaigns. They argued the restrictions were discriminatory against disabled people as well as the state's significant Hmong and Somali populations — and also illegally interfere with the party's efforts to promote voter turnout.
Sign up for The Fulcrum newsletter
Proponents argue the provisions are needed to prevent people from improperly influencing others in casting mail-in ballots. But Arkansas appears to be the only other state with similarly strict rules.
The court's ruling comes in the wake of a settlement agreement in April in a separate lawsuit raising similar issues. That agreement had, in effect, the same impact as Gilligan's restraining order. Attorneys for the Democratic campaign groups said they pursued the favorable ruling because it carries more legal weight than a settlement.
Connecticut
The state Senate voted 35-1 for legislation, approved last week 144-2 by the state House, that will allow everyone in the state to vote by mail in November because of the pandemic. It also will permit anyone in line to vote when the polls close on Election Day to first register at the polling place if needed.
Once Democratic Gov. Ned Lamont signs the measure, only seven states will still be insisting on an excuse beyond Covid-19 fear for obtaining an absentee ballot: Texas, New York, Indiana, Kentucky, South Carolina, Mississippi and Louisiana.
The governor had issued an executive order allowing anyone to vote remotely in next month's primary by citing the allowable "sickness" excuse — in this case, fear of exposure to Covid-19. The bill extends that policy through November
Rhode Island
Federal District Judge Mary McElroy accepted a consent agreement that waives for the fall election the usual requirement that an absentee ballot have at least two witnesses or be notarized.
The American Civil Liberties Union and other advocacy groups had filed a lawsuit against Secretary of State Nellie Gorbea and the state's board of elections trying to overturn those requirements — but only for this year. The Democratic-controlled General Assembly had rejected legislation to drop the witness rules.
The state and national Republican parties went to court on the side of the state. The judge ruled after a remote hearing where the GOP argued that suspending the rules would invite fraud..They "admit that Covid-19 poses a serious health risk to some people but deny that it justifies departures from Rhode Island laws that protect election integrity," was her summary of their presentation.