Latest lawsuit seeks to make Louisiana relax its voting rules for fall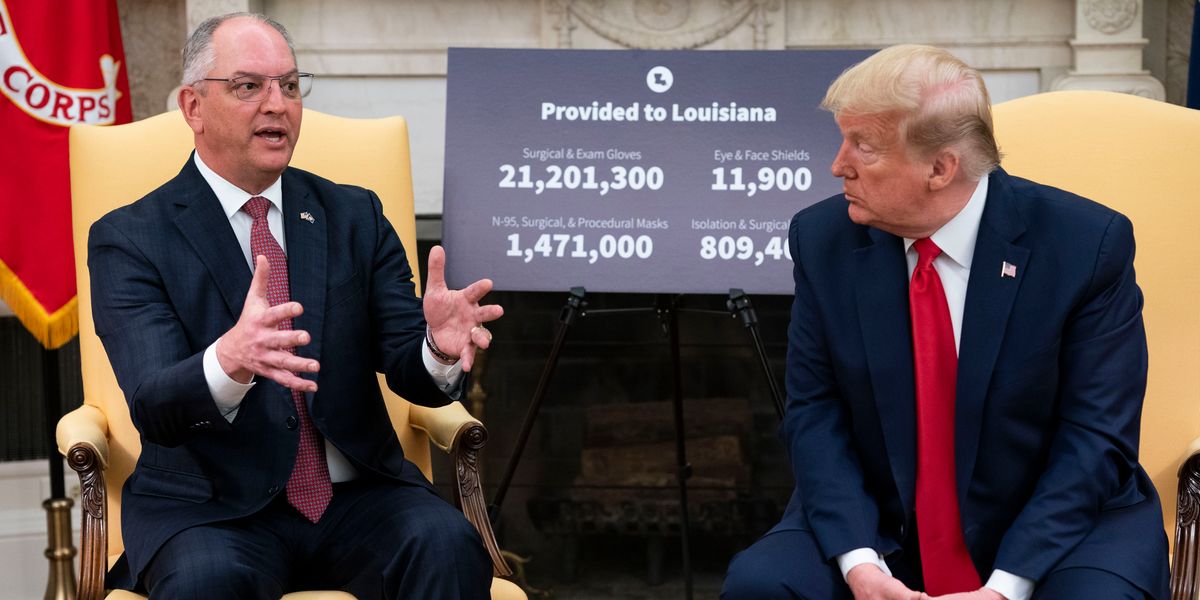 Pool/Getty Images
The courthouse crusade to make it easier to vote in the presidential election has been revived in reliably red Louisiana.

Voting rights groups sued Monday to compel the state to allow sickness or fear of getting sick as a reason for using an absentee ballot and to extend its timetable for early in-person voting. They argue both easements are constitutionally required during the coronavirus pandemic, which by some measures has struck Louisiana as hard as any other state.
The odds of quick and clear success appear long, however. Previous state and federal lawsuits, seeking to make the rules even more permissive than the state agreed to for last month's presidential primary and municipal elections, went nowhere.
---
Democratic Gov. John Bel Edwards and Republican Secretary of State Kyle Ardoin agreed to an emergency decree for the primary that added six days of early voting and said fear of Covid-19 or a positive test were sufficient reasons to vote through the mail.
The new suit was filed at the federal courthouse in Baton Rouge by the same groups that sued in the spring — the NAACP and the progressive Power Coalition for Equity and Justice. They suggested those arrangements would be only minimally sufficient for the general election.
Sign up for The Fulcrum newsletter
But the state has said nothing about replicating that plan, or coming up with a different one, and the Legislature has signaled it is done for the year.
The governor's office responded to the suit by saying he'd be open to ordering a repeat of the July rules if the top elections official asks for that.
For now, Louisiana is among just seven states standing by their usual curbs on voting from home. Mail ballots are allowed only for those 65 and older, hospitalized or far from home on election day.
As a result, just 3 percent of the vote was cast absentee in the 2018 midterm.
While the democratic rights of the state's 2.9 million voters are in the balance, the outcome of Louisiana's marquee elections this fall are not. Republicans have carried the state with ease five straight times, including President Trump's 20-point win four years ago, and the GOP is essentially a lock to hold a Senate seat and five of six House districts. It's unlikely the state's unique December runoff system will need to be used, except for some legislative contests.