Tribes secure big voting rights win as North Dakota backs down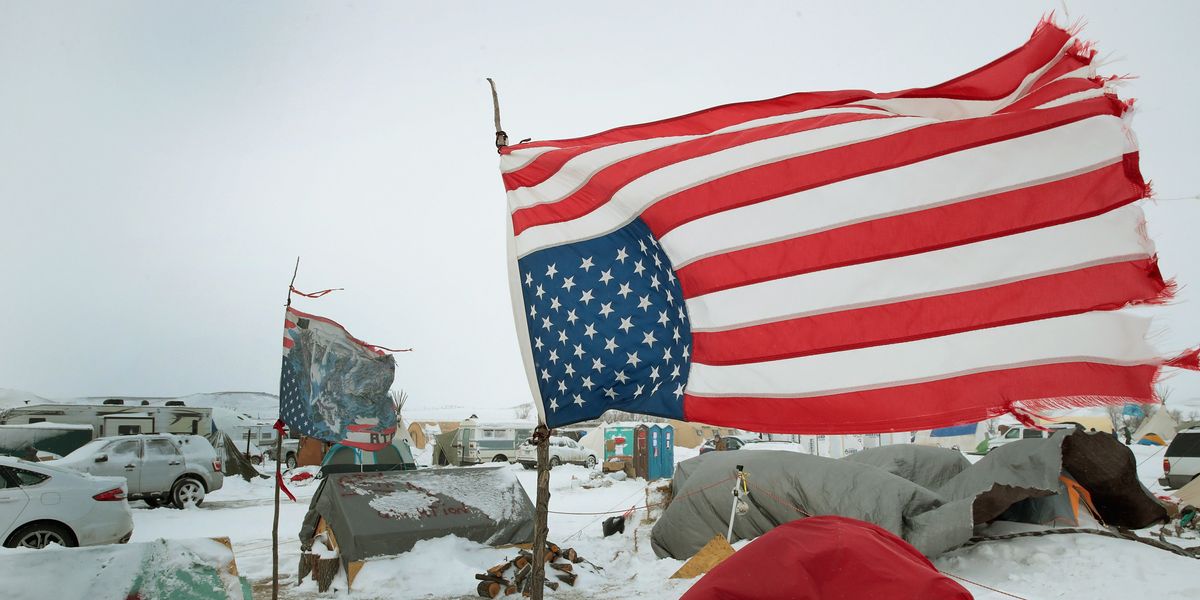 Scott Olson/Getty Images
North Dakota has agreed to a significant expansion of voting rights for Native Americans.
Residents of reservations will be able to register and vote this year even if they don't comply with the state's restrictive voter identification law, which requires voters to have an ID with a residential address, under an agreement announced late Thursday.
The deal marks a significant and stunningly sudden victory for the American Indian electorate. It settles the latest lawsuit brought by tribes and voters, who have been arguing for four years that the law is unconstitutional. North Dakota agreed to the settlement only hours after a federal judge rejected the state's bid to get the case dismissed and set a trial date for May.
---
The address requirement has disenfranchised thousands of people living on reservations, because the state does not assign street numbers to their homes.

The state has maintained the rule was designed to deter voting fraud, but Native Americans see it as a straightforward bid to suppress their reliably Democratic vote.
The Republican Legislature imposed the restriction seven years ago, months after Democrat Heidi Heitkamp was elected to the Senate in an upset aided by strong support from Native Americans. With the new law in place, she lost two years ago, and every current statewide elected official who identifies with a party, including all three members of Congress, are Republicans.
Sign up for The Fulcrum newsletter
Native Americans constitute about 5 percent of the state's population, making them a crucial voting bloc in close contests. Different tribes have been challenging the law in federal court for almost four years.
Under the new consent decree, the secretary of state has promised to ensure Native Americans may vote if they do not have a street address or don't know what it is. (Some buildings on reservations have formal addresses but no signage, and almost all residents rely on post office boxes and have those numbers on their tribal IDs.)
The settlement requires the state to inform voters and poll workers of the changes. And for this fall, it will allow people at the polls to vote after marking their homes on a map, which the state must then use to generate a physical address — which, in turn, can be made part of future tribal ID cards.
A similar system was used on some reservations on Election Day 2018, after the ID law survived an earlier court challenge, and tribal officials issued handwritten identification cards to people when they arrived at polling places and pointed to their residences on a map.
Secretary of State Al Jaeger, an independent, also agreed to work with the state Transportation Department to issue free IDs on every reservation at least a month before each statewide election, and to press the Legislature to reimburse tribal governments $5,000 before each election for the administrative costs of coming up with addresses and IDs.
The agreement was detailed by the Campaign Legal Center, which presses an array of litigation to promote ballot access and rein in money's influence on politics, and the Native American Rights Fund. They represented the Spirit Lake Nation and Standing Rock Sioux, two of the most prominent tribes in North Dakota, and six Native Americans who were also plaintiffs.