Voter registration is up among young people compared to 2018
https://twitter.com/davidmeyers?lang=en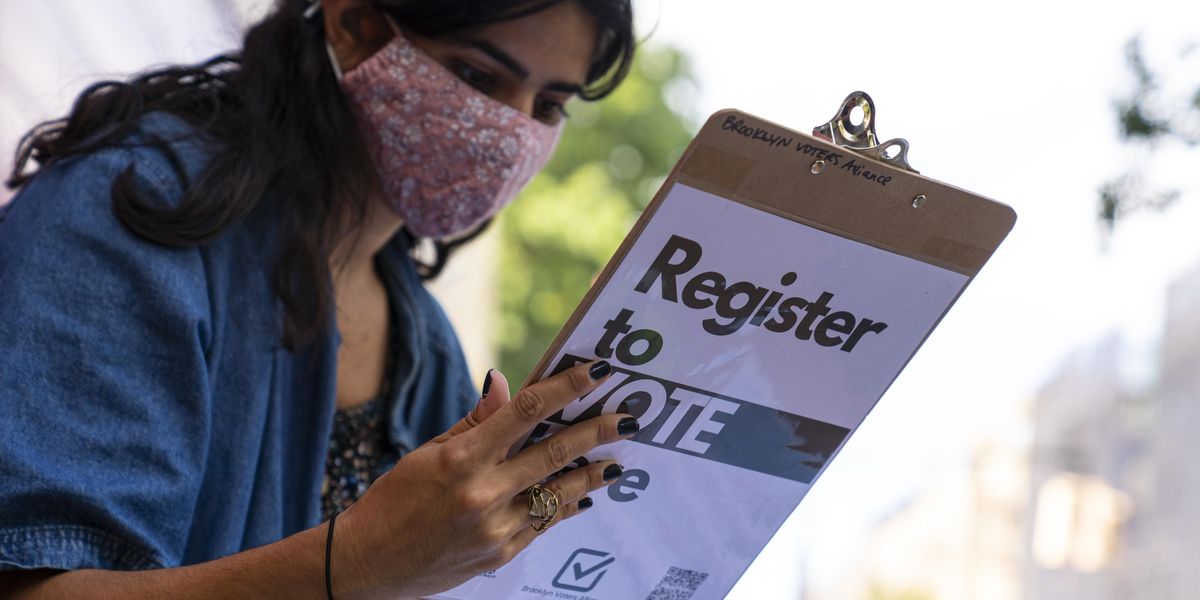 Robert Nickelsberg/Getty Images
More young adults are registered to vote in key battleground states than in 2018, itself a record year – except among those newly eligible to cast a ballot.
That's the conclusion drawn by researchers at the Center for Information & Research on Civic Learning and Engagement who analyzed voter registration data from 41 states.
"The 2018 election saw the highest youth turnout of any midterm in history. Given that registration numbers in most states, including many battleground states, are higher than this last historic midterm, it seems to be a positive sign for young people's participation in the 2022 midterms," said CIRCLE'e election coordinator, Ruby Belle Booth.
---
But it's not all positive news.
"Unfortunately, the data also highlights work to be done in future elections to better engage new voters, especially the youngest eligible voters," Booth said. "It also indicates the vast inequities that occur across states in effective youth voter engagement; that's a problem for our democracy. So, while the data offers positive indicators for the 2022 midterms, it prescribes work to be done after November 9th as we prepare for 2024 and beyond."
Overall, voter registration is up 6 percent from the last midterms among people ages 18-24. The biggest increases occurred in Michigan (up 38 percent), Kansas (29 percent) and Colorado (20 percent).
Sign up for The Fulcrum newsletter
Michigan is home to a tight gubernatorial race, where the Democratic incumbent, Gretchen Whitmer, has seen her once-commanding lead in the polls shrink to just 5 percentage points with a week remaining. The increase can be attributed, at least in part, to a pair of systems rolled out in 2019: online voter registration and automatic voter registration at motor vehicle agencies.
Similarly, Democrat Laura Kelly is locked in a tough battle to remain governor of Kansas.
While Kansas does not use the same voter registration tools as those other states, many people were motivated to register in advance of the summer's primary, when an abortion measure was on the ballot.
"The increase in registrations in Kansas does suggest that the abortion ballot measure was mobilizing for young people and brought a lot of new young voters into the electorate," said Booth. "Michigan and California both also show significant increases from 2018, and they both also have abortion on the ballot this November, which further supports the influence that abortion is having on young people's registrations in this election cycle."
However, Booth believes there is more at play than just a single issue motivating people.
"Kansas's registration numbers have continued to rise since the primary in August, which highlights that young people are engaged beyond just the abortion issue. Our Youth Electoral Significant Index ranks the Kansas gubernatorial race as the third top gubernatorial race where young people could have a major impact on the outcome if they turnout; it looks like young people in Kansas may be paying close attention to that race as well."
The Democratic candidates have more comfortable leads in both the governor and Senate races in Colorado, which also offers online and automatic voter registration.
Nevada also saw a big jump, with voter registration up 18 percent among the youngest voters. That state is home to both Senate and gubernatorial contests that are neck-and-neck going into the final week of election season.
In fact, registrations are up in more than half (23 of 41) of the states for which data was available. The biggest decline occurred in South Dakota, which dropped 36 percent, followed by Rhode Island and Kentucky (both down 17 percent).
"Different states have different problems engaging young people; elements that vary across states like facilitative voter laws, civic education, or infrastructure supporting young people's democratic participation all could be to blame in different states," Booth said. "But looking at the data as a whole, we see a failure to register new young voters compared to 2018. This can especially be seen in the data among 18-19 year olds."
In fact, while most states saw an overall increase, the number of 18- and 19-year-olds registering declined 5 percent and only 13 states were in positive territory compared to 2018.
There was a huge organizing push in both 2018 and 2020 that paid dividends in registration and turnout numbers for those elections. The 18-24 registration data reflects the efforts in 2018 and 2020 since that age group was targeted for those elections, while the 18-19 data offers a clearer look at some of the shortcomings this year and the opportunity that exists to better engage young voters in future elections," Booth said. "While there were absolutely a lot of individuals and organizations, many led by young people themselves, working hard to prepare young voters for the 2022 midterms, the data suggests that efforts to reach out to new young voters weren't as robust as in 2018.
Idaho led the way with an 81 percent increase, followed by Michigan (52 percent) and Kansas (42 percent). Booth pointed to a few reasons for that massive increase.
"First, Idaho is one of the fastest growing states in the country. Second, it had a hotly contested, high-turnout primary election in May that bolstered registration across all ages. Third, because Idaho is a less populous state, it [can have] bigger percentage increases that reflect a smaller number of new registrants. … Fourth, it is another state where abortion has been at the center of political discourse, which maybe could have had an impact. And lastly, there may have been some good efforts on the ground to get young people registered, but we don't know much details about what those may have been or their impact," Booth said.
The CIRCLE research notes that the 2018 election featured the highest turnout among young voters since the voting age was lowered to 18, so this year's data is being measured against historic numbers.
More young women than men have registered to vote in 2022 (53 percent of the new registrants are women). Previous cycles were more closely divided, according to the researchers.