Iran arrests Democracy Award recipient
https://twitter.com/davidlnevins?lang=en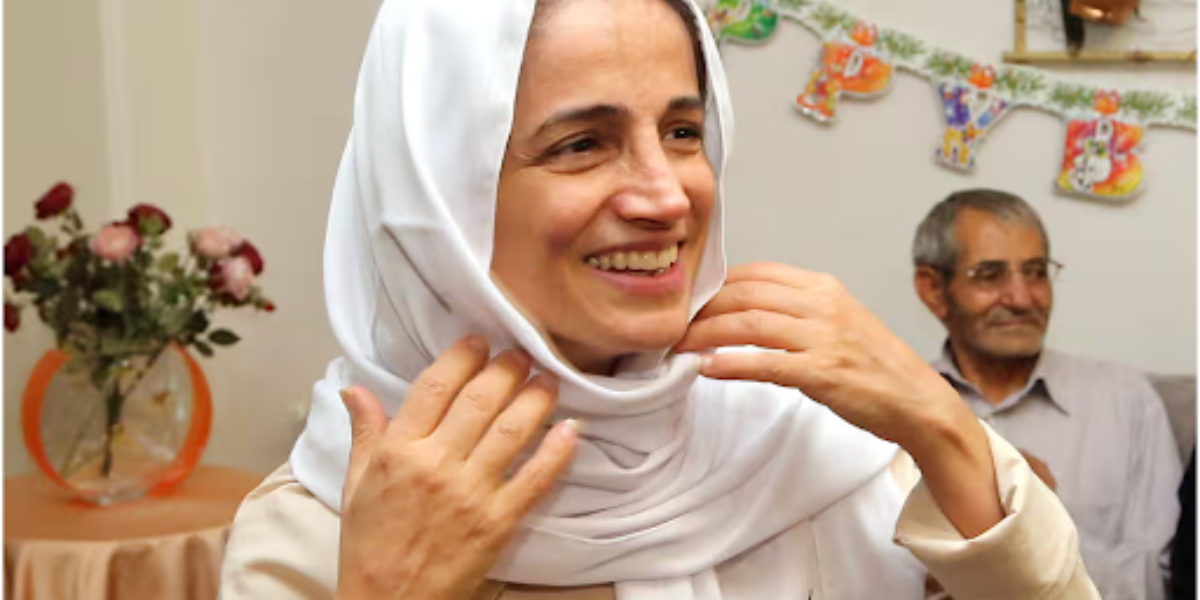 David Nevins is co-publisher of The Fulcrum and co-founder and board chairman of the Bridge Alliance Education Fund.
Nasrin Sotoudeh, an Iranian lawyer and human rights activist, was arrested in Tehran on Sunday, October 29, just days after receiving the McCourtney Institute for Democracy's 2023 Brown Democracy Medal.
---
According to The Guardian, Sotoudeh was arrested at the funeral for Amrita Garawand, a sixteen-year-old Iranian who died from injuries sustained for not wearing a headscarf on public transportation.
The Guardian also reports that Sotoudeh was arrested for not wearing a headscarf at Garawand's funeral. Sotoudeh's husband, Reza Khandan, said she was "violently beaten" during the arrest.
Previously in March of 2019, as reported by CNN, Sotoudeh was arrested for advocating for the rights of women, children, and activists in Iran and sentenced to 38 years in prison and 148 lashes. Up until her recent arrest she was on medical furlough from jail.
In February of 2023, Sotoudeh told CNN that while a brutal state crackdown has succeeded in quieting the demonstrations that gripped the country for months, many Iranians still want regime change. In an exclusive interview from her home in Tehran, she told CNN's Chief International Anchor Christiane Amanpour that, "the protests have somewhat died down, but that doesn't mean that the people are no longer angry ... they constantly want and still want a regime change. They want a referendum."
Sign up for The Fulcrum newsletter
As reported by CNN, Sotoudeh is renowned around the world for advocating for the rights of women, and activists in Iran, is currently on medical furlough from jail, after being sentenced to 38 years in prison and 148 lashes in March 2019.
Despite her arrests and the threat to her life, Sotoudeh believes that the protest movement must endure and will endure:
"Official authorities are trying to flex their muscles more, they're trying to show their strength a lot more than before, but civil disobedience continues and many women courageously take to the streets."
The Brown Democracy Medal spotlights and honors the best work being done to advance democracy in the United States and internationally. Under the award program, the McCourtney Institute for Democracy recognizes practical innovations, such as new institutions, practices, technologies or organizations that advance the cause of democracy along with theoretical advances that enrich philosophical or empirical conceptions of democracy.
Sotoudeh's recent award of the Brown Democracy Medal from the McCourtney Institute for Democracy, marked the award's tenth year. Sotoudeh has dedicated her legal career to representing opposition activists in Iran, minors facing unfair sentences and women who protested Iran's mandatory hijab law. Her clients have included Nobel Peace Prize laureate Shirin Ebadi and pro-democracy activist Heshmat Tabarzadi.
"I am deeply touched by the love and kindness that's behind the Brown Democracy Medal," Sotoudeh said. "Those of us who are working for democracy in Iran are not doing anything that's particularly exceptional or distinguished. What is exceptional are the obstacles we're confronting in Iran."
Sotoudeh is also a longtime opponent of the death penalty. She co-founded the organization Campaign for Step By Step Abolition of the Death Penalty in 2013 to advocate for legislation that would abolish capital punishment in Iran. In 2022, she received the Robert Badinter Award at the 8th World Congress Against the Death Penalty.
McCourtney Institute for Democracy Director Michael Berkman and Managing Director Chris Beem condemned Sotoudeh's arrest.
"Just last week, The McCourtney Institute for Democracy celebrated Nasrin's indefatigable commitment to human rights and the rule of law, as well as her astonishing courage in the face of government brutality," Berkman said.
Beem added, "We call on people around the world to join us in renouncing Iran's oppression of its citizens, and to stand in solidarity with Nasrin and all those in Iran who fight for freedom and human dignity."
Sotoudeh's powerful story is told in the documentary "Nasrin" produced by Jeff Kaufman and Marcia S. Ross and narrated by Academy Award winner Olivia Colman. The film can be viewed on Amazon Prime.
The documentary is an immersive portrait of Sotoudeh's remarkable resilience in the work she does for the women's rights movement in helping political prisoners.
With an original song by Tony Award-winning composers Lynn Ahrens and Stephen Flaherty and performed by four-time Grammy winner Angélique Kidjo, the documentary was filmed in Iran by women and men who risked arrest to make this film.
Sotoudeh's courage is truly remarkable.
Learn more about the documentary at nasinfilm.com