Rhetoric vs. data: The ouster of Liz Cheney
https://twitter.com/davidmeyers?lang=en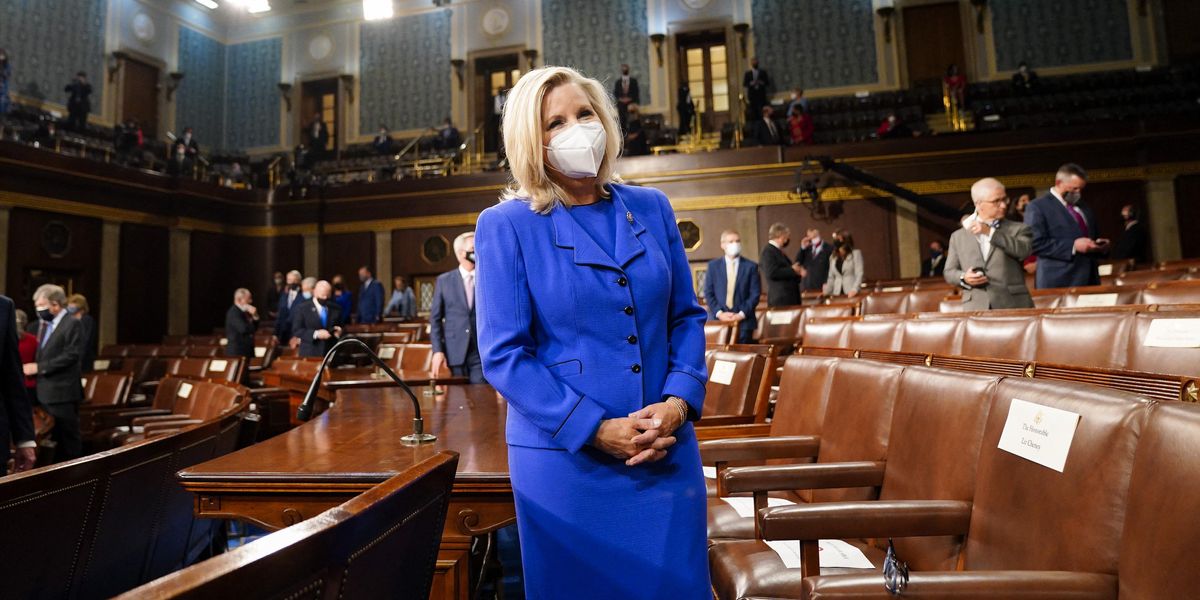 Melina Mara/Pool/AFP via Getty Images
When Republican members of the House of Representatives gather Wednesday to oust Rep. Liz Cheney from the third-highest post in the GOP Conference, they will be reacting to public statements from the two women and the outcry that followed — and not taking into account any hard data.

Cheney has been a vocal defender of the 2020 election results and highly critical of Donald Trump's role in instigating the Jan. 6 insurrection at the Capitol. The anti-Cheney forces who have coalesced around Rep. Elise Stefanik argue that the Wyoming lawmaker and daughter of former Vice President Dick Cheney is out of step with conservative ideology and therefore not fit to lead Republican messaging efforts during the midterm election cycle.
But the data says otherwise.
---
CQ Roll Call, which has been tracking voting data for decades, provided its latest numbers on Cheney and Stefanik. From 2017 to 2020, Cheney's party unity score (the percentage of votes cast in line with a majority of her party, against a majority of the Democratic Party) ranged from 92 to 96. Stefanik hit a high of 88 in 2017 and a low of 68 in 2019.
CQ Roll Call also measures presidential support (how often a member of Congress votes in line with the president's position). Cheney's scores during the four years of Trump's presidency were 94, 96, 97 and 87. Stefanik scored 86, 93, 61 and 83.
Sign up for The Fulcrum newsletter
With Joe Biden in the White House, Cheney continues to demonstrate more party loyalty when voting. According to CQ Roll Call, Cheney has voted in line with Biden 4 percent of the time, while Stefanik has done so on 26 percent of the votes. The team at FiveThirtyEight offers a similar statistic. They found that Cheney has yet to side with Biden on any votes, while Stefanik has voted in line with the president 19 percent of the time. ("Voting in line with the president" is a subjective data point that requires a determination of the president's position.)
So really this is a story of rhetoric, and how Stefanik's use of political language has evolved since she was elected in 2014. Stefanik, like Cheney, was an "establishment" Republican, having worked in George W. Bush's administration and for the Mitt Romney-Paul Ryan campaign in 2012.
In fact, she began her congressional service as a moderate Republican, opposing some of Donald Trump's core positions, joining the center-leaning collection of House Republicans known as the Tuesday Group, and advocating for more women in politics.
But as Cheney stood up for Democratic norms and defended the results of the 2020 election, Stefanik sided with Trump and opposed congressional certification on Jan. 6, the day of the insurrection at the Capitol.
Here are some of Cheney's statements about Trump:
"The President of the United States summoned this mob, assembled the mob, and lit the flame of this attack. Everything that followed was his doing. None of this would have happened without the President. The President could have immediately and forcefully intervened to stop the violence. He did not. There has never been a greater betrayal by a President of the United States of his office and his oath to the Constitution." (public statement, Jan. 12)
"While embracing or ignoring Trump's statements might seem attractive to some for fundraising and political purposes, that approach will do profound long-term damage to our party and our country. Trump has never expressed remorse or regret for the attack of Jan. 6 and now suggests that our elections, and our legal and constitutional system, cannot be trusted to do the will of the people. This is immensely harmful, especially as we now compete on the world stage against Communist China and its claims that democracy is a failed system. (Washington Post opinion piece, May 5)
Stefanik, on the other hand, has continued to endorse debunked conspiracies about election fraud and complained about "cancel culture."
But now Republicans are about to cancel one of their most loyal conservatives.
Go deeper into the Stefanik-Cheney fight that is dividing Republicans:
How Liz Cheney lost Republican support ahead of Stefanik vote this week (Fox News)
Cheney's getting dumped because of the GOP's elections push (The Washington Post)
The 'Handmaiden of Trump': How Elise Stefanik Went From Moderate to MAGA (Time)