If I describe you as a moderate, you'll believe me. (But you're not.)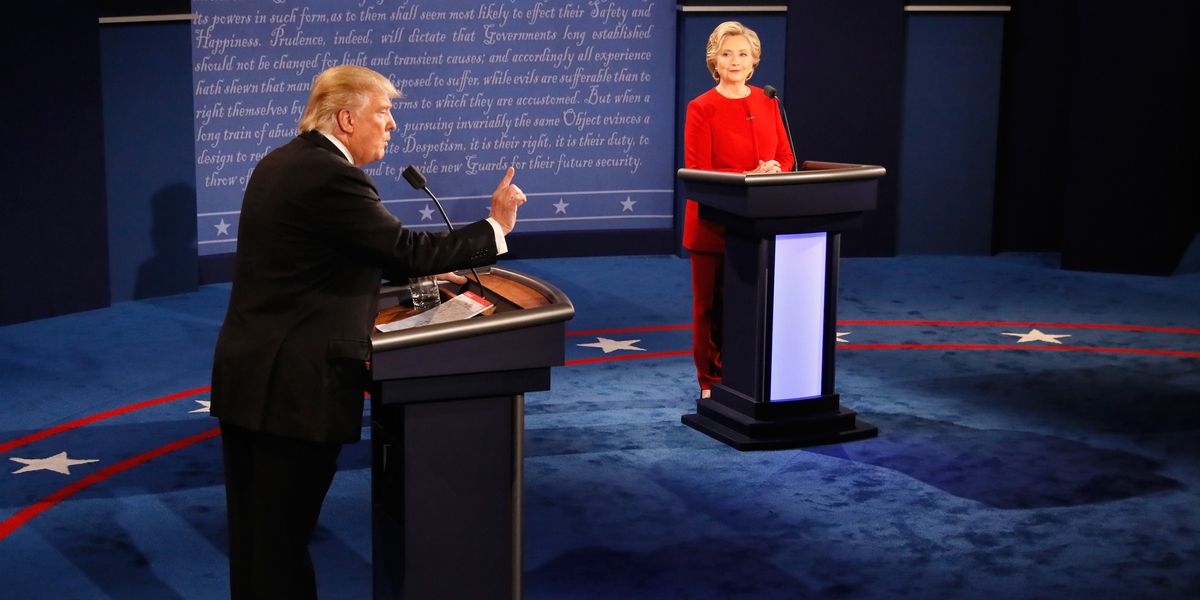 Pool/Getty Images
Researchers from Canada and Sweden are offering the results of a newly published study as a sign there may be hope for easing the harsh political polarization that has left the United States and its governing institutions in perpetual gridlock.

All it takes is a little trickery and a little nudge.
---
Working with doctoral students from Lund University in Sweden and McGill University in Montreal, researchers approached 136 people at the first presidential debate in September 2016 in New York.
Participants completed a survey evaluating Donald Trump and Hillary Clinton on a number of personality traits, such as "visionary" and "courageous." For each category they were asked to place a mark on a sliding scale closer to the candidate they thought was stronger for that trait.
About three-fourths of the responses favored one candidate.
Then the researchers secretly changed the surveys so the majority of the responses were more in the middle. A similar experiment was done online with a more diverse sample of 498 participants.
More than 9 in 10 from the first group accepted the changed results as their own — and provided more moderate views to match those results.
One person who had initially favored Clinton said after the change: "I guess I fall somewhere in the middle — I'd like to think I'm a little moderate."
Sign up for The Fulcrum newsletter
Another person who favored Trump said after the results were moderated that "Trump is more exact and confident in his decisions, so that could be viewed as being decisive. But then Hillary has a track record in which she's changed her mind about a lot of issues, but that's kind of like her educating herself and having developed thought."
At the end of the experiment, participants were asked to rate the overall competence of each candidate and still stuck with their original choice.
Researcher Jay Olson, a doctoral student at McGill, said in an interview that he found it hopeful that people were willing to express open-minded views. He didn't see it as proof that people can be easily manipulated.
Olson said he started working with principal author Thomas Strandberg of Lund University because the two happened to be stationed next to each other during the presentation of papers at several conferences.
The paper, published last week, concludes that the "us versus them" mentality in American politics may be exaggerated: "Our study reveals that American voters at either end of the political spectrum are willing to endorse more open views about political candidates. Here, suggesting to people that they are more open-minded removed their political blunders and nudged them to consider and argue for more moderate views."