Roberts gets all sorts of blowback for labeling civic ed as democracy's cure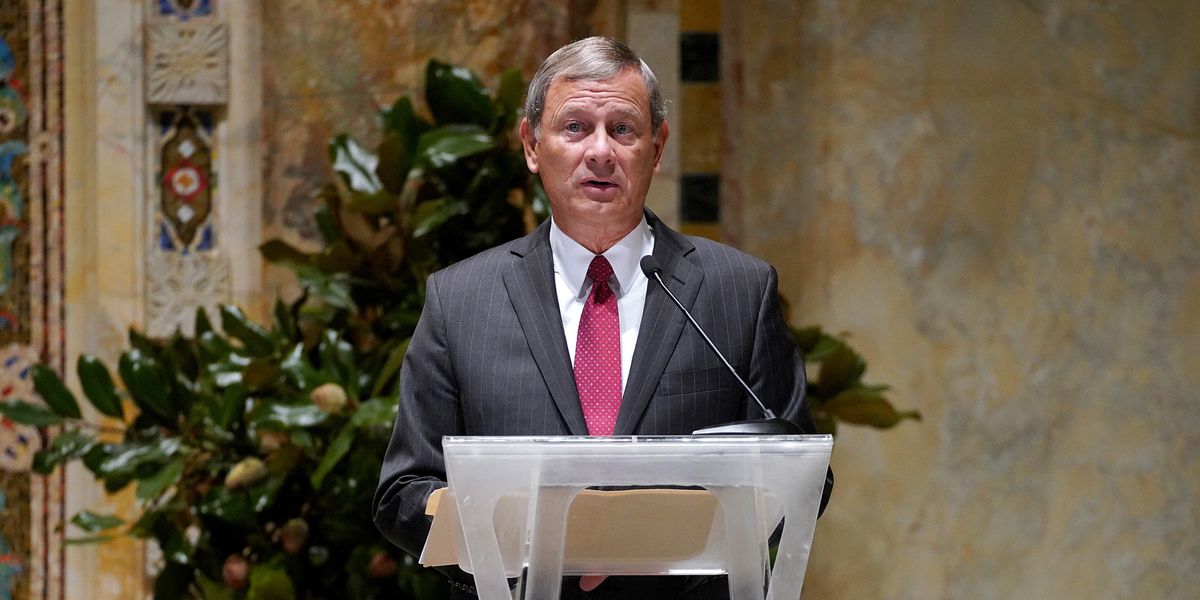 Cindy Ord/Getty Images
Normally, the annual report from the nation's chief justice doesn't receive much attention. But John Roberts' relatively short missive released on New Year's Day has set off, if not a firestorm, then at least a conflagration of response. And it's all over the map.
Roberts, who last year devoted his report to the treatment of law clerks, focused this year on the role the court plays in promoting civic education. He argues that "we have come to take democracy for granted, and civic education has fallen by the wayside."
To which many liberal commentators have shouted: "Hypocrite!" Others see a no-so-subtle brushback pitch aimed at President Trump.
---
"At first brush, the justice's warning about the fragility of our democracy appears to be in (brazen) tension with his habit of taking a sledgehammer to voter protections and constraints on corporate domination of American politics," Eric Levitz writes in New York magazine.
He points out that it was Roberts who authored two key Supreme Court rulings that advocates believe have contributed to the breakdown of democracy.
One, the Citizens United case, opened the door to unlimited independent spending by corporations on political ads and the other, the Shelby County case, essentially gutted the central provision of the Voting Rights Act.
Sign up for The Fulcrum newsletter
And Levitz accuses the chief justice of being an elitist with a disdain for regular folk.
Others saw the report as a shot across the bow of Trump, who has been harshly critical of the judiciary at times. And they found the timing especially significant given that the chief justice will soon be presiding over Trump's impeachment trial in the Senate.
Roberts himself seems to refer in the report to the dicey role he will soon play.
"We should reflect on our duty to judge without fear or favor, deciding each matter with humility, integrity and dispatch," he wrote.
Taken at face value, the report itself is a love letter to his colleagues in the court system, citing numerous examples of courts and individual judges who are promoting civic education.
The 2nd Circuit Court of Appeals in New York, for example, recently opened its Justice for All Learning Center. And the National Center for State Courts has developed learning materials that include a graphic novel series on how the courts work.
He even cites, but does not name, the chief judge of the District of Columbia Circuit, who has over the past 20 years "quietly volunteered at a local elementary school, inspiring court colleagues to join in the effort."
Who is this generous judge? Merrick Garland, the person President Obama wanted to put on the Supreme Court in 2016 but was unilaterally blocked by Senate Majority Leader Mitch McConnell.