So that's how elections are funded
---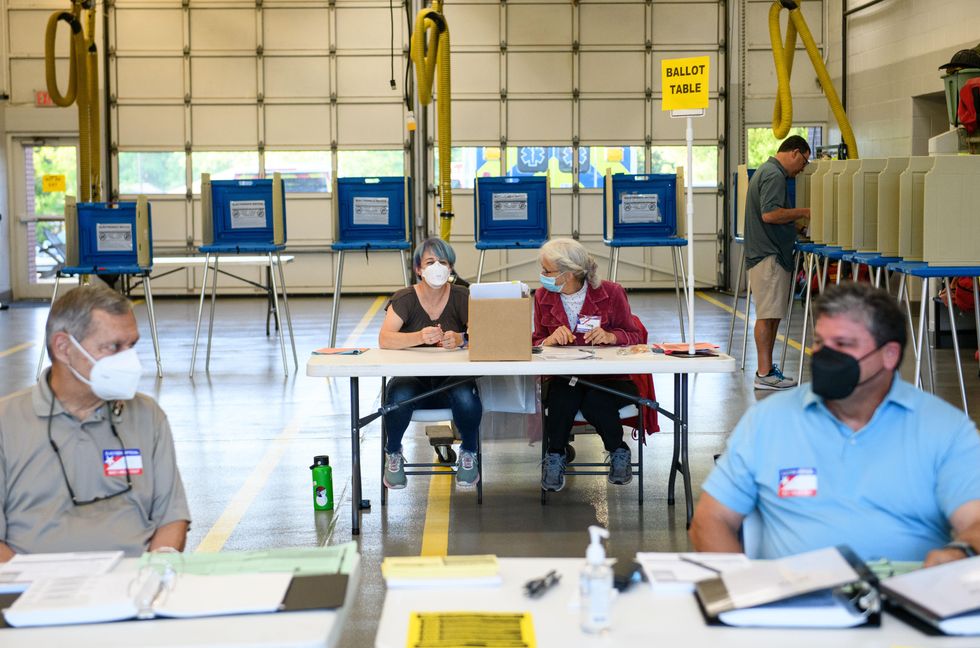 Melissa Sue Gerrits/Getty Images
What do public parking facilities and election administration have in common?

According to the National Institute for Civil Discourse, they are funded equally by local government. Perhaps that's not what you'd expect for the cornerstone of our nation (and no, we're not talking about parking anymore).
Our Reya Kumar read through NICD's new report on election funding and drew out some interesting nuggets (beyond the comparison to public parking).
For instance, we were reminded that the federal government only contributes election administration funding on a crisis-by-crisis basis, leaving state and local governments unsure whether they will be getting assistance each year.
And even though the federal government does not manage elections, leaving them to the states to run as they see fit, there are compelling reasons for the Congress to regularly appropriate money for elections.
First, the federal government should cover some costs because it requires that states hold elections and has imposed additional costs through mandates through legislation such as the Military and Overseas Voter Empowerment Act and National Voter Registration Act. Indeed, elections have been referred to as the first unfunded federal mandate, per the report. Next, about half of all voters say they are "federal-only" voters who often fail to cast ballots in state- or local-only elections. Finally, foreign interference in elections has emerged as a national security threat.
Our co-publisher Debilyn Molineaux has had enough of the "great replacement theory."
The "great replacement" nonsense (GRN), the idea that the white race will be relegated to minority status and lose power, is myth-making of the highest order. There are good guys (white people), damsels/children in distress (sex trafficking) and bad guys (migrants, supported by liberals and socialists). It's the classic, if perverted, hero's journey. We worship heroes in Western culture, so much so that we are easily manipulated by this perverted story that "those people" are out to get "us and our livelihood."
The demographic changes we are seeing in the United States are merely a continuation that began when homo sapiens first started leaving Africa. The story of the human race is a story of movement, of a search for something better. As Debilyn writes, this isn't about power but rather about improving the lives of our children.
On Monday, the Supreme Court sided with Sen. Ted Cruz, who intentionally created a scenario to force a lawsuit seeking to overturn a federal campaign finance law.
The case hinged on whether candidates should be able to raise unlimited amounts, after the election, to pay back their own personal campaign loans – sometimes earning a nice profit by charging their campaigns interest on the loans.
Congress had limited the amount that could be raised post-election to pay off loans, in order to fend off potential corruption, theorizing that individuals would essentially be putting money in lawmakers' pockets.
This is just the latest campaign finance case to be decided by the high court, following big ones like Buckley v. Valeo (allowing Congress to create limits on contributions to individual campaigns) and Citizens United v. FEC (throwing open the door to dark money).
We reviewed some of the most influential Supreme Court decisions.
Your take: Let's take a break from politics and talk about sports
Yes, The Fulcrum focuses on efforts to improve democracy and end partisan polarization. But sometimes we need a breather and America's pastime gave us a perfect opportunity this week.
Albert Pujols, who has announced he is retiring from baseball at the end of the season, is fifth all-time in home runs and has won three MVP awards. But the future Hall of Famer did something on Sunday that he had never attempted in his remarkable, 22-year career: He pitched in a game.
Pujols' appearance on the mound got us thinking. Do you have any nostalgic memories of your sports hero from the twilight of their career? It can be a feel-good moment like Pujols' pitching debut or a "they've still got it" moment like Michael Jordan scoring 43 points in a game at age 40.
Send us your take by the end of Thursday. We will publish select responses on Friday.
Our friends behind the "How Do We Fix It?" podcast spent some time examining how the part of Ronald Reagan evolved into a movement led by Donald Trump. What are the deep tensions between grassroots Republicans and conservative elites who used to be in charge?
Hosts Richard Davies and Jim Meigs address that and other questions with the American Enterprise Institute's Matthew Continetti.
Also in the news
Looming Midterm Elections Put US Voting Rights in Spotlight (Voice of America)
Georgia early voting shatters records despite election reforms Dems labeled 'voter suppression' (Fox News)
Voter 'subversion:' Trump Republicans push laws to make it easier to change elections, per report (USA Today)
Group Seeks Disbarment of Ted Cruz Over Efforts to Overturn 2020 Election (The New York Times)
Upcoming events
Buffalo Shooting and Replacement Theory: Fringe or Foundational? - American Values Coalition - May 19
Understanding the War In Ukraine - Network for Responsible Public Policy - May 19
Reformers Lead: NANR Masterclasses - National Association of Nonpartisan Reformers - May 20
State Lines: Built to Last or Drawn in Sand? - Crossing Party Lines - May 22