Louisiana's high court a racial gerrymander, federal suit alleges, and part of a larger trend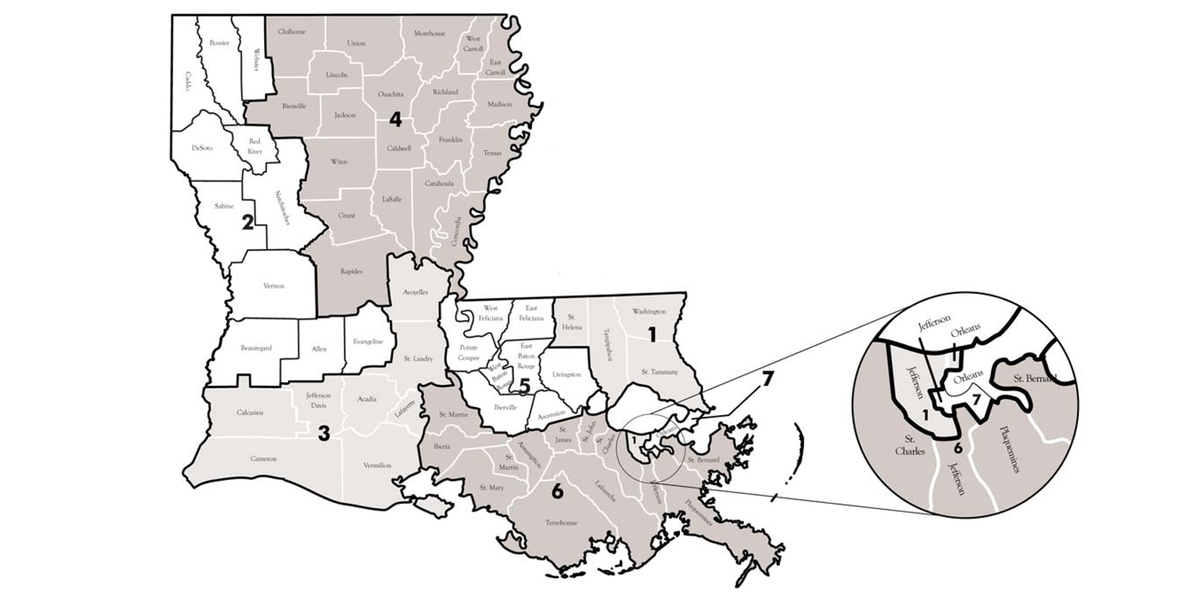 Louisiana Supreme Court
The maps drawn for the election of the Louisiana Supreme Court are discriminatory against black voters, a civil rights group alleges in a new federal lawsuit.
The racial gerrymandering lawsuit was filed in Baton Rouge on Tuesday, the day before the release of a stark new report finding that the makeup of state supreme courts nationwide does not come close to reflecting the racial diversity of the country.
The plaintiffs in the Louisiana case, the state NAACP and two black voters, say only two African Americans have served on the state's highest court since the election of those justices began 105 years ago. One is on the bench now (there are seven seats), a time when the black population of the state is 32 percent, the second highest percentage of any state.
The suit asks the court to toss out the state judicial map as a violation of the Voting Rights Act, the 1965 law designed to ensure minorities can fully exercise their franchise, and to order the boundaries redrawn before the next election.
---
Wednesday's report from the Brennan Center for Justice, a liberal democracy reform advocacy group, looked at the 1,600 people who have served on state high courts since 1960. Among the findings:
Sign up for The Fulcrum newsletter
13 states have not had a Supreme Court justice of color.
24 states do not now have a justice of color.
People of color make up nearly 40 percent of the nation's population but hold only 15 percent of state Supreme Court seats.
White men are in almost half the state Supreme Court seats but make up less than one-third of the population.
The Louisiana suit alleges that if the seven judicial districts were drawn fairly, two would be majority-black. Now just one is.
In 1992, after the districts were redrawn in the wake of an earlier suit, Revius Ortique was elected the first black justice in state history. Two years later he reached the mandatory retirement age of 70 and was replaced by Bernette Joshua Johnson, who is also black. She is now chief justice.
The suit claims the maps violate the Voting Rights Act prohibition against any practice that results in the "denial or abridgement of the right of any citizen of the United States to vote on account of race or color."
One of the authors of the Brennan report, Alicia Bannon, said there is a cost when the diversity of the judiciary does not match that of the communities it serves.
"Our judicial system loses credibility with the public when the judges making the rulings don't reflect the diversity of the people affected by those rulings," she said. "Our courts can't function without the p