Rare charges of election fraud brought against GOP congressman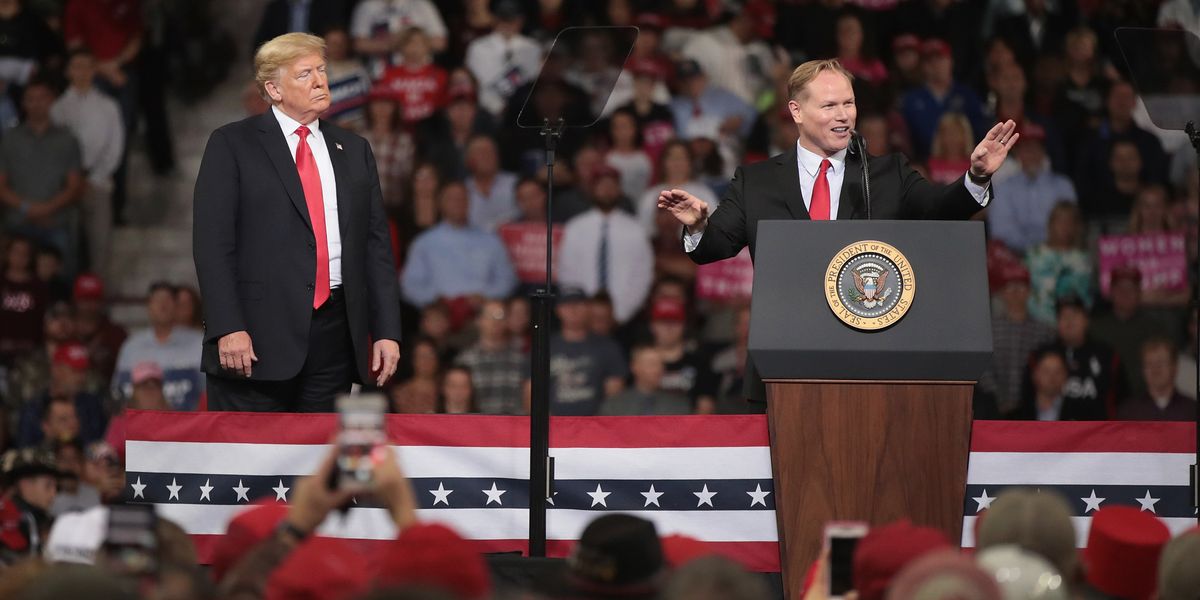 Scott Olson/Getty Images
Time after time, serious attempts to uncover voting fraud have come up essentially empty — though no effort has been more dogged than by the Republicans in charge in Kansas. Now, an allegation has landed at their feet. The accused is a freshman GOP congressman from Topeka.

Rep. Steve Watkins was charged Tuesday with three felonies connected to the city's municipal election last year, apparently the first allegations of election cheating against a sitting member of Congress in more than two decades. He allegedly repeatedly signed documents listing a UPS store as his home address, allowing him to vote in a city council race decided by just 13 votes.
The case poses a nettlesome challenge for President Trump, who has spent the past four years wrongly asserting that voter fraud is rampant and GOP candidates are the principal victims — his rationale for opposing the liberalized use of mail ballots as he stands for re-election during the coronavirus pandemic.
---
Not only is Watkins a Republican who has voted the way the president wanted almost every time during his 18 months in office, but the most high-profile case of recent cheating involved Republican operatives and required a do-over of a North Carolina congressional election last year.
Sign up for The Fulcrum newsletter
About an hour after the charges were announced, Watkins dismissed them during his first debate against his two opponents in a competitive Aug. 4 primary. "This is clearly hyper-political," he said. "I haven't done anything wrong."
The district attorney of Shawnee County, Mike Kagay, is also a Republican. He charged Watkins with interfering with law enforcement by providing false information, voting without being qualified and unlawful advance voting. The congressman was also charged with failing to notify the state motor vehicle agency of his change of address,
According to the allegations, Watkins wrongly claimed the UPS store as his official residence when re-registering to vote last August, requested an absentee ballot in October and then voted to fill a seat on the council for a district more than two miles away from where he really lives.
At the debate, the congressman repeated the defense he's used since local media reported the discrepancies several months ago: He had accidentally put his UPS mailbox instead of his physical address on the forms and corrected the error as soon as it was brought to his attention.
In his first bid for office, Watkins secured the nomination for an open House seat with just 26 percent of vote in a seven-way primary in 2018, then won narrowly in what's normally a solidly Republican district.
His main GOP opponent in three weeks is state Treasurer Jake LaTurner, who dropped plans to run for the Senate in order to oppose Watkins. Democrats think they have a shot against either of them in November with Topeka Mayor Michelle De La Isla as their nominee, although Trump carried the district by 19 points four years ago
The congressman's spokesman issued a statement saying that the charges had been brought at the behest of LaTurner, who is a politically ally of the local prosecutor. "Just like President Trump," the statement said, "Steve is being politically prosecuted by his opponents who can't accept the results of the last election."
The 43-year-old congressman's problems do not end there. His father says he's being investigated by the Federal Election Commission for allegedly funneling money to friends and relatives in 2018 with the understanding they'd donate it to the Watkins campaign — which is illegal under federal law.
And the House GOP adopted rules two years ago requiring that members under felony indictment relinquish all seats on committees. Watkins is on the Education and Labor, Foreign Affairs, and Veterans Affairs' panels.