Steward leadership
https://twitter.com/davidlnevins?lang=en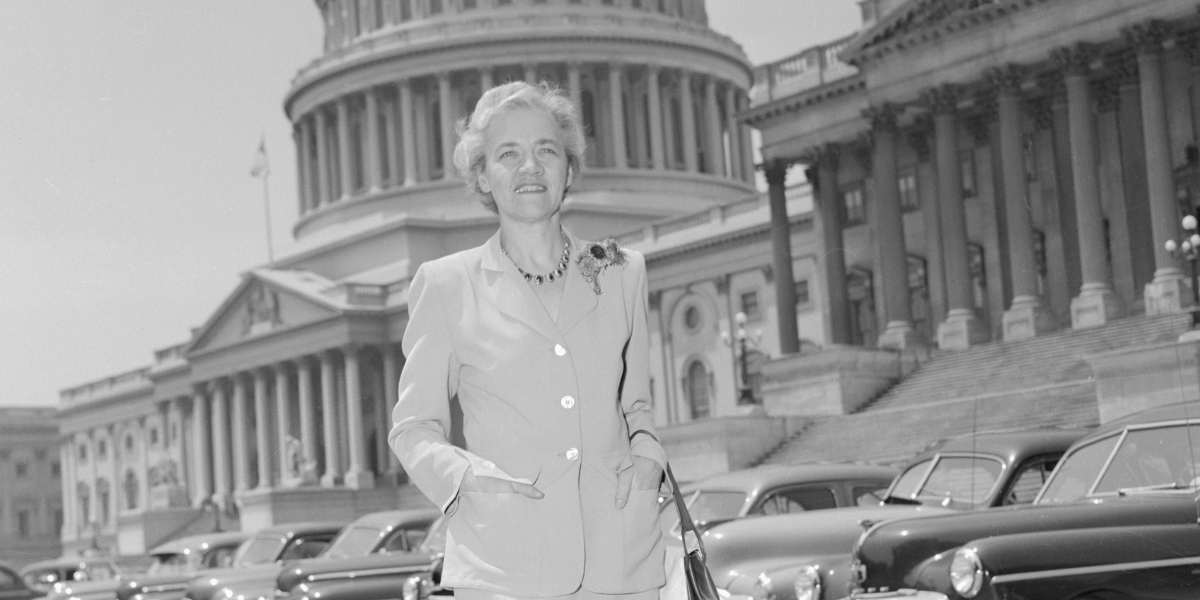 Bettmann/Getty Images
Nevins is co-publisher of The Fulcrum and co-founder and board chairman of the Bridge Alliance Education Fund.
So often we hear that Congress is broken and that reforms are needed to help overhaul the system so that Congress can address the serious problems facing our country. This is no doubt true and many organizations are working to fix this serious problem.
---
However, even if there is a massive overhaul in the rules of Congress and reforms related to how members of Congress are elected are enacted, Congress and our democracy will still not function effectively unless those who run for office represent a new type of elected leader based on servant leadership principles that are so sorely lacking today.
Fortunately, there is a growing realization that healthy self governance and the protection of our cherished democratic principles requires a new focus on leadership and many examples abound.
Retired General Wesley Clark leads one such effort through Renew America Together, an organization designed to promote and achieve greater common ground in America by reducing partisan division and gridlock. Their mission is to revitalize public and political discourse by teaching and promoting the leadership principles that put country before party.
Through the Civility Leadership Institute, participants work through an exciting curriculum, hear from dynamic nationally recognized speakers, and strengthen their relationships with each other all resulting in developing the skills needed for a renewal of our American democracy.
Sign up for The Fulcrum newsletter
In General Clark's recent CityBiz interview, he explains how communication training courses help regular citizens and future leaders understand that governance is about what brings us together and not what divides us.
Universities across the country are increasingly understanding they must serve an important role in advancing leadership principles. The Pennsylvania State University through the McCourtney Institute of Democracy offers a fellowship program where students are introduced to a different side of democracy—one that focuses not on campaigns and elections, but on bringing people together to work on common problems. Students learn about organizations doing this kind of work, and develop the skills necessary to facilitate conversations about community issues.
The classroom work is followed by an internship program at one of many cross-partisan democracy organizations across the country. This hands-on approach to democracy and leadership allows students to experience real life experiences at organizations that bring people together to solve common problems.
These are just two examples of many innovative new programs working to advance steward leadership in our nation; a leadership model that understands the critical importance of civil political discourse and critical thinking to a functioning democracy. Leadership that is direct and honest in public statements that puts ethical commitments above partisan and career objectives. Leadership that understands the importance of respect for all persons, including opponents, and a willingness to engage constructively with those across the aisle.
This idea of steward leadership in America is not new. While many argue the divide that separates us now is worse than ever, 70 years ago our nation was deeply divided during Senator Joe McCarthy's ruthless hearings to track down Americans who without proof were alleged Communists. We were a deeply divided country then as we are today and thus looking back can serve as a reminder of how remarkable leaders can make a difference.
As Senator Margaret Smith boarded the Senate subway to head to the chamber floor on June 1, 1950, another senator asked her why she looked so serious and asked her if she was going to give a speech. Her reply without hesitation was, "Yes, and you will not like it!" Surely it was the same feeling that Liz Cheney had 70 years later before her speech to Congress.
Smith, the first and only woman in the Senate in 1950, epitomized what servant leadership is as she put her political career at risk. Her words should be remembered today as we educate the next generation about what true leadership is:
"I speak as a Republican. I speak as a woman. I speak as a United States Senator. I speak as an American. Those of us who shout the loudest about Americanism in making character assassinations are all too frequently those who, by our own words and acts, ignore some of the basic principles of Americanism:
The right to criticize;
The right to hold unpopular beliefs;
The right to protest;
The right of independent thought.
Yet to displace it with a Republican regime embracing a philosophy that lacks political integrity or intellectual honesty would prove equally disastrous to this nation. The nation sorely needs a Republican victory. But I don't want to see the Republican Party ride to political victory on Fear, Ignorance, Bigotry, and Smear."
Today our country needs servant leaders more than ever.