Veterans, politics and primaries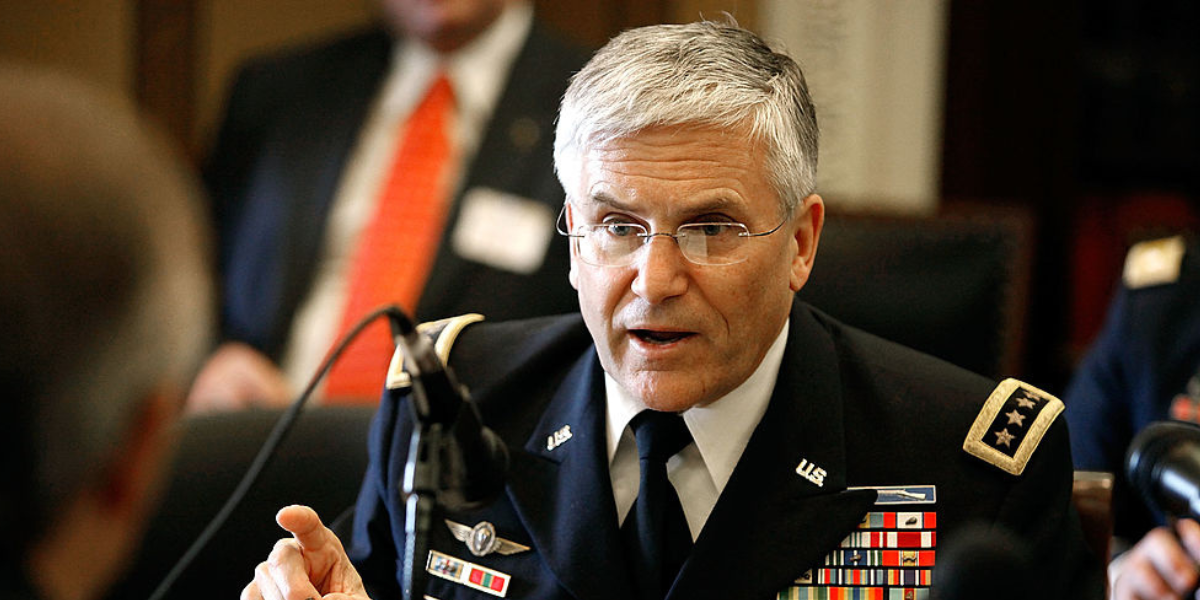 Chip Somodevilla /Getty Images
General George W. Casey spoke at an event on October 19, 2022 to a group of veterans and national security advisors. Casey, a retired four-star general who served as the 36th Chief of Staff of the U.S. Army, spoke of his 41 years of military service and the absolute need to be apolitical while leading the military. Following his retirement, he noted his process in unlearning his apolitical stance, and he asked himself how he could best continue to serve the nation.
Ultimately, he decided on nonpartisan activities through political acts of service like encouraging veterans to participate and follow their conscience. He volunteered to be a poll worker. He speaks about politics with few clues to his voting record. That's not his point. General Casey's point is to continue serving our nation in ways that are aligned with our personal values of liberty and justice for all; continuing to uphold the Constitution as all military personnel pledge upon joining the armed services.
---
The event was hosted by Veterans for Political Innovation, a group that advocates for electoral reform, primarily what's known as Final Four/Five and Ranked Choice Voting. Each state offers a different set of rules for primary voting. One challenge veterans face in voting is being blocked from voting in primaries in closed or partially closed primary states.
Sign up for The Fulcrum newsletter
Closed primaries: Delaware, Florida, Kentucky, Maryland, Nevada, New Mexico, New York, Oregon, Pennsylvania and Washington DC.
Partially closed primaries (party can allow independent voters): Connecticut, Idaho, North Carolina, Oklahoma, South Dakota, Utah
Partially open primaries (voter can choose up to election day to change affiliation or join a party): Illinois, Indiana, Iowa, Ohio, Tennessee, Wyoming
Open to unaffiliated voters (i.e. declared partisans cannot vote on opposing party ballot): Arizona, Colorado, Kansas, Maine, Massachusetts, New Hampshire, New Jersey, Rhode Island, West Virginia
Open primaries (voters may select a partisan ballot on election day without registering for that party): Alabama, Arkansas, Georgia, Hawaii, Michigan, Minnesota, Mississippi, Missouri, Montana, North Dakota, South Carolina, Texas, Vermont, Virginia, Wisconsin
Top-Two primaries (all partisan candidates are on one ballot, the top two advance regardless of party affiliation): California, Washington
Other primary processes:

Louisiana runs all candidates on the general election ballot without a primary election. If no candidate received more than 50%, a runoff election is held six weeks after the general election.
Nebraska uses a nonpartisan election system common to local offices for all elections. All candidates appear on the same primary ballot without party designation and all voters select from the same ballot.
Alaska recently adopted a top-four primary system.
To recap, voters have open primary ballot access in 26 states, but are blocked by partisan legislators in 24 states and Washington DC.
Partisans see the choice differently, asking people to join their party to participate in the party candidate selection process. The taxpayer picks up the tab for all primary elections; not the parties.
Closed primary elections disenfranchise more than 20 million Americans, including the close to 50% of veterans who do not identify with either major political party. Open primaries, on the other hand, offer state-selected solutions for top-two, final four or final five voting choices, regardless of party affiliation. Currently in Nevada,
ballot measure 3
would shift all state legislative, state executive and federal elections to final five voting. This will open up voting access in the 2024 election cycle to all voters, not just partisans.