McConnell relents, supports $250 million for election security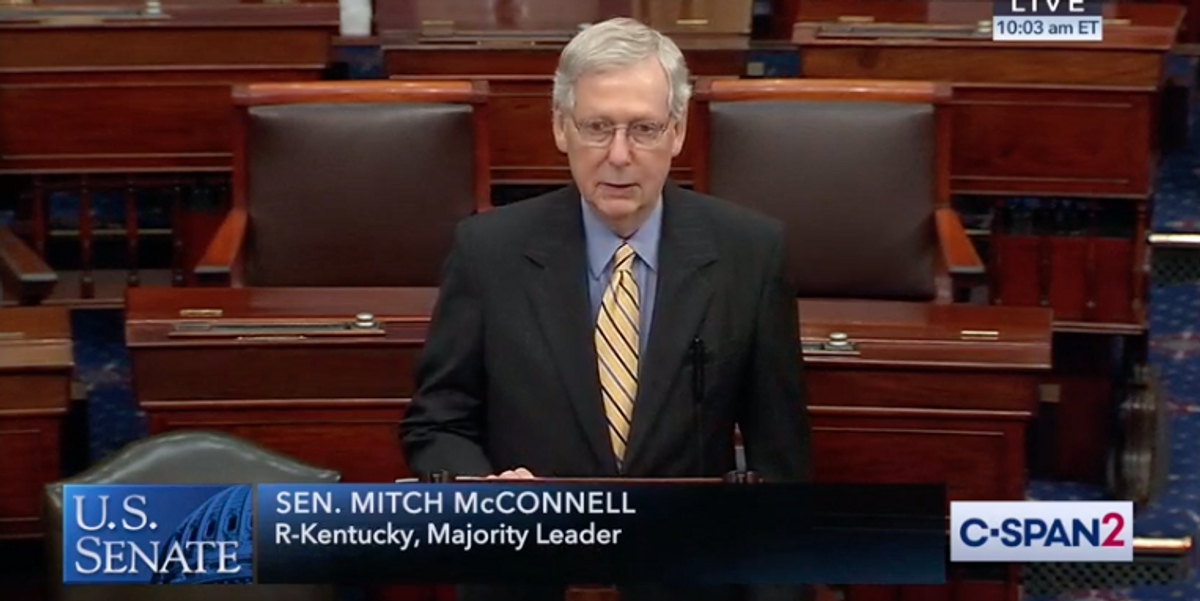 C-SPAN
Senate Majority Leader Mitch McConnell said Thursday he supports providing an additional $250 million in aid to the states to bolster election security, reversing himself after months of blocking all efforts to shore up the country's voting systems before the 2020 election.
The senators who write the annual package of spending bills endorsed that amount hours later, meaning the next step is a vote by the entire Senate.
Congress approved $380 million in election security grants to states during the fiscal year that concludes at the end of this month.
McConnell and other Republicans have said they oppose election security legislation mainly because they fear a federal takeover of state and local election processes, but also because in their view enough is already being done to secure the integrity of next year's voting. But proponents say the hodgepodge of state and local laws leave election systems vulnerable to hackers, and that officials nationwide lack the financial resources to ensure next year's elections for president, Congress and myriad other offices are secure against foreign interference.
---
Special counsel Robert Mueller's report on Russian interference in the 2016 election found that operatives attempted to hack into voting systems around the country and were successful in gaining access to a voter registration database in Illinois and to computers of some election officials in Florida.
Sign up for The Fulcrum newsletter
McConnell's subsequent, blanket opposition to all election security bills — partly driven by his not wanting to infuriate President Trump, who bristles at any talk his victory was not legitimate — prompted some critics to label the Kentucky Republican as "Moscow Mitch," an epithet he reviles.
His change in position came a day after several of the nation's most prominent conservative groups came out in support of such measures.
Grover Norquist, president of Americans for Tax Reform, and Adam Brandon, president of FreedomWorks, said at a news conference they favor legislation ensuring that paper ballots are used so there is a way to check that votes are properly tallied and can be used for post-election audits.

"If the American people not believe in the legitimacy of their elections the entire system that we have starts to crumble," Brandon said.
Both said they opposed any attempt by the federal government to dictate policy to state and local election officials.
The Democratic-controlled House in June passed, on a mostly partisan vote, an appropriations bill that includes $600 million for election security — an amount that will now must be reconciled with the Senate figure. Also in June the House passed, again in a partisan vote, a standalone package of election security measures.
The only substantive related bill McConnell has allowed through the Senate would deny U.S. entry visas to anyone who's known to have interfered with an American election. He said nothing to signal a change of heart about allowing more policy measures to advance.
Patrick Leahy of Vermont, the top Democrat on the Senate Appropriations Committee, said he believes more than $250 million is needed for additional election security and said he hopes a larger amount can be negotiated before final approval of a budget for the fiscal year that begins Oct. 1.
James Langford, an Oklahoma Republican on Senate Appropriations, noted that states had only spent $128 million of the $380 million approved last year.
He called on Congress to provide rigorous oversight of what already has been approved and any additional funds that are provided.
McConnell, who has a seat on Appropriations, revealed his change of heart on the Senate floor. "I'm proud to have helped develop this amendment and co-sponsor it in committee," he said.
"I made umpteen speeches here at this chair, and the Republican leader denied the need," Minority Leader Chuck Schumer, McConnell's Democratic said in reply. "But now, thank God, he has seen the light. We need more money for election security; ask election officials, Democrat or Republican, throughout the country."
But Schumer's office later issued a statement that "Senate Democrats believe this new funding is not a substitute for passing the comprehensive bipartisan election security legislation that experts say is desperately needed.