First Step Act beneficiaries left wondering: Can I vote?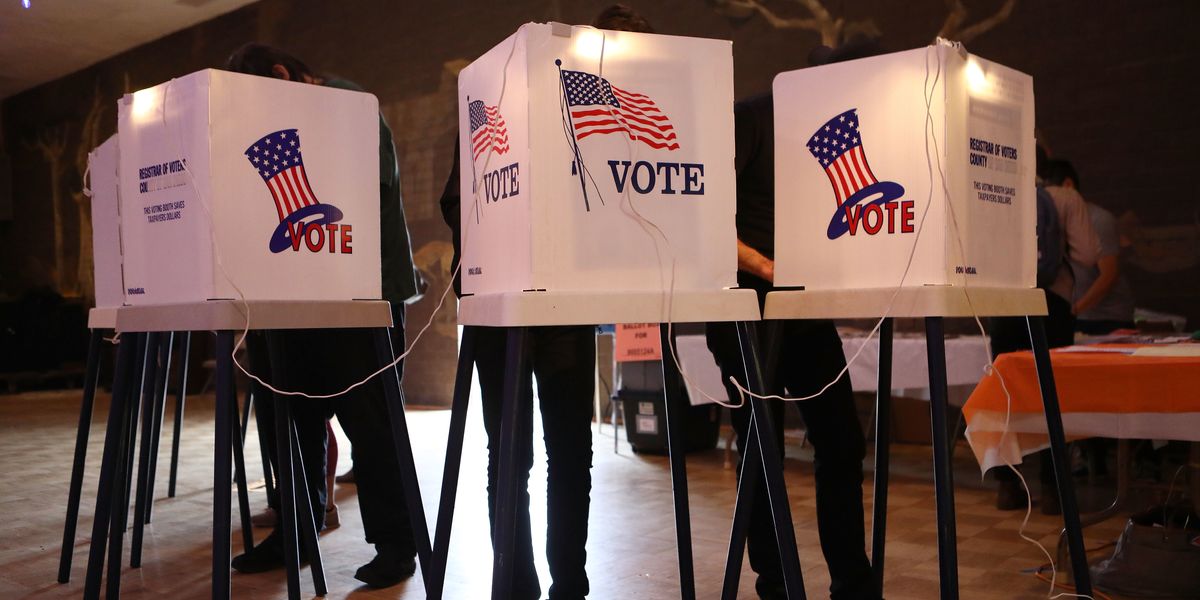 Mario Tama/Getty Images
Bowie is a staff attorney with the Campaign Legal Center, a nonprofit government watchdog. She leads the group's RestoreYourVote public education campaign.
Recently 3,100 Americans were released early from federal prisons because of policy changes from the First Step Act, a criminal justice bill enacted with lopsided bipartisan support last fall. Those individuals are returning to their homes across the country and embarking on the challenging path to restoring their place as members of their communities. Studies show that regaining the right to vote is a critical step in the re-entry process, one that can help formerly incarcerated individuals feel like full citizens. Those who were incarcerated understand best the impact that government policies have on our lives and why participating in democracy is so important.
State felony disenfranchisement laws can be extremely confusing. And because they vary so widely, they lead to the persistent misperception that most people with convictions can never vote again. In fact, while at least 23 million Americans have been convicted of felonies, only 5 million to 6 million are actually disenfranchised under law.
Americans returning from federal prison face an even more confusing landscape. On top of the already complicated patchwork of state laws, some states treat federal convictions differently than in-state convictions — both for determining whether a federal conviction means the loss of voting rights and for the steps that an individual will have to take to get rights restored.
Sign up for The Fulcrum newsletter
---
Some people just released under the First Step Act are learning that they never lost the right to vote in the first place under state law and could have been voting while incarcerated. For example, in Mississippi, while certain state convictions will strip a person of the right to vote, federal convictions never do. Mississippi citizens returning from federal prison simply have to register to vote to exercise their rights.
Others may or may not have lost the right to vote, but making that determination requires legal analysis. For example, under a 2017 law in Alabama only certain felony convictions take away the right to vote. The list of those convictions refers to sections of the state law but encompasses any federal convictions that exactly mirror those state crimes. Determining whether a federal crime disqualifies a person from voting requires an element-by-element comparison of both laws. Importantly for many Alabamians released under the First Step Act, while state-level drug trafficking is disqualifying, triggered by possession above a certain weight, federal drug trafficking is not because there is no weight threshold in the law.
For those who lost their right to vote, the procedures for restoring that right may be different for individuals with federal convictions. In Arizona, many individuals must petition a court to restore their right to vote after sentence completion — and those convicted in federal court must petition the state court in the district where they reside. In Tennessee, individuals with state convictions after 1981 need a certificate of restoration to vote again. Those convicted in-state have their state probation officer or clerk of county court fill out that form, but an individual convicted in federal court needs a federal officer to complete the form and may face additional hurdles of document production.
For those trying to navigate this system on their own, these procedural differences matter and sources of information may be scarce. Federal officials are unlikely to know how every state law works and state officials are unlikely to know how federal convictions should be treated. That combination means many are needlessly disenfranchised by a lack of information.
Non-profits have often filled the void. The Campaign Legal Center created RestoreYourVote.org to help alleviate this confusion, but it should not be up to nonprofits to educate individuals about whether or not they can vote – it should be up to the states. Moreover, these laws are needlessly complicated and should be simplified. Earlier this month, Nevada went from having one of the most complicated disenfranchisement laws to one of the simplest. Other states should follow suit.
For the Americans recently freed, the First Step Act is just that. They face the many hurdles and barriers our society has needlessly constructed that make it harder for them to reintegrate and thrive. Participation in our elections is so important because it is a marker of citizenship, but also because it is a means to push back against policies that keep a thumb on the scale against their success. The right to vote is too fundamental to be denied purely because of bad information.