All the vote-by-mail talk ignores a critical alternative, and there's an app for it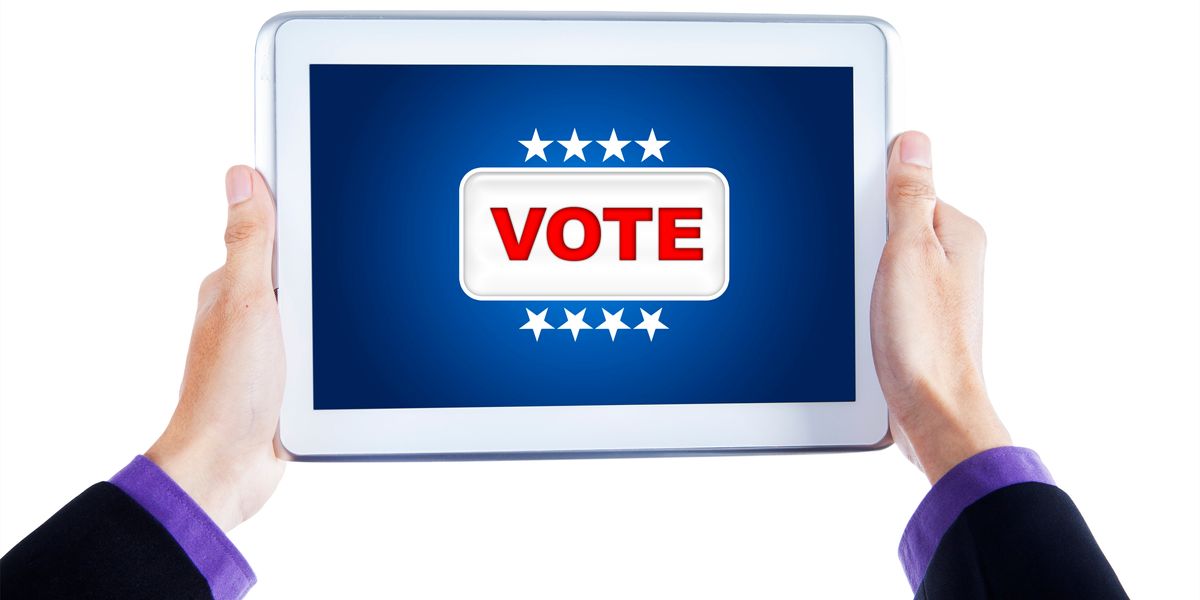 CreativaImages/Getty Images
Andreae is a financial services technology consultant. One of his current clients is
Voatz
, a company that makes a mobile voting app.
---
When Stacey Abrams, the prominent voting rights advocate and 2018 Democratic nominee for governor of Georgia, appeared on "The Late Show" this month, she explained to Stepehen Colbert why she had to go to a polling place the day before: The envelope she received for returning her vote-by-mail ballot was sealed shut when it arrived.
We've seen the images from polling stations from across Georgia and South Carolina with seemingly endless lines and chaos. We've had three months of intense conversations about the merits of mail-in ballots. But vote-by-mail has not delivered on the promise.
As we debate the feasibility, integrity and security of elections during the coronavirus pandemic, the tide of the conversation is turning in favor of vote by mail — out of necessity. Despite this uptick in attention, the conversation about remote voting is nothing new. For many, voting absentee has been a necessity, because voting in person has historically been an impossible task for select groups – those with mobility disabilities, for example, and those whose jobs or lives prevent them from getting to the polls.
What's missing from the conversation as we turn to vote-by-mail as a potential universal solution for November, however, is a focus on accessibility.
Sign up for The Fulcrum newsletter
Some are not able to read a paper ballot. Others cannot use their hands to mark the paper ballot. We accept "vote by mail" as a viable option for some, but it is not an accessible option for all.
There's a missing component in the conversation — a crucial piece that can fill in the gaps within our electoral system: Mobile voting.
If we look back over the past 20 years, the advances in security and technology are substantial. Advances built on years of testing make employing our mobile phones to support remote voting a plausible reality. Today 81 percent of Americans own and use a smartphone and, yes, multiple pilot programs have showcased voters leveraging platform security to ensure that their secret ballot has remained secure — most recently in Utah and Arizona.
These pilots prove the possibility to address most, if not all, of the perceived gaps in such a system, including leveraging smartphone cameras to conduct identity verification and resolve concerns about the identity of the voter.
But any conversation about technology has been hobbled by skepticism and fear. Computer science academics talk about risk and use words like "settled science". They claim neither technology nor the Internet can be secured.
They also ignore that technology has been a critical component of elections for years, and has become part of the accepted fabric through years of iterative innovation – from registration platforms to ballot tabulation.
Elections are critical infrastructure, and citizens have every right to be concerned. However, it does more damage to our democracy to completely dismiss the real collaboration among election officials, computer science practitioners, technology platform providers and cybersecurity experts — plus extensive testing. We can build resilience into an imperfect and ever-transforming system that currently leaves many citizens out of exercising their democratic right.
The time to move the conversation forward is now. We need to test and collaborate to build a resilient system. It must have multiple options that work for all voters and constantly monitor the threats in the marketplace. And we need to constantly take the learnings and add them to the architecture, design and software that manages our mobile election process.
Yes, there are risks with using technology and there are costs. But there are risks and costs with our current system, and with mail-in ballots. Some significantly impact our democratic process – and we have a responsibility to find a way forward while mitigating those risks.
We need to offer a new option to our fellow voters who can't make it to the polls and need an accessible way to vote. We must move forward with mobile voting.