New Yorkers rank mayoral candidates, for fun and then for real
https://twitter.com/saramswann?lang=en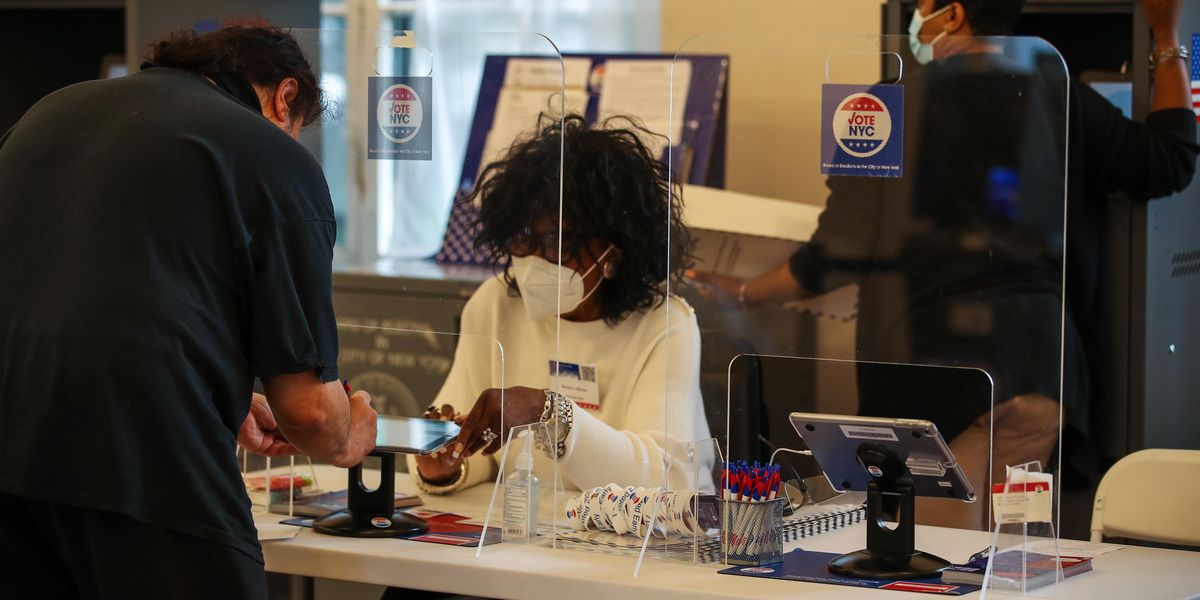 Tayfun Coskun/Getty Images
Early voting for the highly anticipated mayoral primary in New York City kicked off this weekend, and most voters will see a redesigned ballot for the first time. Many found a fun way to practice voting in recent weeks.

Voters across the nation's most populous city will be able to rank their top choices for mayor, as well as other municipal offices. The outcome of this election and voters' attitudes toward ranked-choice voting could influence whether the alternative voting method is adopted elsewhere in the United States.
---
New York City voters will rank in order of preference up to five candidates for mayor, comptroller, borough president, city council and public advocate. In the case that no candidate receives majority support, the election goes into an instant runoff in which the candidate with the fewest votes is eliminated and that person's support is redistributed to voters' second choices. This continues until one candidate crosses the 50 percent threshold.

To educate voters about the new process, local officials, the media and reform advocates launched fun information campaigns, often involving popular foods or fictional characters.
Ahead of the primary that will help determine his successor, Mayor Bill de Blasio asked New Yorkers to practice using the new voting method by ranking their favorite pizza toppings. (Spoiler alert: Pepperoni was the definitive winner.)
Sign up for The Fulcrum newsletter
The Gothamist, a local media outlet, held its own ranked election asking readers to choose their favorite fictional mayors of New York City. The contenders came from TV shows and movies, such as "City Hall," "The Taking of Pelham 123," "Sweet Home Alabama," "Ghostbusters," "Futurama," "Aftershock: Earthquake in New York" and "The Dark Knight." Ultimately, Mayor Lenny from "Ghostbusters" received the most votes overall. The Gothamist also had readers vote on their favorite books about New York. "The Catcher in the Rye" won that contest.
Reform organizations like the Ranked Choice Voting Resource Center and FairVote have also used ice cream and other foods to explain how ranked elections work.
Some New Yorkers used RCV, as the system is known, earlier this year for special elections to fill City Council seats. But the citywide primary is by far the biggest test for ranked-elections, which have been used statewide in Maine and select cities around the country.
On Monday, the third day of early voting, the new system appeared to be running smoothly and wait times were under 20 minutes across the city. Just under 50,000 New Yorkers cast their ballots over the weekend during the first two early voting days. This turnout is unsurprisingly much lower than the first day of early voting for the presidential election last fall, which saw almost 94,000 ballots cast.
It remains to be seen who out of the 13 Democratic candidates will come out on top. Some of the contenders include Brooklyn Borough President Eric Adams, former presidential candidate Andrew Yang, former Wall Street executive Raymond McGuire and Maya Wiley, a former counsel to de Blasio.
The two Republicans vying for mayor are Curtis Sliwa, a radio talk show host and founder of the nonprofit Guardian Angels, and Fernando Mateo, an entrepreneur and activist.
Early in-person voting ends June 20, and primary day is June 22. Results will likely be finalized in early July after all the mail and provisional ballots are counted.