Thousands of N.C. students waiting for colleges to make proper IDs for voting
https://twitter.com/saramswann?lang=en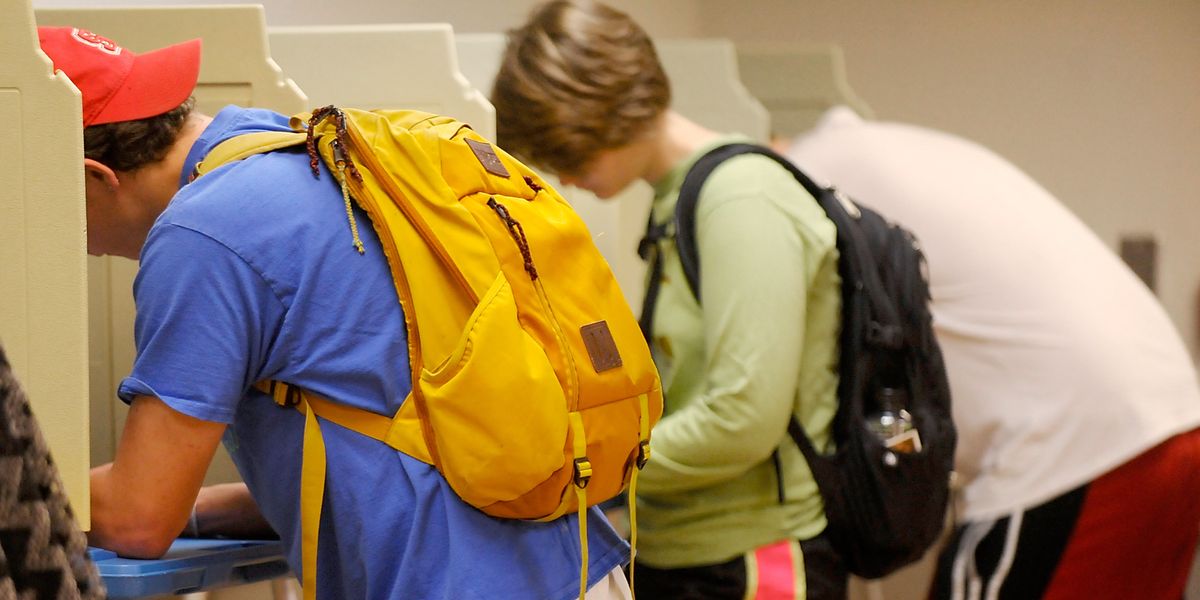 Sara D. Davis/Getty Images
Next year's presidential election will mark the first time North Carolina voters must show photo ID before casting their ballots. The state's colleges and universities are supposed to ease this obstacle for their students — but many may not act in time.
More than two dozen schools, with a combined enrollment of 54,000, have yet to ask permission for their student identification cards to count as an approved proof of residency. And the cutoff for applying to the state Board of Elections is Saturday.
Thirteen schools with 170,000 students, including some of the biggest in the state, have had their ID card designs rejected and have only three weeks to come up with an alternative.
That so many students would have their potential to vote put in limbo by this bureaucratic tardiness is an alarming turn in a state where the Republican power structure has long been at the center of allegations of voter suppression of a group that normally turns out heavily for Democrats.
---
The tardiness of the schools has alarmed officials, including Ellen Weintraub, the chairwoman of the Federal Election Commission, who sounded the "alert!" on Twitter and wrote to all the schools and their student leaders urging them to get to work on their applications.
Sign up for The Fulcrum newsletter
🚨🚨ALERT! According to the NC State Board of Elections, dozens of #NorthCarolina colleges and universities have not… https://t.co/T1Qb0owbSV

— Ellen L Weintraub (@Ellen L Weintraub) 1571802882.0
The early deadline was established because a photo ID will be required starting with the March 3 primaries, and early voting begins several weeks before that. The state says it needs more than three months to train poll workers on the new procedures, including deciding what ID counts and what does not. (An in-state driver's license is still the gold standard, but out-of-state students and many from urban areas don't have them.)

In addition to colleges and universities, charter schools and state and local governments can also apply to have their identification cards accepted for voting purposes. As of noon on Thursday, six dozen institutions had their applications approved.
Most of the IDs that were rebuffed display photographic portraits that were not up to the state's exacting standards for clarity, pose and authenticity.
The schools now under the gun to come up with new IDs by Nov. 15 include the flagship state school, the University of North Carolina at Chapel Hill, and the biggest historically black college in the country, North Carolina A&T State University.
The General Assembly tried to implement a photo ID requirement in 2013, but a federal appeals court struck it down in 2016 for discriminating against African-Americans. This time around the law was upheld because it accepted more forms of identification than before.
In 2018, a majority of North Carolina voters approved a constitutional amendment to require photo IDs to vote. The requirements now being implemented were subsequently set by the Republican-majority Legislature. A second law was enacted this year to delay the start of the requirement until next year, meaning voters in local elections next month do not need picture proof.