Severe weather, virus worries disrupt the gears of democracy on Super Tuesday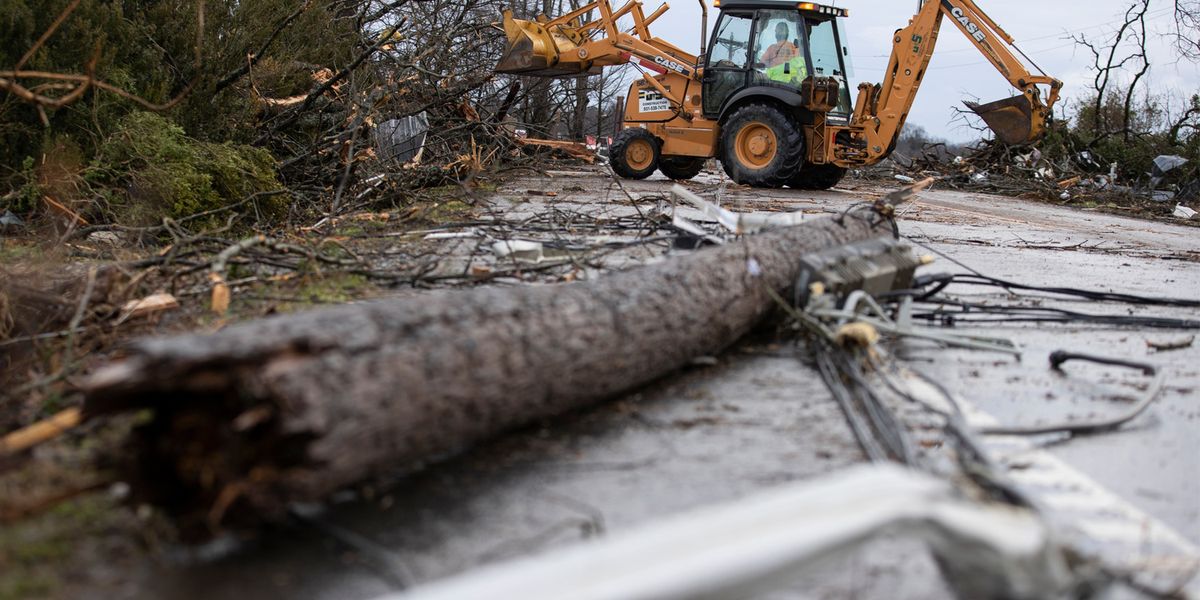 Brett Carlsen/Getty Images
Deadly storms in at least two Super Tuesday states and coronavirus anxieties nationwide are complicating efforts to boost turnout and ease confidence in the results from the nation's most important day of voting ahead of November.

Efforts to get democracy working more smoothly are almost always focused on human behavior, from making it easier for people to vote to rewarding collaboration among partisan politicians. This time, unpredictably treacherous weather and the unpredictable spread of disease are conspiring to make things much more difficult for Democrats casting ballots to award a third of their presidential delegates.
---
Voting rights groups were focused on Tennessee, where tornadoes ripped through parts of the state a few hours before the polls were set to open, shattering buildings and killing at least 22 people. Some polling sites in Nashville as well as in Davidson and Wilson counties opened an hour late but were still set to close on time at 8 p.m. EST, Republican Secretary of State Tre Hargett announced. And with 15 voting venues in the state's biggest city out of commission, the people who showed up were told they could cast ballots instead at pair of "supersites" in minimally damaged neighborhoods.
"Of course we want people to exercise caution," GOP Gov. Bill Lee said at a news conference. "We also want folks to exercise their rights to get out there and vote. It's a very important day for that. So, we're going to make it possible for as many folks as we can to vote — and wherever we find a polling station that there's a problem, we're reaching out to correct that."
Sign up for The Fulcrum newsletter
The Lawyers' Committee for Civil Rights Under Law, a Washington-based nonprofit, said the steps Tennessee was taking were insufficient and the group was headed to court in hopes of getting the primary extended through the end of the week.
Similar efforts were being planned in Alabama, where tornado warnings were issued in at least five counties in the central part of the state and a handful of polling places were reportedly without electricity during a morning marked by drenching thunderstorms.
In both states, poll workers in rural areas were being told to take extra precaution because of potential flash flooding this evening if their responsibilities included taking results by hand from their precincts to a central county office — potentially delaying the results from states with 116 delegates at stake.
The National Weather Service said severe thunderstorms, wind damage and more tornadoes were also possible in parts of two other states voting Tuesday, Virginia and North Carolina, while severe storms that could cause large hail, damaging winds and a tornado are possible in central Texas the final few hours before the polls close in the second-biggest prize of the day. Texas' 228 delegates are exceeded only by the 415 in California, where weather did not seem to be a concern.
Fourteen states have presidential primaries now underway. And this is not the first time severe weather has struck on Super Tuesday. Twelve years ago, when two dozen states had primaries and caucuses on Feb. 5, dozens of tornadoes were reported in 10 of those states, killing 57 people.
Back then, though, there was no COVID-19. In California's Solano County, where the country's first case of the virus' spread within a community was identified, there are new curbside sites where people could drop off their ballots Tuesday without having to leave their cars.
The state also allows people to vote through the mail so long as their ballots are postmarked by election day, and residents were being urged to take advantage of that option as another precaution against the virus — further increasing the likelihood that final results there won't be known for days. Almost 75 percent of the state's voters received absentee ballots.
For those who still want to vote in person in Sacramento County, for example, election officials distributed to all the polling sites hand sanitizer, wipes and latex gloves thin enough for use with touch-screen voting machines.
The elections director in Falls Church, a Virginia suburb of Washington, also laid on big supplies of hand sanitizer and disinfectant wipes and told poll workers to frequently wipe down the booths and pens touched by voters. But the official, Dave Bjerke, said all his poll workers had promised to show up.