Numbers tell the story: Last year's election rules should be the new normal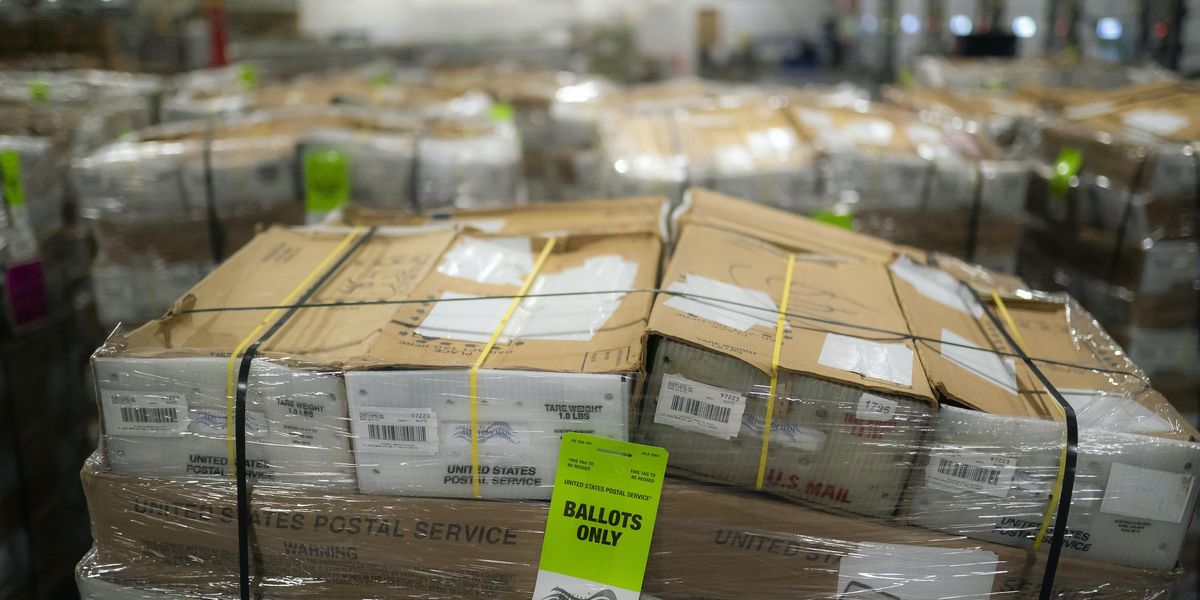 Nathan Howard/Getty Images
McDonald is an associate professor of political science at the University of Florida and runs the U.S. Elections Project, which maintained a comprehensive database on 2020 voting methods and turnout in every state.
---
As the coronavirus pandemic raged across the country last year, several states worked diligently to make it easier for voters to cast mail ballots and to provide more access for in-person voters. And after the dust of the general election settled, we began to see major success stories — including the highest voter turnout rate for a general election in a century, with turnout increases in every state.
Now is not the time to pump the brakes on democracy.
Despite the success of last year's election — a monumental feat coordinated by election officials across the country — politicians in 30 states are pushing more than 150 bills to undo, slow down or reverse some of the very policies that secured a larger and more engaged voter base in 2020 and brought us closer to the American promise of a more inclusive democracy.
This is especially concerning because hidden in the administrative success of last year's general election is this fact: Despite the historic turnout nationwide, our progress as a democracy is based primarily on state-level policies, which still vary widely and have the biggest impact on how people actually vote.
Sign up for The Fulcrum newsletter
This point is clearly illustrated in the 2020 edition of "America Goes to the Polls." Out this month, it's the seventh biennial state-by-state report on voter turnout and turnout changes from the previous comparable federal election. It's a joint production of the U.S. Elections Project and Nonprofit VOTE, a nonpartisan organization that works to help other nonprofits promote active civic participation and democracy.
The report gets under the hood of the last presidential election, looking at the detailed data to examine which policies had the biggest impact on voter participation.
One policy we examined was voting by mail. Overall, the states with the highest usage of mail voting saw turnout increase the most — as much as 9 percentage points. In the report's ranking of all 50 states (plus D.C.) by turnout, half of the top 10 states proactively mailed ballots directly to all registered voters. Conversely, eight of the bottom 10 required voters to overcome significant barriers to mail voting, such as excuse requirements or notary signatures, reducing how many voters could use the policy.
And while such states as Hawaii, New Jersey, and Montana saw impressive voter turnout increases (14 points, 10 points, and 9 points, respectively) after expanding mail voting access, bills to reduce access and eligibility have already been introduced in those same states.
Another successful policy was same-day registration, also known as Election Day registration, which allowed eligible citizens to both get on the rolls and cast their ballots on Nov. 3 last year — overcoming the nearly four-week deadline many states employ.
Eight of the top 10 states for turnout had implemented the policy. On average, the same-day registration states had a 5 percentage point turnout advantage over states without it. This system has now been adopted by 23 states, roughly half the country — including eight that have implemented it since 2016.
However, legislatures in some of the states that saw turnout increase because of same-day registration are now pushing bills to eliminate the policy. And at least three others are looking to restrict or eliminate automatic voter registration — a policy that encourages registration whenever citizens do business with their departments of motor vehicles or other state government agencies.
By many measures, 2020 was a tough year on everyone — requiring massive, uncomfortable upheavals to our norms that most are ready to leave behind. However, it was an exemplary year for voting policy advances. It is a year we should consider the "new normal" for civic engagement, not just a consequence of extraordinary times.
It's important to recognize that, in the larger picture, our country continues to strive towards greater representation by increasing access to the levers of democracy to those routinely marginalized. But that progress is not guaranteed and cannot be sustained without real effort and often sacrifice.