Uncertainty envelops next week's Wisconsin primary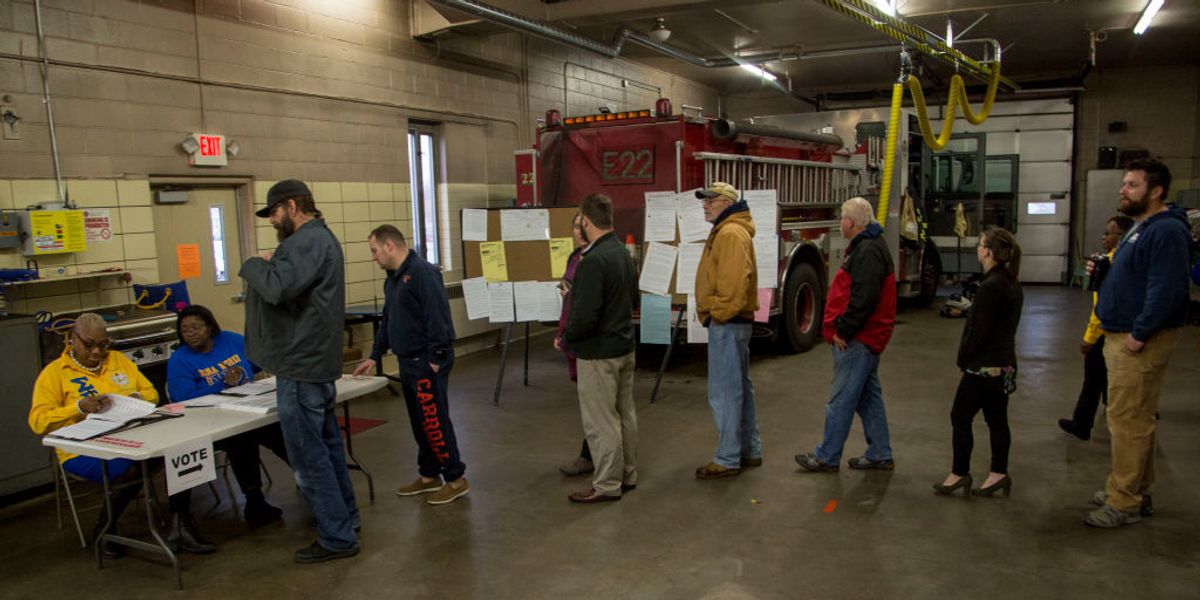 Darren Hauck/Getty Imags
Eight days to the Wisconsin primary and almost every aspect of it remains up in the air, from the rules for how people will vote to whether the election will even take place.

The state, which already looms as the essential presidential battleground in November, has quickly become the heart of the national debate about the propriety of voting during a pandemic. It is the only state that has not in some way delayed an April presidential primary, the main rationale being that some state and local contests on the ballot are for jobs that become vacant without a timely election.
Democratic Gov. Tony Evers shifted course Friday and, after saying the polls should be open April 7 as usual, proposed that 3.3 million ballots be printed and delivered to every voter in the state in time for them to be filled in and sent back on schedule. Republicans in charge of the Legislature, who would have to pass a bill for that to happen, said the idea was a logistical impossibility.
---
A federal judge on Saturday consolidated three lawsuits filed against the state — efforts to postpone the primary altogether or at least relax the rules to make absentee voting easier for more people. The judge promised to rule on these requests in time.
Sign up for The Fulcrum newsletter
Another federal judge on Friday dismissed Green Bay's bid to delay the election because of concerns about the safety of government employees, poll workers and voters.
Judge William Griesbach said cities lacked authority to bring such lawsuits, but he added that his decision "is not intended to minimize the serious difficulties the city and its officials are facing in attempting to conduct the upcoming election."
Wisconsin is not only an important place in Democratic presidential politics, with 84 pledged delegates at stake, but any changes in the voting process now could still be in place in November, when Wisconsin's 10 electoral votes will be top of mind for both nominees. Donald Trump won the state by just 23,000 votes last time, breaking a seven-election winning streak for the Democrats.
The most sweeping suit before U.S. District Judge William Conley seeks to have the primary delayed at least until the governor lifts his emergency order closing most schools and businesses and requiring most people to stay at home. That's not likely before May given President Trump's decision Sunday to extend federal social distancing guidelines through the end of April.
Another suit, filed on behalf of elderly people living alone and at highest risk of getting sick, wants to eliminate the requirement that a witness must sign all mail-in ballots. The third suit seeks to extend online registration times and suspend the requirement that people provide a photo ID and proof of residency, such as a utility bill, to register.
Conley signaled Monday he'd have a hearing Wednesday and told the Wisconsin Election Commission to explain by Monday night why the primary should not be delayed.
As of Monday morning the state had more than 1,100 confirmed Covid-19 cases and at least 20 deaths. It also had sent more than 848,000 absentee ballots to voters and seen nearly 252,000 returned, already a record for a springtime election in Wisconsin.
Day's end is the deadline for voters to register online if they want to cast an absentee ballot and Thursday is the deadline for requesting one.
"Even he knows that's not logistically feasible," state Senate GOP Majority Leader Scott Fitzgerald said of Evers' plan to rush out vote-by-mail forms. "Acting like this is doable is a hoax."
The current back-and-forth has totally overshadowed the big voting rights issue in Wisconsin before the novel coronavirus — whether to purge more than 200,000 names from the registration rolls, a matter that has been tied up in court for months and is now on hold.
The Wisconsin Institute for Law and Liberty, the conservative think tank leading that effort, said that Evers' proposal "might make sense if the Wisconsin Elections Commission kept the voter rolls clean and up to date, but we know that it does not."