The state of voting: Nov. 14, 2022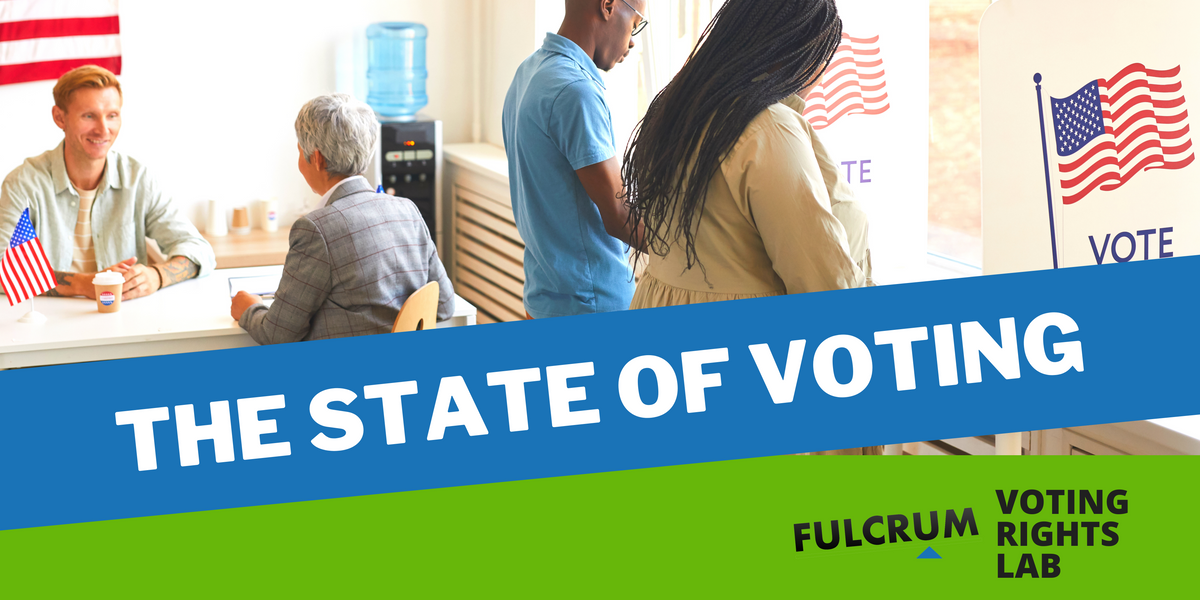 This weekly update summarizing legislative activity affecting voting and elections is powered by the Voting Rights Lab. Sign up for VRL's weekly newsletter here.

The Voting Rights Lab is tracking 2,208 bills so far this session, with 583 bills that tighten voter access or election administration and 1,058 bills that expand the rules. The rest are neutral, mixed or unclear in their impact.
Last week, voters in a number of states had the opportunity to change certain election laws. In Nebraska, voters approved a constitutional amendment requiring photo ID to vote while Michiganders amended their Constitution to increase access to mail voting and in-person early voting and protect against election interference. Connecticut voters also approved an amendment allowing for in-person early voting.
Looking ahead: The Voting Rights Lab is still watching Arizona, where the Legislature asked voters to ratify a new photo identification law that would eliminate many of the ID options currently available to voters. Under current law, a voter can present either a photo ID or two documents with their name and address, such as a utility bill. The proposition would eliminate the second option. It would also require voters to provide a specific ID number, such as their driver's license number, on their mail ballot envelopes.
Sign up for The Fulcrum newsletter
Here are the details:
---
Michigan amends its constitution to increase voting access and protect against election interference. Michigan voters adopted Proposal 2, enshrining nine days of early voting in the state Constitution, expanding mail ballot access and ensuring election results will always be based on the votes cast. The new mail voting provisions provide ballot drop boxes statewide, prepaid ballot return postage, and a permanent list for voters who want to receive a mail ballot each election. Other mail ballot provisions – while new to the Constitution – reflect existing law and practice. These include a right to vote by mail to cure ballot envelope errors. Similarly, Proposal 2 adds the current voter ID rules – which allow voters who do not have an ID with them to vote with a regular ballot if they sign an affidavit affirming their identity – to the Constitution. Finally, the proposition ensures that election audits will be done transparently and professionally, and that elections will be certified smoothly, accurately reflecting the votes cast.
Connecticut poised to adopt early voting. Sixty percent of Connecticut voters supported an amendment to the state Constitution authorizing the General Assembly to establish in-person early voting. Connecticut is currently one of only four states, along with Mississippi, Alabama and New Hampshire, that do not offer all voters an opportunity to cast a ballot before Election Day. It is now up to the legislature to establish the parameters of future early voting opportunities.
Nebraska Constitution amended to require photo ID for voters. A state constitutional amendment requiring photo ID was approved by Nebraska voters with 66 percent of voters supporting the measure. While the details and exceptions will be determined by the Legislature, Nebraska will join the 21 other states that generally require photo ID to vote in person.
Nevada voters take a step toward adopting open primaries and ranked-choice voting. Voters in Nevada narrowly approved an amendment to the state's Constitution to establish a system wherein five candidates would advance from an open primary. Voters would then rank up to five candidates in the general election. The amendment must be approved by voters again in 2024 in order to take effect.
Ohio amends its Constitution to block cities from allowing non-citizens to vote in local elections. Voters in Ohio approved an amendment to the state's Constitution to prohibit municipalities from allowing residents who are not U.S. citizens from voting in their local elections. Louisiana will vote on a similar provision on Dec. 10.