Report: 'Big Lie' spurs fundraising in secretary of state races
https://twitter.com/davidmeyers?lang=en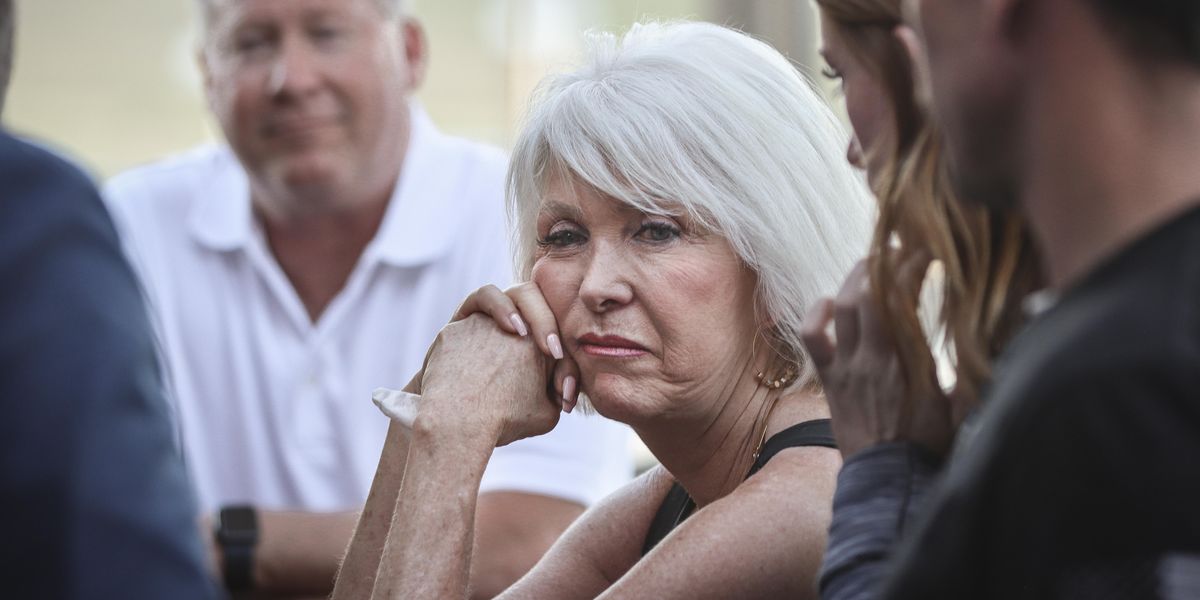 Marc Piscotty/Getty Images
Fundraising for elections has been steadily increasing, reaching unprecedented levels in 2020. This year, the numbers are skyrocketing in a previously low-stakes arena: elections for secretary of state.

According to a new report from the Brennan Center for Justice, false claims about the 2020 presidential election are driving the exponential rise, fueled by former President Donald Trump's false claims that the election was stolen from him.
The report focuses primarily on six battleground states with secretary of state races this year: Arizona, Georgia, Michigan, Minnesota, Nevada and Wisconsin, although it also covers a handful of additional states where the candidates include election deniers. The vast increase in funding has been directed to both election deniers and their opponents.
---
The Brennan Center identified 12 election-denying candidates, and 10 others who have taken a stance against such claims, running for statewide office across the six battleground states. Funding for these races now exceeds $16 million — more than double the amount raised at a similar point in the 2018 elections.
Of this amount, about $7.3 million has gone to election denial candidates, while $8.1 million has been raised by their opponents, many of whom are incumbents. Still, incumbency does not fully explain the difference as the six election denial opponents who are not incumbents have collectively raised $4 million.
Sign up for The Fulcrum newsletter
Additionally, the report shows that election denialism is a primary driver in the fundraising for these contests. Fifteen candidates in these states who have not taken an outright stance on the 2020 election have together raised only $900,000.
The largest jump in funding was found in Nevada, where the $2.6 million raised in the secretary of state race is more than five times the amount raised in the previous few cycles. Democratic nominee Cisco Aguilar will face Republican Jim Marchant, who claims Donald Trump actually won the 2020 election, in November.
In Colorado, Republican candidate Tina Peters lost the primary for secretary of state. "We didn't lose, we just found evid­ence of more fraud," she said, "they're cheat­ing and we'll prove it once again."
Meanwhile, funding for secretary of state candidates in Wisconsin usually does not begin in earnest until closer to the November election. However, the $218,000 that has been raised so far, mostly by state Rep. Amy Loudenbeck (R), is almost 12 times the amount raised by June 30 in 2018. Loudenbeck won the GOP nomination over Jay Schroeder, who has openly claimed that the 2020 election was rigged. (Currently, the secretary of state does not oversee elections in Wisconsin, although Republicans want to pull authority away from the state's bipartisan elections commission.)
Some of this increase can be attributed to out-of-state fundraising, which has increased dramatically. In Arizona, where total funding for secretary of state races has increased by 50 percent, out-of-state funding has increased by nearly 400 percent.
Mark Finchem, the Republican nominee for secretary of state, ran an ad claiming credit for the Trump-requested Cyber Ninja audit of the Arizona 2020 election. He also said in June, "Ain't gonna be no conces­sion speech coming from this guy. I'm going to demand a 100 percent hand count if there's the slight­est hint that there's an impro­pri­ety."
The report also spotlights the specific donors who have supported election denial candidates across the country, though much of the money remains anonymous due to an exception in the campaign finance laws that allow for "dark money."
One acknowledged donor is former Overstock CEO Patrick Byrne. He has spent millions on "election integrity" efforts such as the Cyber Ninja audit. He was also at a 2020 meeting in the Oval Office during which participants discussed the possibility of the military seizing voting machines. The committee investigating the Jan. 6, 2001, insurrection has been looking into that meeting.
Michael Rydin, a Texas construction software company CEO, and packing supplies magnate Richard Uihlein and his wife, Elizabeth, were also named in the report as major donors to election-denying candidates and organizations. All four donors never before donated to secretary of state races.
Also contributing to election denial candidates are Trump-affiliated political action committees. These include his own Save America PAC, which has donated to such candidates in Arizona, Georgia and Michigan, and the Make America Great Again super PAC. State-level political action committees, such as several in Georgia that boosted the Senate campaign of David Perdue, are also major fundraisers.