New Yorkers defeat vote-by-mail proposal, but D.C. may move one forward
https://twitter.com/davidmeyers?lang=en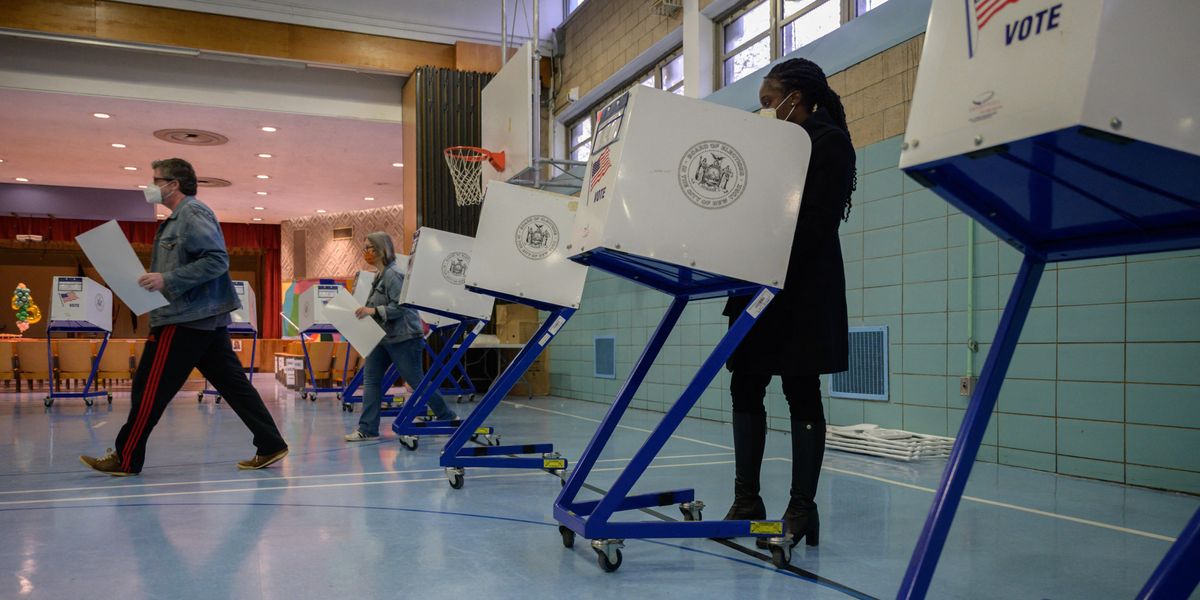 Ed Jonesn/AFP via Getty Images

The past week has brought both positive and negative news for supporters of expanded access to voting by mail.

During last week's election, voters in New York rejected a ballot proposal that would have directed the Legislature to pass a bill allowing for no-excuse absentee ballots. The result caught many by surprise, as most states — especially those that tend to vote Democratic — have such policies in place. Instead, only 38 percent of voters in the nation's fourth most populous state supported the proposal.
Meanwhile, the D.C. City Council began the process this week for institutionalizing vote-by-mail for the nearly 700,000 residents of the nation's capital.
---
While Americans used mail-in voting at a historic rate in 2020, New York lagged behind most other states. According to a report issued this summer by the federal Election Assistance Commission, 43.1 percent of voters used mail-in ballots last year. But only 20.3 percent of New Yorkers selected that option, the 12th lowest rate.
According to Ballotpedia, 34 states either provide all voters with a mail ballot or allow the use of an absentee ballot without providing a reason. The remaining 16, primarily Republican-dominated states in the South, require voters to meet certain requirements in order to vote by absentee ballot.
Sign up for The Fulcrum newsletter
Another proposal, which would have allowed people to register to vote and cast a ballot on Election Day, was also defeated. Proponents of such policies argue that same-day registration increases turnout, considered a key component of a strong democracy. And a third proposal, one that would have reformed the state's redistricting process, went down as well.
"The failure of props 1, 3, and 4 is a black eye for democracy," Common Cause New York's executive director, Susan Lerner, said in a statement. "These results are a cautionary tale showing that even in deep blue New York, we can't take pro-democracy outcomes for granted. Anti-democracy forces are drowning out common-sense reforms with fear mongering scare tactics, and voters are listening."
According to The Guardian, the Conservative and Republican parties vastly out-spent Democrats to fight those proposals and devoted significant on-the-ground resources as well.
While New York has settled these issues for the time being, some potential election reforms are just getting underway in Washington, D.C.
New legislation was introduced Tuesday to make a series of changes to D.C. election laws, including the establishment of a permanent vote-by-mail system. The city made a one-time decision to mail ballots to all voters for the 2020 general election, and this bill would codify such a system for future elections.
The bill would also increase the use of ballot drop boxes, establish voting centers and make Election Day a holiday.
"D.C. held a safe, secure, and accessible election by making it easier to vote and safe to vote from home," said the bill's sponsor, Councilmember Charles Allen. "These are common sense and popular changes we need to make a permanent part of our elections moving forward. In doing so, we will broaden the number of people who are able to participate in our elections and feel more invested in their government."
In addition, Allen will chair a hearing Nov. 18 on legislation to implement ranked-choice voting in Washington.