The state of voting: Oct. 24, 2022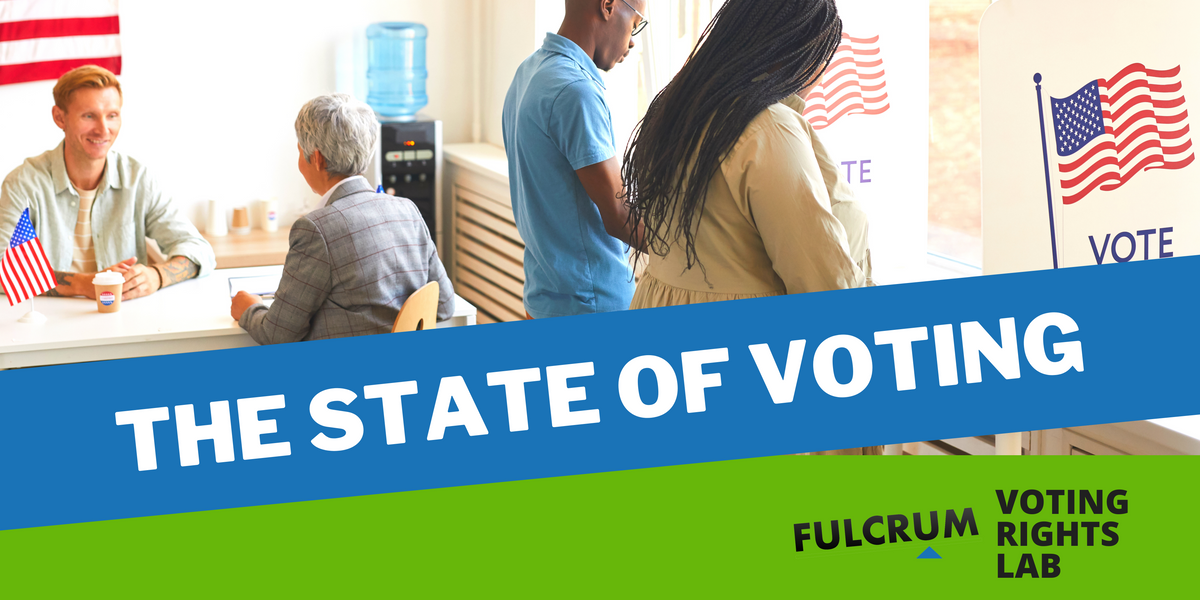 This weekly update summarizing legislative activity affecting voting and elections is powered by the Voting Rights Lab. Sign up for VRL's weekly newsletter here.

The Voting Rights Lab is tracking 2,207 bills so far this session, with 583 bills that tighten voter access or election administration and 1,057 bills that expand the rules. The rest are neutral, mixed or unclear in their impact.
Last week's election developments included a key step in expanding the use of mail-in voting in the nation's capital, as well as court decisions in Pennsylvania that ensure counties may continue to provide both drop boxes and an opportunity for voters to correct minor errors on their mail ballot envelopes.
Meanwhile, New York Gov. Kathy Hochul signed a law protecting the confidentiality of voters who are survivors of sexual abuse, and a unanimous Nevada Supreme Court prohibited Nye County from live-streaming a hand count and reading results out loud to the public prior to the close of polls on Election Day.
But a New York trial court ordered election officials to stop processing mail ballots before Election Day; the state has filed a notice of appeal.

Looking ahead: A new lawsuit seeks to require a Pennsylvania county to provide Spanish-language ballots.
Sign up for The Fulcrum newsletter
Here are the details:
---
The District of Columbia Council passes legislation that would send mail ballots to all registered voters. The D.C. Council passed legislation on Tuesday that would add Washington to the growing list of jurisdictions that send mail ballots to all registered voters each election. Voters could return their ballot by mail in a postage prepaid envelope or put it in a drop box. The bill would also allow those who prefer to vote in person to cast a ballot at any vote center location in the city. Having passed the council unanimously, the bill must now receive mayoral and congressional approval to go into effect ahead of the District's 2024 election.
New York enacts a new law to protect voters who are sexual violence survivors, while a trial court blocks election officials from processing mail ballots before Election Day. Last Tuesday, Gov. Hochul signed A.B. 7748, enabling survivors of sexual violence to choose to keep their voter registration address confidential in the same ways that existing law enables domestic violence survivors to keep their records confidential.
Meanwhile, a New York trial court ruled that election officials must stop opening mail ballot envelopes and feeding ballots into a tabulator before Election Day. The court found that a new law designed to help avoid reporting delays violated the rights of the New York Republican and Conservative parties to challenge ballots and impermissibly limited judicial review of contested ballots. The state immediately filed a notice of appeal.
Pennsylvania counties may continue to cure mail ballots and offer drop boxes, while a new lawsuit seeks to require Spanish-language ballots in York County. The six-justice Pennsylvania Supreme Court split 3-3 on the issue of whether counties may continue to contact a voter when one makes a mistake, such as failing to sign their ballot certificate envelope, so voters may correct these minor errors and have their ballot counted. This split leaves intact the trial court order allowing counties to do.
Another Pennsylvania court held that Lehigh County could continue to offer 24-hour drop boxes as planned, and that plaintiffs were incorrect in asserting that drop boxes must be staffed and located inside of a building.
An organization representing Spanish-speaking voters sued the York County Board of Elections to enforce the Voting Rights Act and ensure their members can participate in the election. The county, which has a significant Puerto Rican population, currently offers ballots and other election materials only in English.
Nevada Supreme Court blocks Nye County's planned hand count. A unanimous Nevada Supreme Court prohibited Nye County from live-streaming a hand count or from using any process that involves reading results out loud in front of public observers prior to the close of polls on Election Day. The county had intended to begin the count tomorrow. The court also prohibited the county from imposing different rules for curing mismatched ballot certificate signatures.