2022 primary turnout driven by abortion, Liz Cheney and voting by mail
https://twitter.com/davidmeyers?lang=en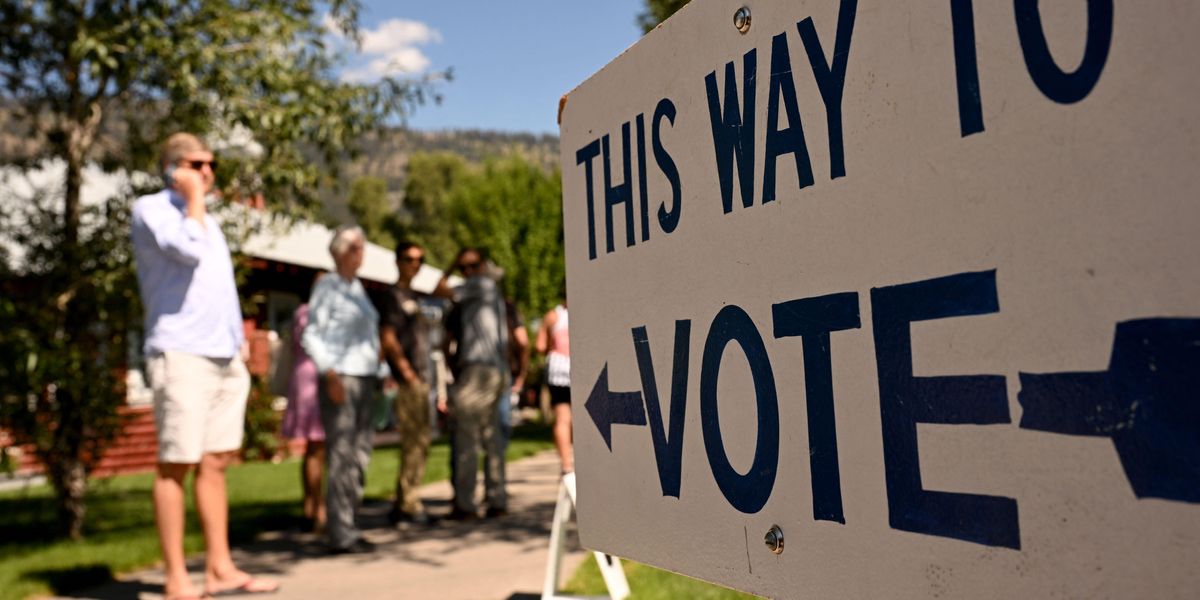 Patrick T. Fallon/AFP via Getty Images
Every state that relies heavily on voting by mail outperformed the national median during the 2022 primaries – but none of them led in turnout this year. That distinction went to Wyoming, where Rep. Liz Cheney ran in a statewide nominating contest, and Kansas, which put an abortion measure on the primary ballot.

But the seven states that do run vote-by-mail primaries were all in the top 20 – including four of the top seven – according to data collected by the National Vote at Home Institute.
"Voting by mailed-out ballots has lifted primary turnout in states by 5 to 15 percentage points," said Gerry Langeler, director of research for NVAHI. "And given that primaries often show turnout percentages in the teens or 20s, that can amount to a 25 percent to 50 percent relative lift."
---
While making it easier to vote appears to be a significant driver of higher turnout, there are individual contests that can motivate people to vote at an even higher rate.
Cheney, the sole House member from Wyoming, had been a reliable supporter of conservative causes who voted with her party and Donald Trump on nearly every issue. And she had been the third-ranking Republican in the House until being forced from the post because she defended the results of the 2020 election and blamed Trump for the Jan. 6, 2021, riot at the Capitol.
Sign up for The Fulcrum newsletter
She then agreed to serve as the top Republican on the committee investigating the insurrection, further cementing herself as an outcast in a party still heavily backing Trump. The three-term lawmaker easily won the nomination in 2018 and 2020 with about 75,000 votes each time. This year, she lost the primary to Harriet Hageman, who got more than 113,000 votes – as turnout soared to 63 percent in Wyoming, up from 52 percent in the 2018 midterm.
While the state does not have a full vote-by-mail system, it does allow anyone to use an absentee ballot and runs an open primary.
Legislators in Kansas had placed a proposed constitutional amendment banning the right to an abortion on the primary ballot, rather than November's general election ballot. Opponents accused lawmakers of scheduling it that way to take advantage of low voter turnout. But abortion rights supporters were motivated to vote and decisively defeated the amendemnt.
In 2018, the previous midterm election, 27 percent of registered voters cast a ballot in the Kansas primary. This year, turnout hit 48 percent.
After Wyoming and Kansas, four of the next five highest turnout states all conduct vote-by-mail elections. Forty percent of registered voters Washington and Hawaii participated in those states' primaries this year.
They were followed by Oregon (38 percent) and Utah (37 percent), which unlike the others do not have open primaries. Sandwiched in between those pairs was Montana, which has an open primary and no-excuse absentee voting. Montana also allows people to request to permanently receive their ballots by mail.
According to NVAHI, turnout among mail voters in Montana was 55 percent, but only 12 percent among in-person voters.
Four other states and the nation's capital conducted vote-by-mail primaries. (Vermont only uses a full vote-by-mail system for general elections.):
California (33 percent).
Colorado (32 percent).
Washington, D.C. (32 percent).
Alaska's special election for its vacant House seat (28 percent). Turnout for the regular primary, which was not all run by mail, was 32 percent.
Nevada (26 percent).
Even though Nevada trailed the others, it still surpassed the national median of 25 percent turnout.
"The turnout in Nevada displays the same thing we saw in Wyoming, but in reverse. Primary turnout still has a major component on 'how hot are the local races' in it. Wyoming led the nation in 2022 primary turnout due to the Liz Cheney 'referendum,' even without the benefit of mailed-out ballots," Langeler said. "Nevada voters simply were not that engaged in their primary, but even as the lowest of the vote-at-home states, Nevada beat the national turnout average."
Efforts are underway by advocates to further expand voting by mail. The D.C. City Council is considering a bill this week to make permanent its temporary move to vote by mail.
Langeler identified a number of states that may expand the use of permanent absentee voting (also known as "single sign-up"). Michigan has a ballot measure to that effect on the November ballot. New Mexico and Maine may revise their systems. And in Connecticut, lawmakers are expected to vote on switching to no-excuse absentee voting.