Americans want action on gun control, but the Senate can't move forward
https://twitter.com/davidmeyers?lang=en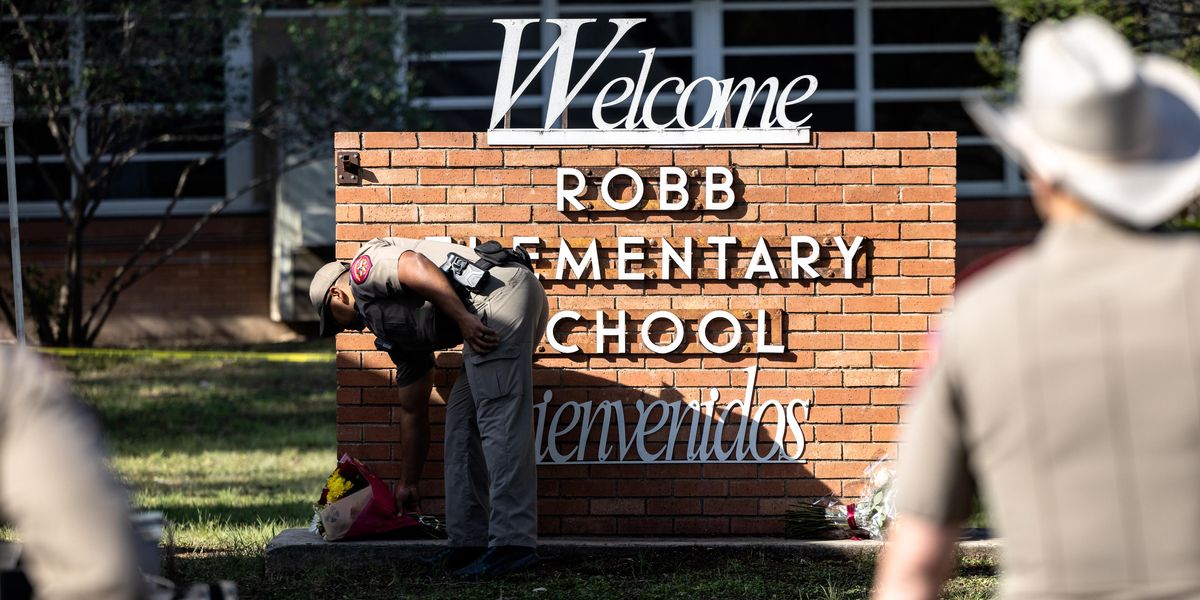 Jordan Vonderhaar/Getty Images
Yet another tragic school shooting has prompted renewed calls for changes to the nation's federal gun laws. But with Senate Republicans able to block nearly any bill from being passed, even a proposal that has overwhelmingly popular support seems virtually assured of going nowhere.

An 18-year-old gunman killed 19 students and two teachers at Robb Elementary School in Uvalde, Texas, on Tuesday. According to media reports, the shooter, Salvador Ramos used two guns he purchased legally on his 18th birthday.
The House of Representatives has passed two bills enhancing background check requirements for gun sales, but the Democrats in charge of the Senate have delayed action in hopes of finding a way around Republicans' parliamentary blockade.
---
In general, fewer people (but still a majority) have said they want stricter gun control laws in recent years. In 1990, 78 percent told Gallup the laws controlling the sale of firearms should be more strict. The number decreased over time, hitting a low of 44 percent in 2010. But after the mass shooting at Sandy Hook Elementary School in 2012, the numbers crept back up, peaking at 67 percent in 2018. This year, it was back down to 52 percent.

But when asked about specific proposals, the data can be quite different.
Sign up for The Fulcrum newsletter
In March 2021, Politico and Morning Consult asked people for their opinions on two bills under consideration in Congress.
One would require background checks for all gun purchases. An overwhelming 84 percent said they support the proposal, including 77 percent of Republicans. That bill passed the House 227-203, with eight Republicans voting in favor and one Democrat in opposition.
The bill moved to the Senate 14 months ago, but it was never considered. Majority Leader Chuck Schumer put it on the legislative calendar Tuesday, indicating it could get a vote at some point in the near future.
The same day the House passed the Bipartisan Background Checks Act, the chamber also passed a second background checks bill. Currently, a gun dealer may complete a transaction if the FBI hasn't concluded the buyer's background check within three days. This bill would make the seller wait 10 days.
Known as the "Charleston loophole," the current policy allowed a white gunman to purchase a weapon and kill nine people at a historically Black church in South Carolina in 2015.
Americans of all political stripes are less supportive of that proposal, with just 56 percent of Democrats, 50 percent of independents and 35 percent of Republicans backing it. Nevertheless, Schumer is hoping for a vote on that bill as well.
But Schumer knows the Senate will not pass either bill as they currently stand, so rather than holding an "accountability" vote that would fail but might create material for the campaign season, Schumer says he wants to try to allow time for compromise.
"My Republican colleagues can work with us now. I know this is a slim prospect, very slim, all too slim — we've been burned so many times before — but this is so important," he said Wednesday on the Senate floor.
Advocates for new gun laws are not happy.
\u201cThe Senate\u00a0is in session. Schumer should bring the background\u00a0check bill to the floor NOW for a vote. And let the votes fall with the children who died.\u00a0 Enough\u201d

— Norman Ornstein (@Norman Ornstein) 1653431915
While passage of legislation only requires a bare majority, chamber rules allow individual senators to prevent a vote from even happening by engaging in (or merely threatening to engage in) a filibuster. Stopping or preventing a filibuster requires 60 votes, an insurmountable barrier in an evenly divided Senate.

The filibuster is a Senate rule that can be changed with a simple majority vote. Increasingly, liberals have been demanding Democrats change the rules to push through legislation they favor. Last year, they wanted to change or eliminate the filibuster to enact voting rights legislation. This year, abortion and gun control have been the catalysts for renewed calls.
However, two moderate Democrats, Joe Manchin of West Virginia and Kyrsten Sinema of Arizona, have repeatedly said they will oppose any changes to the rule.
As long as the filibuster remains intact, the minority will be able to control the legislative process.
\u201cWhen the Senate voted on universal background checks after Sandy Hook, as I calculated at the time, the Senators voting for the bill represented 194 million people, while the opponents represented only 118 million. Pretty decisive. But the filibuster allowed the 118m to prevail.\u201d

— Ronald Brownstein (@Ronald Brownstein) 1653440151