Ask Joe: Transforming systems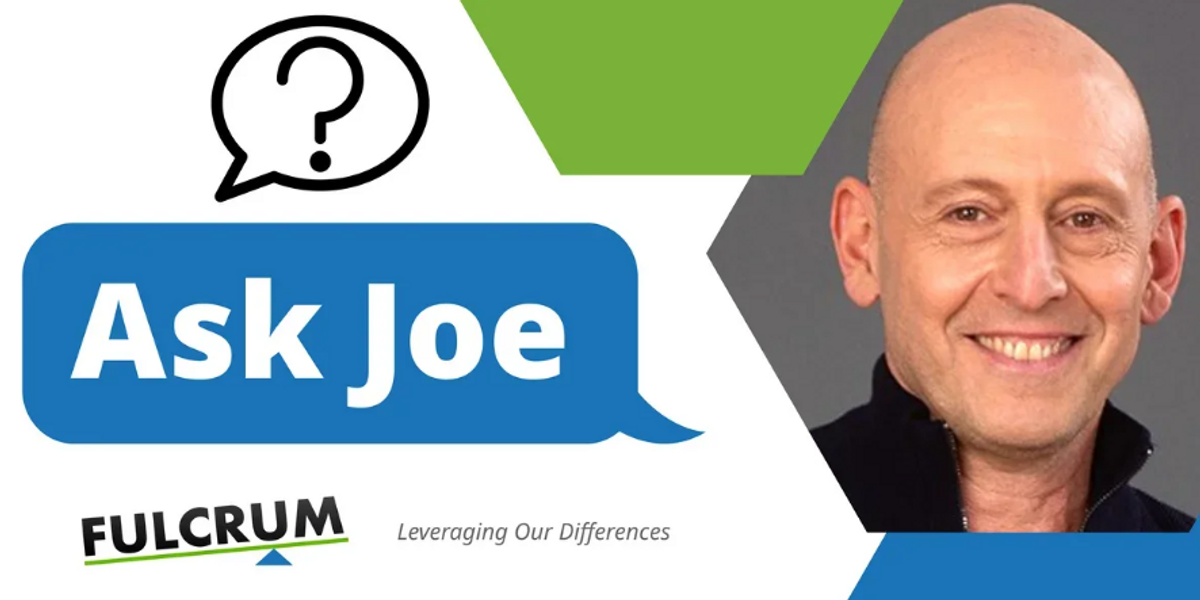 Hi Joe,
I enjoy reading your column and I'm reading some of your book. I think what you offer is good to help individuals resolve problems, but I don't see how your work can help change systems. That's what needs to change. It seems impossible. Any insights?
---
Curious
Hey Curious,
Thanks for your… well… curiosity!
While Fierce Civility focuses on the personal agency, resilience, resourcefulness, impact and influence of the individual and how we interact with each other, the foundational purpose of this is to contribute to transforming the systems that govern various aspects of our lives into ones that are more equitable, peaceful and resilient. In fact, I believe that lasting culture transformation must begin with personal transformation.
I'm not sure to which "systems" you are referring, so I can't specifically address that. But, for the sake of this discussion, I'd like to address the systems as "institutions." As I share some insights, think of institutions that you think could use some changing.
It's easy to feel powerless in the face of institutions if you see them as fixed, unchangeable, self-reliant and indestructible. The first step in bringing about lasting change is to consider the following:
Current institutions, no matter how long they've been around, are temporary – did the institution you are thinking of exist 10,000 years ago? What are the chances that it will exist 10,000 years from now? This may seem silly, or abstract, but this is a way to help you remember that, like all things on this planet, the systems that currently govern us are not permanent.
Current institutions are not exactly the same as when they were created – while they may seem similar, all entities must adapt in order to survive and meet the challenges and needs of a changing world. This reminds us that even institutions are impermanent and capable of transformation.
Current institutions are not one solid entity, but a conglomeration of many parts – think of a building. It is not one object; it is made up of many types of structures that work together to allow for optimal functioning. All parts are always interconnected and interdependent. If one joint or beam gets too weak, it can result in the building collapsing. Therefore, I believe that any institution is only as strong as its parts.
Current institutions are the result of a series of agreed-upon mental constructs created by people – if you consider this to be true, then our current institutions and world system are dependent on and need people to exist. Also, since people made them, then it's people who can change them!
Believing that institutions are fixed, permanent, unchanging, and self-reliant leads us to believe that we as individuals do not have personal agency to bring about effective transformation, personally and culturally. Acting from a diminished state, full of fear, paralysis or cynical apathy, we stand by and watch as more and more of our rights, privacy, decision-making, and access to resources and information are taken from us.
Sign up for The Fulcrum newsletter
At the same time, as we have seen play out in history, fighting a "power-over" system has usually only served to strengthen that system. Using bullying to confront a bully means that the bully system has successfully turned you into one of them.
Renowned American architect, systems theorist, author and inventor R. Buckminster Fuller said: "You never change things by fighting the existing reality. To change something, build a new model that makes the existing model obsolete." And this leads us to an enhanced model of how the transformation of one individual can slowly but surely impact a larger institution: like the firm yet yielding structural design of a skyscraper, lasting culture change is built on a solid foundation of both individual durability and internal power PLUS resilient and trustworthy alliances based on respectfully holding one another accountable. These factors create a vibrant, balanced and stable system that withstands the challenges of our time.
Imposing policy and forcing change only activates a threat response to the institution. We see this play out over and over again with how laws and agreements come and go with the shifting of who is in power. The goal is not to traumatize or trick people to change. Instead, we instigate a slow and steady transformation from the inside-out by genuinely appealing to the hearts and minds of others to collaboratively work towards growth and thriving.
What I'm sharing here is very general and theoretical, Curious. But I wanted to address your question about how focusing on the individual and cultivation of relationships can eventually bring about a long-lasting transformation of our current world system.
The first step is to do a regular practice of reminding ourselves that our belief that institutions are fixed and all-powerful may not be accurate. And with things currently changing at such a fast pace, I see this as an opportunity for more of us to play an instrumental role in facilitating the transition of these institutions from old paradigms of greed, conflict and extreme self-interest, to ones of common sense, equity, inclusivity and non-violence.
Please stay curious,
Joe
Check out Joe's new bestselling book Fierce Civility: Transforming our Global Culture from Polarization to Lasting Peace.
Have a question for Joe? Send an email to AskJoe@fulcrum.us.