Americans want younger leaders, but elected officials are getting older
https://twitter.com/davidmeyers?lang=en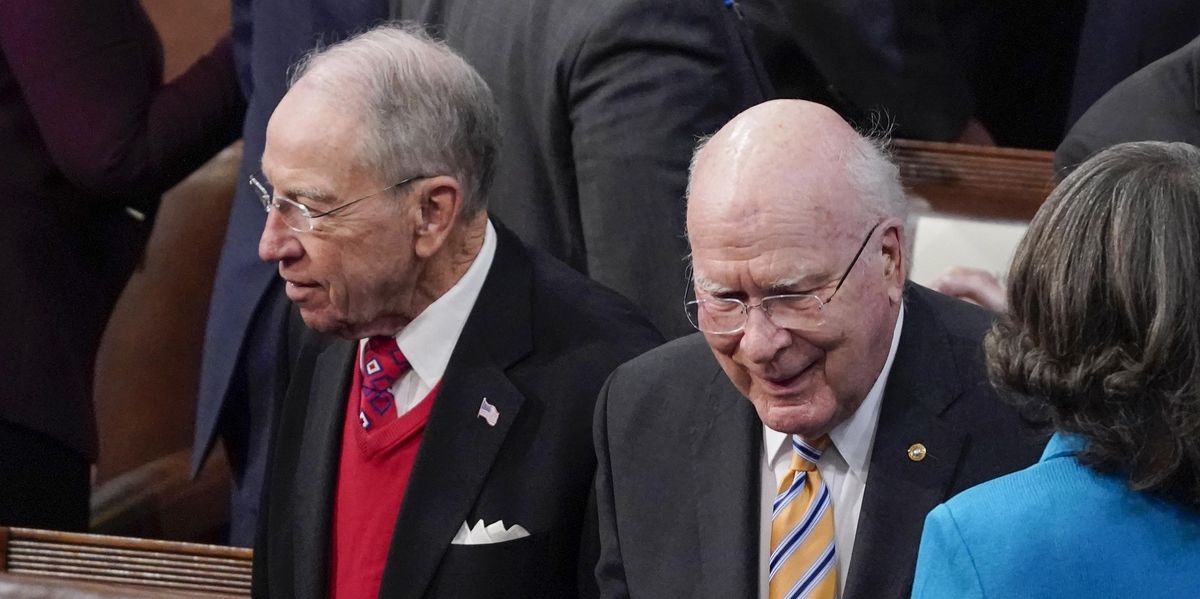 Pool/Getty Images
The Constitution defines minimum age requirements for elected offices, and there are no age caps. But if it were up to the American public, older candidates would be ineligible to run.

And while such an age limit would require a constitutional amendment, millennials are trying to bring down the average age on Capitol Hill – even while Congress is getting older.
Recent polling by YouGov and CBS News found that 73 percent of adults believe there should be age limits for elected officials and, in an era of intense polarization, Americans are united in their preference for such a cap, across gender, age group, race and party identification.
However, they disagreed on what that limit should be.
---
The most popular maximum age for elected officials was 70 years old, preferred by 40 percent of respondents, followed by 60 (26 percent), 80 (18 percent) and 50 (8 percent). The age-70 option was the most popular across every demographic subgroup except one: Those under age 30 had a slight preference for a max age of 60.
The current Congress is the oldest, on average, in recent years, according to Quorum. The average age in the Senate is 64. Members of the House of Representatives are slightly younger, with an average age of 58.
Sign up for The Fulcrum newsletter
Our two most recent presidents (Joe Biden, 78; Donald Trump, 70) were the oldest in history when they took office, marking a significant change from their predecessors. George W. Bush was 54 at his swearing in, while Barack Obama was 47 and Bill Clinton was 44 (third youngest, after Theodore Roosevelt and John F. Kennedy).
Quorum found that the average age has increased at least in part because lawmakers are serving longer terms than in the past. Six senators and three House members have served at least 40 years in Congress, including Sens. Patrick Leahy of Vermont and Chuck Grassley of Iowa, who lead the way in their 48th year.
According to a survey commissioned in early 2021 by U.S. Term Limits, which advocates for service caps on elected officials, 80 percent of Americans strongly or somewhat approve of a constitutional amendment that would put term limits on members of Congress, with Republicans, Democrats and independents all supportive.
And younger generations are not helping to balance the equation, with the 30-39 cohort showing the biggest decrease in representation following the last election.
But it's not because they aren't trying.
The Millennial Action Project, which supports young people seeking state and federal office, has been gathering data on millennials running campaigns. MAP tracked 703 millennials who sought a seat in Congress in 2020, a 266 percent increase from 2018.
Data is not yet available on 2022 candidates.
In 2020, 251 millennials (anyone age 45 or younger, according to MAP) made it through to the general election. Among them, 140 were Democrats, 97 were Republicans and the remainder were independents or represented other parties. More of them were men (156) than women (95.)
That election cycle included 56 House incumbents as well as Republican Sen. Tom Cotton of Arkansas.
Nearly half (47 percent) of respondents to the YouGov/CBS poll said politics would be better if more young people were in elected office; 23 percent said politics would be worse. Self-identified liberals heavily influenced that question, with 74 percent saying "better" along with 51 percent of moderates and 26 percent of conservatives. The other moderates and conservatives were nearly evenly divided over whether politics would be the same or worse with more young people in office.
A person must be 25 years old to serve in the House, 30 for the Senate and 35 to be president. Roosevelt was 42 when he became president following the assassination of William McKinley.