Young people aren't the problem with civic participation. We're the solution.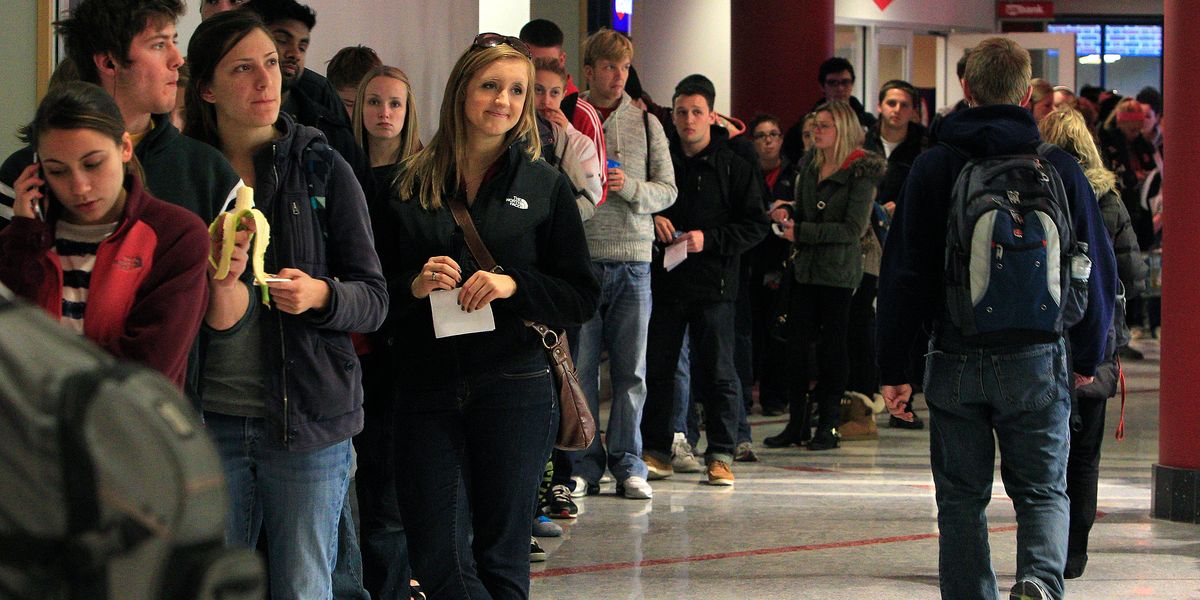 Jay LaPrete/Getty Images
Wells is an Ohio State University graduate who recently completed her time as an AmeriCorps volunteer in Hamilton, Ohio. She is now a city employee.
Recent research paints a bleak picture of young people's participation in civil service.
Just 7 percent of federal government employees are younger than 30 — even though, according to some estimates, millennials will soon make up three-quarters of the country's workforce. The statistics go on: The median age of government employees is three years higher than that of the United States as a whole. More federal tech workers are over 60 than under 35. A growing number of universities report that their public administration students are choosing private-sector jobs.
And beneath all the data is a pervasive sense that trust in public officials is at an all-time low. According to the Pew Research Center, less than 20 percent of millennials trust the government "always or most of the time." Millennials also feel less connected to any one political party: 44 percent of millennials say they are independents, compared to 39 percent of Generation X and 32 percent of baby boomers.
But these sobering statistics belie a trend that is beginning to emerge in cities and towns across America: Young people care about the future of this country and we're getting involved. Here are three proof points that the tide is turning for young people's civic participation.
Sign up for The Fulcrum newsletter
---
In 2018, for the first time in history, 100 million Americans voted in a midterm election. This was fueled, in large part, by a surge in millennial participation — up to 42 percent, which is nearly double the participation rate from four years earlier. And Generation Z, which is just becoming eligible to vote, is turning out at higher rates than other first-time voting generations. In 2018, 30 percent of voting-age Gen Z-ers went to the polls, compared with just 23 percent of Gen X-ers in their first midterm election. The evidence suggests that young Americans aren't just becoming the country's biggest generation — we're also becoming the most involved.
Look closely at many of those stats about government participation, and you'll see something in common: Most refer to the federal government. What those stats don't tell you is that, by some estimates, we're on the brink of a sea change in local government participation. Cities from Stockton, Calif., to Ithaca, N.Y., have millennial mayors. And it's not just about running for office. Organizations like Cities of Service and AmeriCorps are encouraging young people to get involved in city hall. And we've learned that unlike the partisan bickering that dominates the federal conversation, working in local government is much more about working together and getting things done.
When I graduated from Ohio State, I felt uncertain about my academic and professional strengths. I knew I was passionate about helping others, but I wasn't sure in what capacity or where I fit in as I entered the workforce. I was lucky to discover the Cities of Service Love Your Block program, which sends AmeriCorps volunteers into communities facing poverty to support the efforts of citizen groups and local nonprofits to fight neighborhood blight. I was assigned to my own hometown of Hamilton, Ohio.
I had never imagined myself working in city government. But during my year of service, I have come to appreciate the positive, tangible impact that local initiatives and policies can have on my hometown. This spring, we hosted large-scale cleanups in two neighborhoods, which brought together dozens of community members to clean more than 35,000 square feet of public space and remove 10,000 pounds of trash and debris. The project isn't just about cleanup in the short term, either — we're working to help these communities build resilience for future challenges. When citizens and city representatives work together, as often happens at a municipal level, community members realize how responsive government can be to their needs.
According to the World Economic Forum's most recent Global Shapers Survey, inequality is one of the issues that young people worldwide care about the most. And a growing body of evidence suggests that local government has a major role to play in tackling these issues. When you see millennials in government, you'll see us working to address the challenges that we care about the most — like proactively preparing for the impact of climate change, or combating blight in low-income neighborhoods.
Young people across the country are hearing the wake-up call to run for office, participate in civil service and fight for the issues they believe in. We've learned that the fight starts right here in local government. And we encourage our peers to take up the mantle and work to make a difference in their own communities. It may start small, but the impact will be felt around the world.