Jan. 6 hearings remind reformers of Trump's pattern of disregarding democracy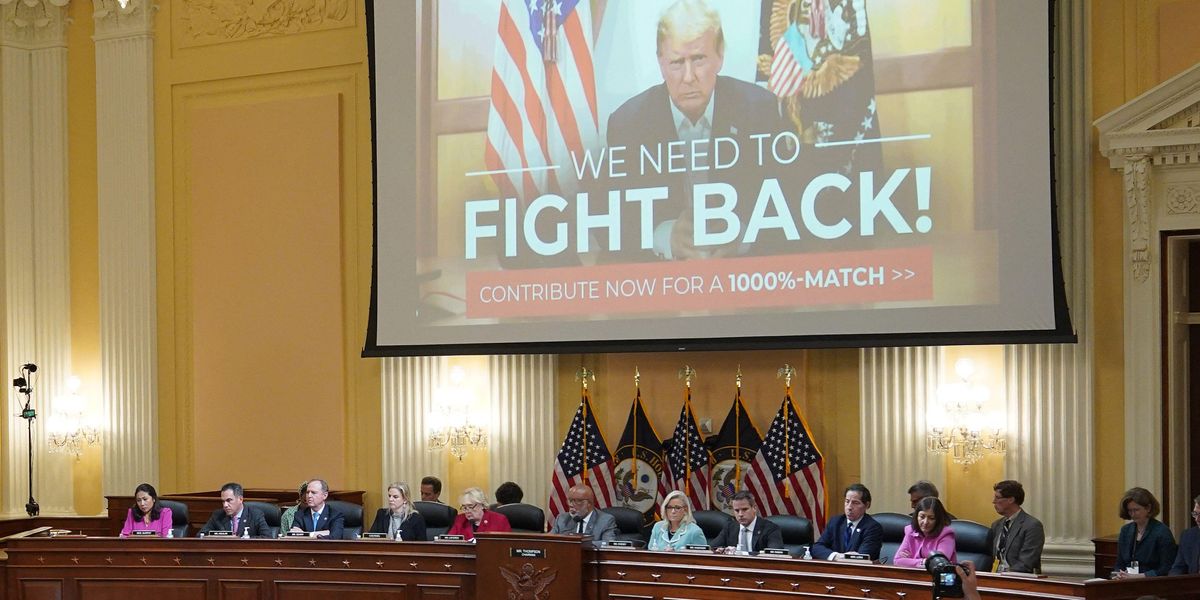 Mandel Ngan/AFP via Getty Images
Former President Donald Trump's disregard of legitimate electoral outcomes has been on public display for the past week, conjuring memories of his first impeachment and reminding democracy advocates of his willingness to break democratic norms.

On Monday, the House committee investigating the Jan. 6, 2021, riot at the Capitol held its second public hearing, as some Trump allies and members of his campaign team testified that they had advised him to not declare a victory on election night.
Trump nevertheless went on to claim the election had been stolen from him and held a "Stop the steal" rally the day Congress was scheduled to certify the election. The insurrection followed on the heels of that rally.
"Trump's lies continued to stoke the anger of his staunchest supporters – anger that he would turn loose on the Capitol on January 6, in an effort to overturn the election he lost by force," said Common Cause President Karen Hobert Flynn.
Others drew a parallel between Trump's unfounded claims of fraud and his dealings with Ukraine in July 2019.
---
Trump's first impeachment centered on an inquiry into his phone call to Ukrainian President Volodymyr Zelensky in which he appeared to have asked for assistance finding information on Joe Biden in exchange for military support. Although he was acquitted, Trump's actions as president would continue to raise allegations of corruption, including possible tax evasion and election tampering.
Sign up for The Fulcrum newsletter
In fact, the Jan. 6 hearings are the third attempt to investigate possible corruption by the former president.
"His entire presidency is a clear indication that he believes himself to be above the law," said Lisa Gilbert, vice president and co-founder of the Not Above the Law Coalition. The call to Ukraine was "one of the numerous instances of [Trump's] breaking of ethical norms and mores."
McGeehee, who was executive director of the crosspartisan advocacy group Issue One before launching her own consulting firm, said "the Ukrainian call became part of a pattern where we had a president who really failed in that aspect" of putting the interests of the nation over his own.
While the Jan. 6 hearings are intended to hold him accountable in a political sense where the two impeachments failed, McGeehee believes that any attempt to criminally indict Trump could end disastrously for a deeply divided country. Trump's supporters believe themselves to be on "a moral crusade" for the former president.
In the aftermath of the Trump presidency and in the midst of a pandemic, public trust is at a low point, with about three-fourths of U.S. adults concerned about American democracy, according to a recent poll by YouGov. McGeehee highlighted that fragile state of democracy, explaining that high inflation and extreme polarization are historical markers of instability but noted that Republicans are participating in the hearings too.
"There's a reason that this is bipartisan, this hearing," she said. "You know, people on both sides of the aisle understand that it is incredibly problematic to tell lies in the public square, and to in turn, have those lies incite violence."
Gilbert, who is also the executive vice president of progressive consumer rights advocacy group Public Citizen, also found some solace in the committee's work.
"I think that the importance of these hearings is showing bipartisan cooperation and sharing facts, shocking facts, with regular people," she said, hoping the hearings will "lead to accountability for the bad actors, as well as reforms to improve our system moving forward."
The committee had been planning to hold another hearing Wednesday but it was delayed by technical issues. The next hearing will be conducted Thursday.