Hope for democracy reformers after Democrats win in Virginia and Kentucky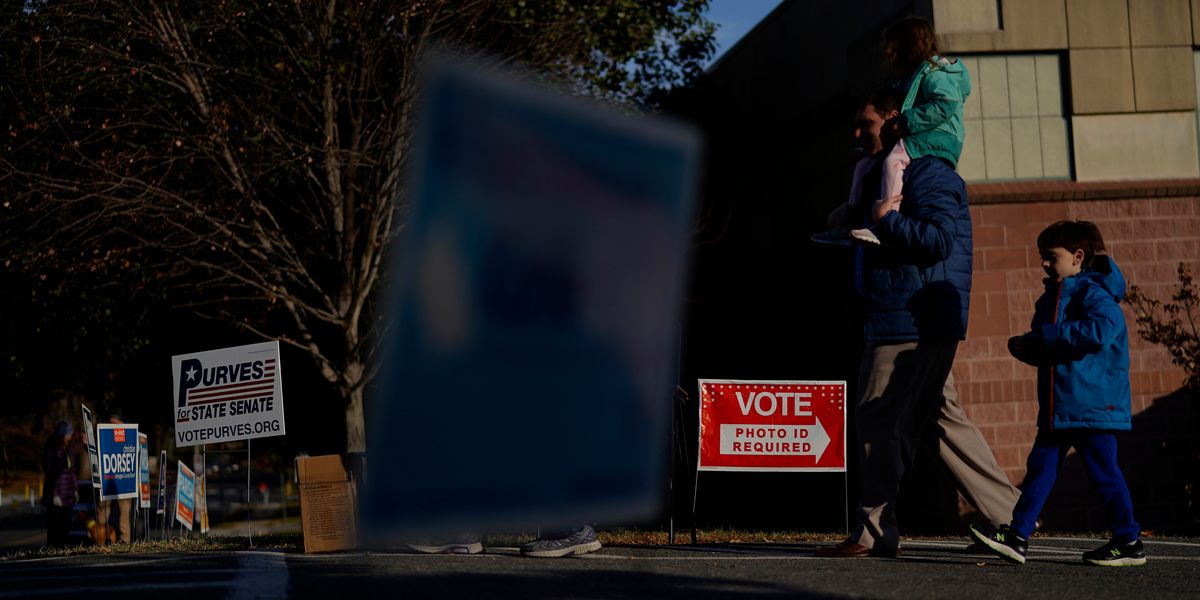 Win McNamee/Getty Images
While Democrats are emphasizing their big victories in neighboring Southern states as warning signs for President Trump, advocates for fixing democratic systems are hailing those same elections Tuesday as major opportunities for their cause.

The most significant triumph came in Virginia, where Democrats reclaimed control of the General Assembly and, along with Gov. Ralph Northam, won unified control of state government for the first time in a quarter-century. That will open the door in January for a long roster of democracy reform proposals that have been languishing in Richmond — from tightening the state's campaign finance rules to stopping the partisan gerrymandering of its electoral maps.
The election of Democrat Andy Beshear as governor of Kentucky, meanwhile, allows him to make good on a promise to end that state's status as one of the harshest places to be a felon who wants to be a voting member of society after serving time. (That's if his win stands up — the incumbent, Republican Matt Bevin, has not conceded.)
---
Virginia, the 12th largest state after a long run of growth in the suburbs outside Washington, has been becoming a steadily deeper blue, but the Democratic Party has not controlled all the levers of state power since 1993. That will change in January, and during the campaign many of the winning candidates vowed they will move then to deny themselves legislative and congressional map-making powers in favor of an independent commission.
Sign up for The Fulcrum newsletter
The question is whether they will keep their promise now that they have the power to entrench themselves and their party. The next statewide elections are in 2021, giving the General Assembly ample time to redraw the lines after the next census, and there will be intense pressure to keep a U.S. House delegation with seven Democrats and four Republicans. Before last year's wave midterm, it was the GOP with a 7-4 edge.
In February, 123 of the state's 140 lawmakers voted in favor of creating a nonpartisan redistricting commission. That proposal will go in front of voters in November 2020, but only if the Legislature endorses it a second time early next year.
Groups pushing to temper the power of money in politics, meanwhile, will be lobbying intensely for a bill establishing campaign contribution limits and banning corporate giving to officeholders.
One prominent organization, End Citizens United, got heavily involved in the campaign for control of the Legislature and endorsed more than 30 candidates; 14 of the 25 House aspirants backed by the group won on Tuesday, along with just one of the six anointed Senate contestants. All were Democrats.
"These candidates won their races by standing up to corporate special interests and business as usual in Richmond," ECU President Tiffany Muller said. "Virginians know that the corrupting influence of unlimited, undisclosed spending in our elections is a roadblock to making health care more affordable, addressing climate change, and passing common-sense gun safety measures."
The restoration of voting rights to thousands of felons in Virginia has already been accomplished in recent years through executive orders signed by Northam and his predecessor, fellow Democrat Terry McAuliffe.
That is the model that Beshear, currently the Kentucky attorney general, says he will follow early next year in his state.
He has signaled that he will assert his new gubernatorial power to restore the franchise to more than 100,000 nonviolent felons who had completed their sentences, or 5 percent of the state's population, ahead of the 2020 presidential election. Kentucky and Iowa are now the only states where all felons are barred from voting for life unless the governor grants a waiver.
Beshear also supports automatic voter registration and easier access to absentee voting. He also said during the campaign he planned to require state officeholders to release their tax returns (as he did during the race), ban contractors from giving gifts to public officials and implement term limits for state legislators. But most of those things will only be accomplished through legislation, and the House and Senate in Frankfort will both remain solidly in the hands of Republicans.
The other governor's race contested Tuesday was in Mississippi, where Republican Lt. Gov. Tate Reeves won with 52 percent of the vote. His support was widespread enough that there will be no need to invoke a Jim Crow-era law, putting the election in the hands of the state House if no candidate carries a majority of the legislative districts.
But civil rights groups will continue to pursue a federal lawsuit alleging the law is an unconstitutional effort to minimize the political power of African Americans.