Trump intensifies bid to disrupt the transition, and the GOP sticks with him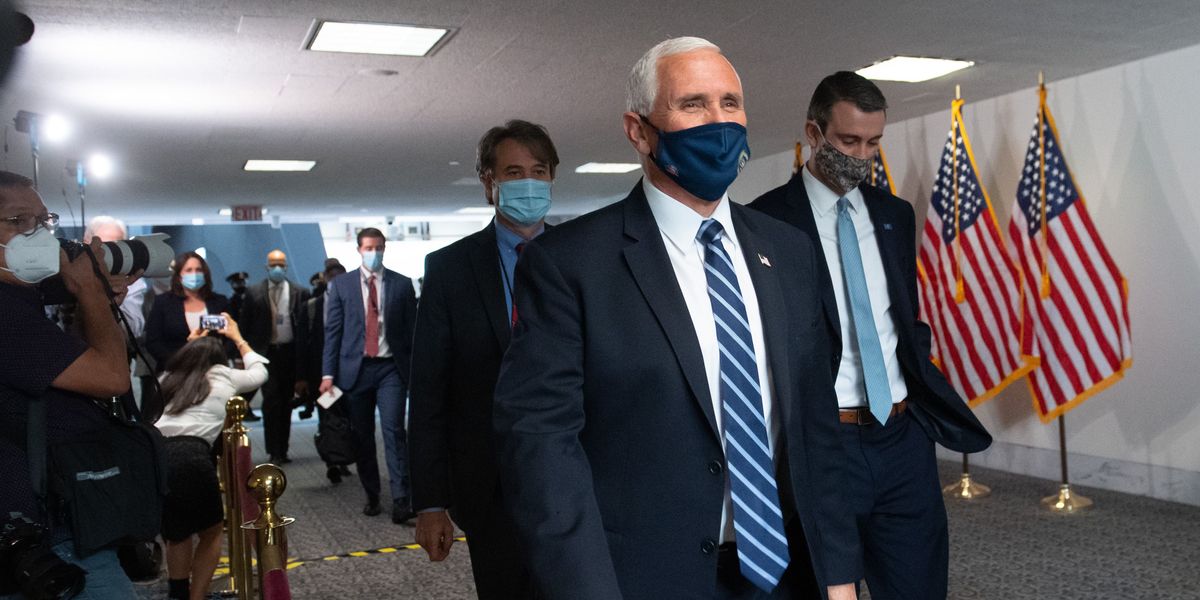 Saul Loeb/Getty Imags
The prospects for a civil and straightforward transfer of power are fading fast. A clearly decisive election result is proving unable to shield other norms of democracy from tumult orchestrated by a lame duck with 10 weeks still in power.

President Trump instructed his administration Monday night not to cooperate with emissaries from President-elect Joe Biden, hours after destabilizing American national security by firing Defense Secretary Mark Esper on suspicions of disloyalty. At the same time, Attorney General William Barr authorized his department to break with decades of precedent to investigate claims of voter fraud even before the counting is complete — prompting the Justice Department's top election crime prosecutor to quit in protest.
But Republicans who will remain in authority once Trump is gone, most notably Senate Majority Leader Mitch McConnell, kept their four years of extraordinary fealty going and aligned behind the president's longshot efforts to sully if not reverse the election result.
---
"WATCH FOR MASSIVE BALLOT COUNTING ABUSE AND, JUST LIKE THE EARLY VACCINE, REMEMBER I TOLD YOU SO!" Trump tweeted at mid-morning Tuesday in his first all-capitalized commentary of the day, followed seconds later by the more succinct but just as unsubstantiated "BALLOT COUNTING ABUSE!"
With 10 weeks until the inauguration, there is still time to allow for both a presidential cooling-off period and the necessary preparations to support Biden when he takes over as the most powerful person on the planet. But that period will not last much longer before it's time to contemplate what has been unthinkable: the record of peaceful presidential transitions will stop at 44.
Sign up for The Fulcrum newsletter
"Are we 100 percent certain this doesn't soften the ground enough so that what seems almost unthinkable now becomes thinkable?" conservative author Bill Krstol wrote of Trump's efforts to discredit the outcome in a Tuesday post in The Bulwark, a website run by fellow never-Trump Republicans. "A little alarmism in the defense of liberty is no vice. Complacency in the defense of democracy is no virtue."
Even after the six-week dispute over the 537 votes in Florida two decades ago, every losing candidate in modern times has conceded to the winner within hours of the election's definitive conclusion. Trump has shown no interest in doing so, whether or not his scattershot legal campaign in battleground states gains any traction.
The Electoral College is slated to formally confirm the outcome Dec. 14.
The General Services Administration, which needs to make a formal finding that Biden has won in order to start the mechanics of the transition, still had not done so Tuesday afternoon. The agency has suggested it may repeat its posture from the disputed 2000 election and wait until Trump concedes or the electors cast their votes.
On Monday evening, the White House told career government staffers they were not to start acting on transition planning unless GSA made its "ascertainment." And presidential personnel director John McEntee reportedly told political appointees they would get fired if he learned they had started looking for work.
"Our institutions are actually built for this," McConnell said in reconvening the Senate for its post-election session Monday, at which point fewer than half a dozen GOP senators had congratulated Biden as the winner. "We have the system in place to consider concerns and President Trump is 100 percent within his rights to look into allegations of irregularities and weigh his legal options."
Democratic leader Chuck Schumer countered that the refusal by GOP senators to accept the result was "extremely dangerous, extremely poisonous to our democracy."
The two senators from Georgia, David Perdue and Kelly Loeffler, took things a step further: They demanded their fellow Republican in charge of the state's elections, Secretary of State Brad Raffensperger, resign to atone for challenging Trump's unsubstantiated claims of voter fraud and not doing enough to buttress those allegations. Raffensperger said he was going nowhere.
Republicans are hesitant to nudge Trump toward the exits, knowing that would infuriate his most devoted supporters — the sort who might be called on next to mobilize and write checks on behalf of the Georgia senators, who face difficult re-election runoffs in January. Both of them losing would deliver Democrats the majority.
For now, Trump has his base behind him. A poll taken after Election Day found 70 percent of Republicans not believing the election was free and fair, double who held a similar view before the election. The Politico/Morning Consult survey provides the latest evidence of the chasm of partisan understanding: About two-thirds of Republicans say the election results are unreliable, while nearly 9 of 10 Democrats say they trust the results.
On Monday, Barr authorized prosecutors across the country to probe "substantial" allegations of voter irregularities and election fraud. None have come to light so far, and in any event it's been long-standing practice that such inquiries do not start until after the results are certified. The head of the branch of the Justice Department that handles election cases, Richard Pilger, quit soon after in an email to colleagues saying he was unwilling to help carry out his boss's directive.
That Florida standoff 20 years ago concerned 537 votes separating the candidates in the single state that would decide the outcome. Now, Biden has leads of less than 1 percentage point in four different states — but the margins are between 12,000 (Georgia) and 47,000 (Pennsylvania) votes.