With FEC impotent, advocacy group asks court to enforce campaign law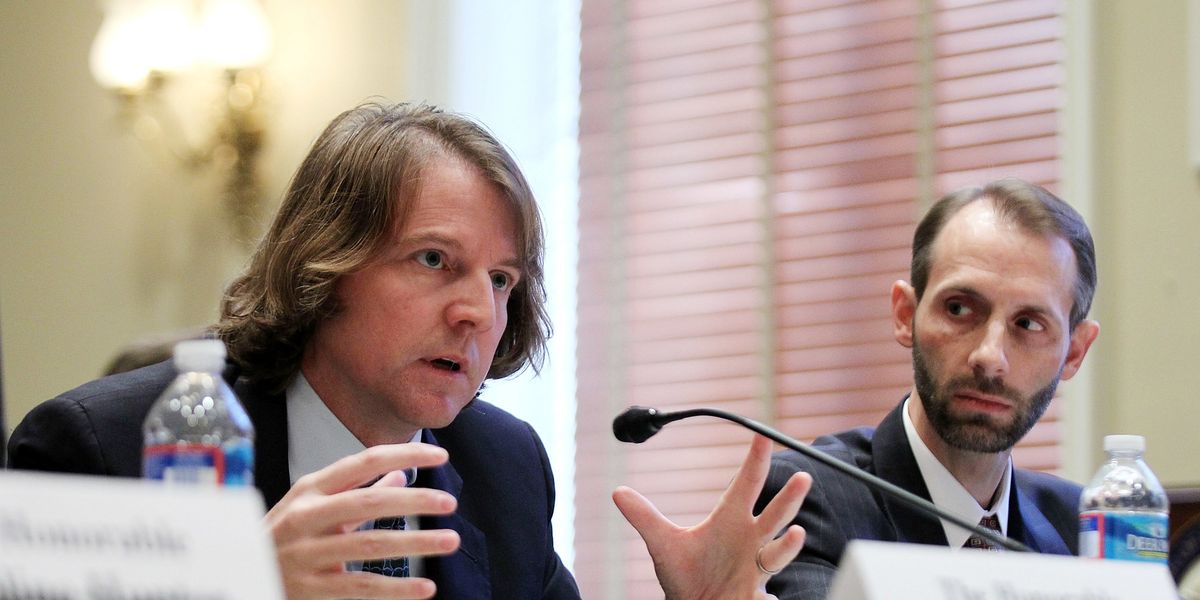 Alex Wong/Getty Images
If the Federal Election Commission can't get its act together, the Campaign Legal Center is going to take matters into its own hands.

The nonpartisan group, which advocates for tougher money-in-politics regulations, has filed a lawsuit asking a federal judge to take over a complaint it's submitted to the FEC.
That complaint is among more than 300 gathering dust at the agency's offices. That's because the FEC has been effectively shut down for more than six months, unable to conduct any oversight of the financing of 2020 presidential and congressional campaigns. Four commissioners have to be on the job for substantive business to get done, and there have been just three since Republican Matthew Petersen resigned at the end of August.
---
On Wednesday, the Senate scheduled a hearing for next week on the one person President Trump has picked for the commission: Trey Trainor, the assistant general counsel of the Texas GOP, whose nomination has been languishing for two years.
Until the Senate confirms him, however, the FEC may not:
Conduct meetings.
Determine violations of campaign finance laws and penalize the offenders.
Conduct routine audits of candidate campaign committees.
Open new investigations or rule on existing ones.
Issue advisory opinions when asked by candidates to clarify the intricacies of campaign finance law.
The scheduling of Trainor's hearing suggests that Majority Leader Mitch McConnell, a committed campaign finance deregulator, has decided to reopen the FEC for the height of the political season — but in a way that assures it will be minimally active. Most actions require four votes, and the commission would be expected to deadlock 2-2 along party lines with Trainor on board.
Sign up for The Fulcrum newsletter
Last September the CLC complained to the agency that a mysterious entity was violating election law by posting Facebook advertisements supporting Green Party candidates in five competitive House and Senate races. The advocacy group said it could find no information about the group that claimed to have created the ads, called American Progress Now.
In its lawsuit, filed last week, CLC notes that a provision in federal law permits the filing of such complaints in an effort to get a federal judge to order the FEC to act on a complaint. And if the agency does not — or, in this case, cannot — act within a certain period of time, the plaintiff is authorized to take the matter to the court and ask it to enforce campaign finance laws.
Getting a handle on digital political spending is particularly important now because this year's online campaign efforts are expected to be the most expensive in American history with an estimated $2.8 billion being spent, the CLC said.
"If nothing is done, the FEC will instead be sending a message that anonymous or fake entities like America Progress Now can pop into existence just prior to an election, exploit lax registration and reporting requirements by digital platforms, spend unlimited sums of money, and then disappear into thin air once an election is over," the group said.
Since neither party can hold more than three seats on the FEC, nominees are usually advanced in bipartisan pairs. Senate Democrats say their choice for a coupling with Trainor would be senior FEC attorney Shana Broussard, but she has not been nominated.
Since the three current commissioners are all serving well beyond their six-year terms, as the law allows, some campaign advocacy groups say that an entire slate of six new commissioners should be nominated, three from each party.