Trump pick's in line for FEC after enduring Democratic jabs
https://twitter.com/saramswann?lang=en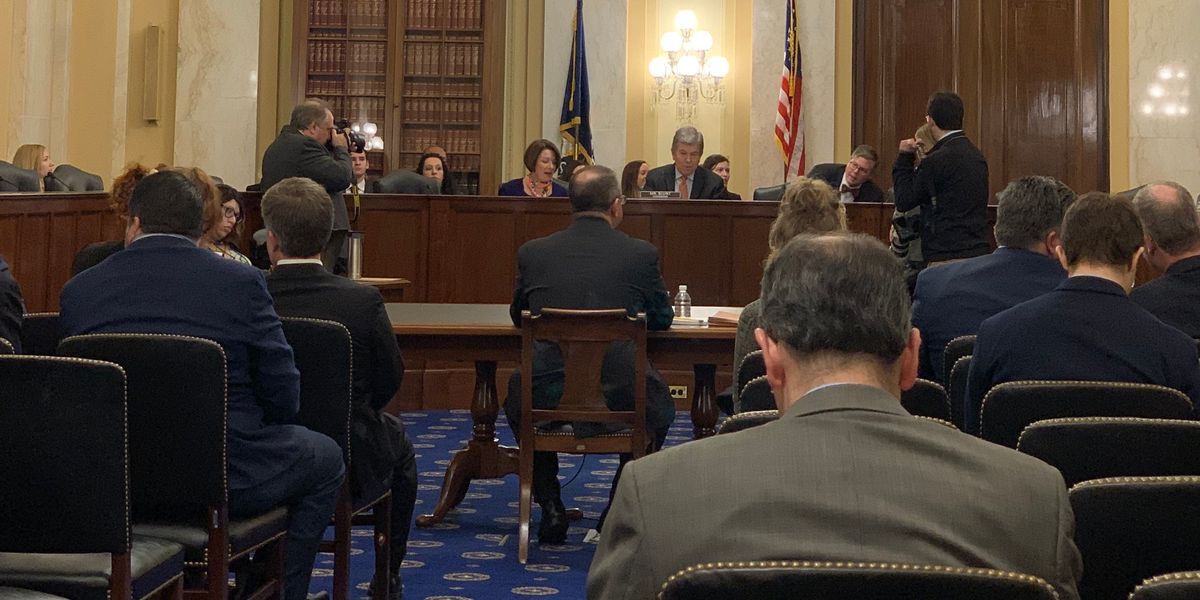 Sara Swann/The Fulcrum
Much to the chagrin of good governance groups, it appeared clear Tuesday that conservative campaign lawyer Trey Trainor is on his way to a seat on the Federal Election Commission.

Republicans said nothing at all critical, Democrats said nothing supportive and Trainor said almost nothing revelatory about his views during a Senate confirmation hearing lasting less than an hour and a half.
The pro forma nature of the proceedings was a clear signal that, as he runs for re-election, President Trump will be able to break with precedent by adding just one person, and from his own party, to the panel charged with regulating how presidential, congressional and outsider organizations raise and spend campaign contributions.
---
The longstanding practice has been FEC commissioners are nominated in bipartisan pairs, but much about the FEC hasn't followed precedent in years. It hasn't had a new member since 2013 and since September it's been almost entirely neutered for lack of a four-person quorum.
Trainor's presence would allow the agency to consider complaints and perform routine oversight during the height of the campaign season, but launching investigations or revamping policy would be almost impossible because four votes are required and a 2-2 split on ideological lines would be nearly assured.
Sign up for The Fulcrum newsletter
Democrats and campaign finance watchdog groups are eager for the agency to get back on the job, but not with Trainor as the one reopening the doors. They say his career as an elections lawyer for Republicans in Texas and for Trump's 2016 campaign, and his clearly hands-off view about regulating or disclosing much about money in politics, don't bode well for the FEC over what would be a six-year term.
"I view the role of the FEC first and foremost as giving the American people confidence in our electoral system," Trainor told the Senate Rules and Administration Committee.
All three Democratic senators on hand voiced disappointment that Trump has not done what party leaders have asked and named Shana Broussard, a senior attorney at the FEC since 2015, to become a commissioner alongside Trainor.
"Abandoning bipartisan norms and pushing forward a controversial nominee is not the way to do it," Amy Klobuchar of Minnesota said of restoring the agency to working order. "Moving forward in this way will do more harm than good."
Asked by Tom Udall of Arizona if he supports a bipartisan pairing, Trainor said "the commission is in need of new ideas and new perspectives."
Republicans emphasized the importance of restoring functionality to the FEC. Majority Leader Mitch McConnell, the most prominent campaign finance deregulator in Congress and a member of the committee, appeared briefly to say he would like to see Trump submit five more nominations in order for a total turnover of membership. (The three current commissioners are all serving on expired terms, as the law allows. By law no more than three members of each party can sit on the panel, so Trump would have to pick some Democrats to grant McConnell's wish.)
Minority Leader Chuck Schumer of New York, also a panel member, said Trainor's sole qualification was his "long career as a conservative political operative."
When asked if he would recuse himself from matters before the FEC involving the president, Trainor said he would "approach all issues objectively," but refused to promise such a "blanket recusal" if confirmed.
Republicans lobbed mostly softballs at the nominee, while Democrats pressed for specifics on how he would handle particular issues. Trainor gave nonanswers to almost all the questions, saying he "didn't want to opine on something I would do as a commissioner" before being confirmed. But he promised to work to forge consensus on the commission.
Chairman Roy Blunt of Missouri did not say when the panel would send the nomination to the full Senate.