How collegiate civic ed should adjust for a fall semester like no other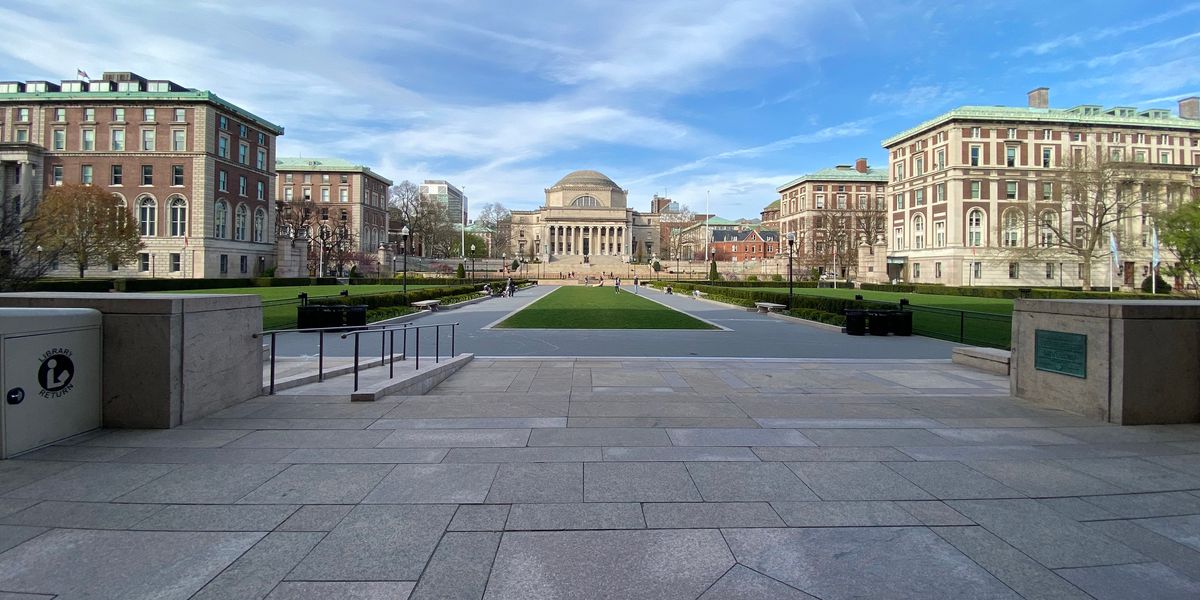 Rob Kim/Getty Imges
Domagal-Goldman is executive director of the All In Campus Democracy Challenge, which works to boost college students' civic learning and voter participation. civic engagement and political participation.
---
These days, my life is just a little bit different — as are all of ours. My commute entails settling in at my dining table with a cup of coffee and hopping on a Zoom call with my team. Then I pause to check on my first-grader's own virtual class meeting, before considering how best to help campuses and college students pivot their nonpartisan civic learning, political engagement and voter participation work.
While acknowledging my privilege in having a job that keeps me safely at home with my family amid this coronavirus outbreak, I also worry about how best to prioritize the health of our democracy amid our very real concerns about the health of each of us.
With colleges and universities enacting drastic changes to protect their campus communities from Covid-19, the old plans and strategies to increase nonpartisan democratic engagement on campus this year won't necessarily be as effective. Our plans, as individuals and institutions of higher education, must now account for the fact that this fall semester may not look like a traditional fall semester.
Sign up for The Fulcrum newsletter
In fact, some campuses have already announced that online classes may continue when the new academic year starts. Campuses are adjusting and planning for what new-student orientation and other campus traditions will look like this spring, summer and fall. It's vital that planning happens right away so that democratic engagement can be implemented — especially if campuses remain partially or fully online in the crucial final weeks before Election Day.
Here are four actions individuals can take, and four more schools can take, to assure vigorous democratic participation this campaign season in light or our new, highly virtual realities:
Complete the census. It takes less than five minutes to fill in the form online. The Census Bureau has told college students they should complete the census as if they were still living at their address on or off campus.
Monitor election changes. Many nonprofits including Democracy Works, Rock the Vote, and We Can Vote have created state-specific election update sites that college students can use to navigate to state websites that track possible changes to registration deadlines, absentee ballot request deadlines, primary election days and more.
Request a ballot. The best way to simultaneously practice physical distancing and civic engagement is by voting by mail. The League of Women Voters has this site for looking up your state's absentee ballot process and other state voting information. Each state's election agency has the most current information about its elections — and many timelines and requirements are in flux right now.
Vote early. If you cannot vote absentee by mail but your state has early in-person voting, take advantage of that. This reduces the number of people voting on Election Day, making the process faster and safer for everyone. Check here to see if and when your state has early voting.
Join our effort. Schools that take the All In Campus Democracy Challenge commit to increasing nonpartisan democratic engagement, develop action plans, access campus-specific registration and turnout data, and connect with state and local partners. Higher education institutions are a trusted source of information for students and need to communicate with them before elections, especially during a time of rapid upheaval like we're experiencing with Covid-19.
Take this pledge. College and university leaders should commit their institutions to actively work toward the goal of full student voter participation of eligible students in the 2020 election. They can do so by signing on to the Higher Education Presidents' Commitment for Full Student Voter Participation.
Embrace this model. Ask Every Student is a great way for campuses to integrate person-to-person voter registration into existing processes like new-student orientation or classes that reach every student — and be prepared to adapt these online if needed.
Access resources. We have compiled this evolving list of resources to stay up-to-date on election changes and implement new and innovative democratic engagement approaches.
So much about our lives has already changed as a result of the coronavirus pandemic. Now our approach to democratic engagement and student voter participation must also change to meet the needs of this new reality.
There are so many organizations and resources that can support campuses, whether it's their first time creating a democratic engagement action plan or they have deeply institutionalized cultures of engagement on campus. Colleges and universities are uniquely positioned to help increase the health of our democracy while also protecting the health of our communities.
Though the world can seem distant and we can feel disconnected from it, our civic duties are as important as — if not more important than — ever. In time, I will return to an office outside of my own dining room, as will many of you. Until then, there is work we can all do to make sure we are still prepared and working toward higher levels of democratic engagement. We are not actually as distant as we may seem and we can face this new set of challenges together.