Here's a (nearly complete) source of Black women running for office
---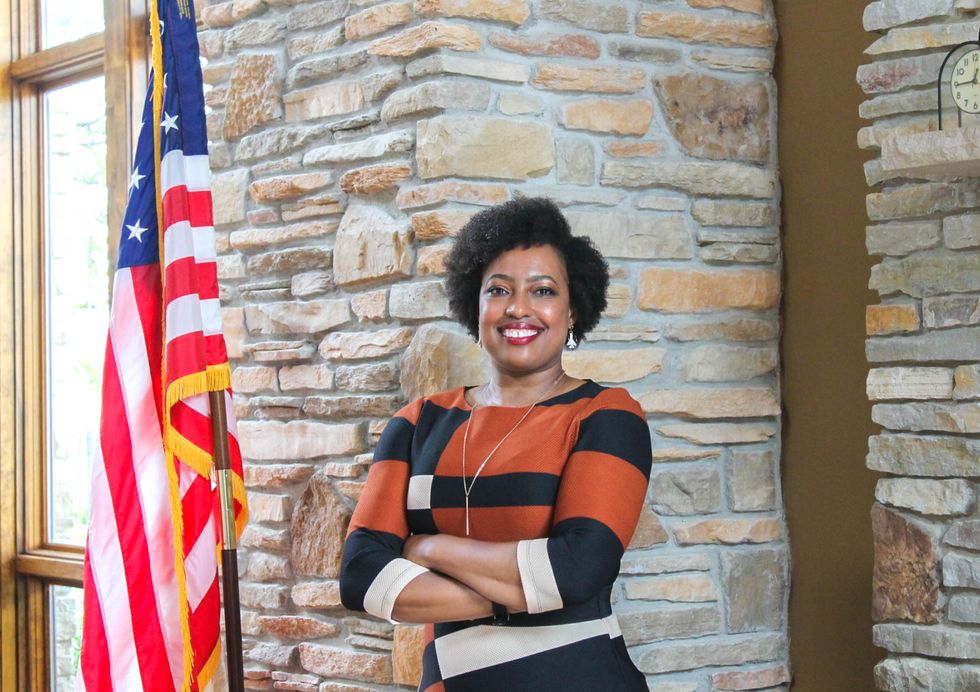 More Black women are running for Congress and governor than ever before. And Higher Heights for America, a group supporting those candidates, has made it possible for voters, the media and others to learn more about them.

Higher Heights' #BlackWomenRun database catalogs the Black women, on both sides of the aisle, running for federal and state offices, as well as for mayor of the 100 largest cities. The site provides links to candidates' websites and social media accounts.
"We are building a network of Black women and allies, donors and members to harness the power of Black women," said Higher Heights CEO Glynda Carr.
She added: "Black women across the country ... are uniquely connected to the power of the voting booth but severely underrepresented." But perhaps that will change after this election cycle.
In House campaigns, 105 Black women are the Democratic nominees (up from the previous record of 89, set in 2020) along with 29 Republicans (up one from 2020).
Among Senate nominees, 16 Democrats are Black women (up from nine in 2020) to go along with six Republicans (up two from 2020).
And in the gubernatorial races, 11 Democratic nominees are Black women (up from five in 2018), along with one Republican (there were two in 2014).
There is a potential for misuse of the database, as women of color in politics are increasingly facing threats from those who wish them harm. But so far, there have been no reports of the site being used for such purposes.
The Voting Rights Lab provides The Fulcrum with a weekly rundown of changes to election laws, relevant court actions and other events affecting how Americans vote. Last week's activity included movement on voting by mail, the use of drop boxes and the rules for fixing (or "curing") ballots.

The District of Columbia Council passed legislation that would send mail ballots to all registered voters, if approved by the mayor and Congress.
New York enacted a new law to protect voters who are sexual violence survivors. And a trial court blocked election officials from processing mail ballots before Election Day.
The Pennsylvania Supreme Court split over whether counties may continue to cure mail ballots and offer drop boxes, allowing a lower court's permission to stay in effect. And a new lawsuit seeks to require Spanish-language ballots in York County.
The Nevada Supreme Court blocked Nye County's planned hand count.
What's your take on election integrity?
As early voting gets under way, we've seen record numbers of people voting early in the 2022 midterms. The convenience of being able to complete a ballot at home or cast a ballot at an early voting center is catching on – in some jurisdictions, more than half the ballots are expected to be cast through early voting.
What's your take on early voting and election integrity?
Will you vote early? Why or why not?
What is your opinion on our election integrity? And what informs your opinion?
Email your responses to our co-publisher Debilyn Molineaux. Responses received by 8 p.m. on Wednesday will be considered for publication on Friday.
Also in the news
Women passing men at the polls (Politico)
DeSantis breaks with Trump on early voting: 'Can't be complacent' (ABC News)
Clerks battle false claims as they prepare to administer elections (NPR)
The Vulnerabilities of Our Voting Machines, and How to Secure Them (The New Yorker)
Why Does Polarization Happen? (Psychology Today)
Upcoming events
Abortion and the Supreme Court: Politics Over Law? - USC Center for the Political Future - Oct. 25
Dialogue Lab Leader Training - Ideos Institute - Oct. 25
Promising Practices Webinar: Creating a Civic Learning Environment - National Civic League - Oct. 25
Moving From High Conflict to Healthy Conflict - Living Room Conversations - Oct. 25
The Obama Presidency: The Hope and The Legacy - USC Center for the Political Future - Oct. 26
Dialogue Lab Leader Training - Ideos Institute - Oct. 26