Kevin McCarthy accused of making a 'corrupt bargain' to be speaker
---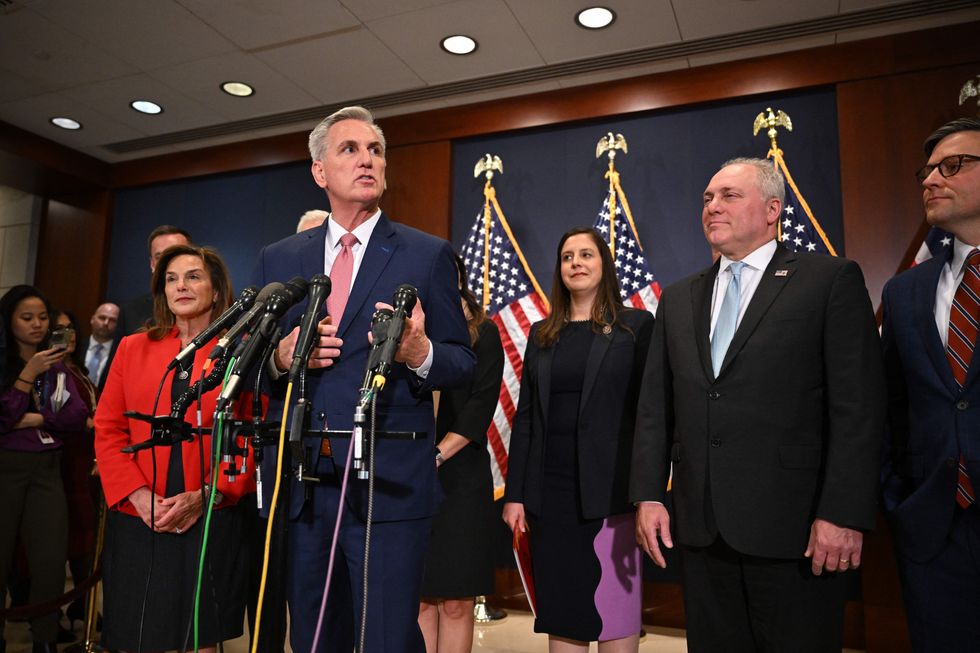 Rep. Kevin McCarthy has been the top Republican in the House while the chamber has been controlled by Democrats. Now, with the GOP capturing a slim majority in November, he has his sights set on becoming speaker in January.
But that same slim majority means he needs the support of nearly every Republican colleague in order to capture the top spot. And with various factions making demands, McCarthy may need to make promises to win all that support.
Enter Facts First USA, a new group founded by ex-Rep. David Jolly, who left the Republican Party, and Democratic strategist Maria Cardona. With Republicans promising a slew of probes into the Biden administration, they launched Facts First to "be the leading rapid response organization providing information to the public in the face of House Republican investigations."
But first they are keeping an eye on McCarthy's negotiations with fellow Republicans, fearing he may engage in a "corrupt bargain" like the one that installed John Quincy Adams as president following the 1824 election.
"The corrupt bargain comprises specific promises and concessions being made to right wing caucus members to advance their own narrow special-interest partisan agendas that ill serve the American people," Facts First wrote in a memo to its allies.
Jamelle Bouie, a columnist for The New York Times, who believes a fundamental contradiction is holding back democracy. "Americans take for granted the idea that our counter-majoritarian Constitution — deliberately written to constrain majorities and keep them from acting outright — has, in fact, preserved the rights and liberties of the people against the tyranny of majority rule, and that any greater majoritarianism would threaten that freedom," Bouie wrote.
He recently joined the Democracy Works podcast to discuss that belief and why he is studying Reconstruction for lessons that can help today.
Also in the news
Trump Immunity Claim in 2020 Civil Rights Suit Rejected by Judge (Bloomberg)
Boston to weigh teenagers voting in local elections (WGBH)
S. Carolina's US House maps under scrutiny because of race (The Associated Press)
More than 400,000 cast ballots in early voting in Georgia Senate runoff (The Washington Post)
Upcoming events
Talk to Connect: Bringing Humor to your Holiday - Living Room Conversations - Nov. 29
Promising Practices Webinar: Embedding Engagement in Climate Policy - National Civic League - Nov. 30
Democracy Happy Hour - Fix Democracy First - Nov. 30
Volunteers: We've got a job for you! (Info Session) - Crossing Party Lines - Nov. 30