Meet the reformer: Justine Lee, who says it's more than just a meal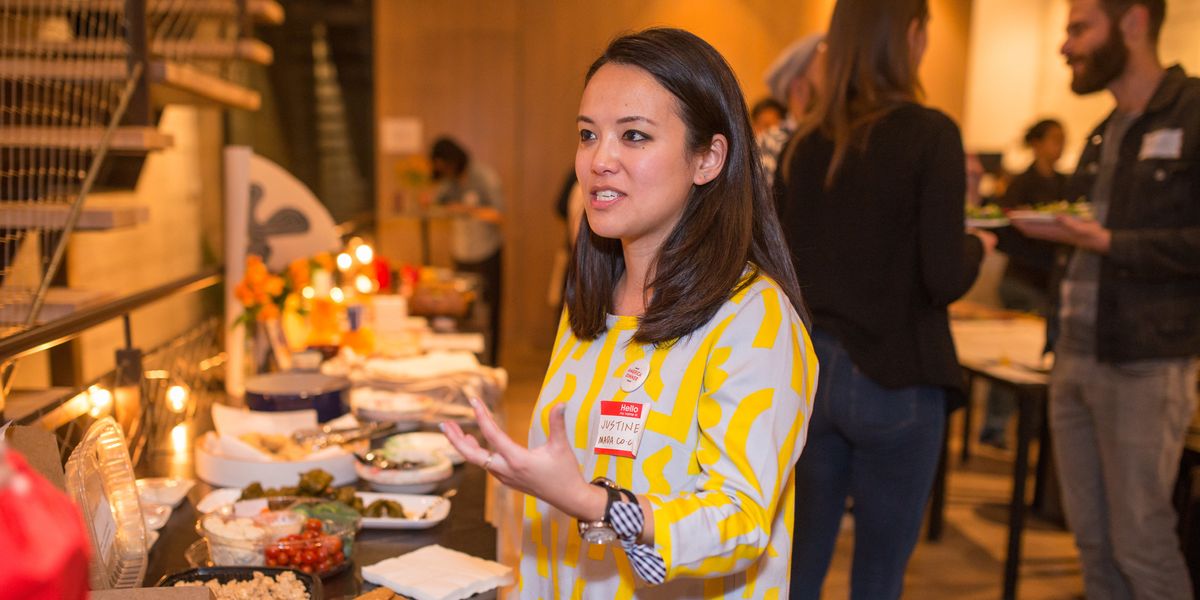 Justine Lee
After a series of jobs in marketing and media during her first decade after college, Justine Lee was motivated by Donald Trump's election to augment her career. She created Make America Dinner Again based on this simple premise: Gathering politically diverse strangers for good food and guided conversation about hot-button issues could improve listening skills and enhance cross-ideology understanding — and as a result make a small but meaningful dent in the polarized partisanship at the core of our democracy's challenges. Thousands of dinner participants and almost four years later, there are chapters in a dozen cities. Lee runs the operation in New York while working as an audience development consultant. Her answers have been edited for clarity and length.

What's the tweet-length description of your organization?
We do not aim to change minds, but to help people grow by sharing stories and learning from one another. There are many avenues to protest, donate, fight and be heard; our gatherings are an avenue to listen.
---
Describe your very first civic engagement.
This will age me, but the first I remember is voting in Pennsylvania's 2008 Democratic presidential primary during senior year at Carnegie Mellon in Pittsburgh. I voted for Barack Obama even though my friends were for Hillary Clinton. I was drawn to Obama's backstory, intelligence and confidence, his ability to speak clearly and passionately, and his capacity to capture hope. He was the underdog at that point in the race and that appealed to me, too.
Sign up for The Fulcrum newsletter
What was your biggest professional triumph?
If it has to be one moment, then when one of our earliest dinners was featured on NPR. As a result, we heard from hundreds of people across the country interested in hosting their own dinners — participating and collaborating with us. That moment planted a seed with a big audience that respectful dialogue about politics is possible. But the real triumph has been in the journey. I take pride in growing from our first meal in San Francisco to hundreds across the country, and in partnership with one of my closest friends. We've created and nurtured a community that exists against many odds.
And your most disappointing setback?
Not being able to find a publisher for a MADA book to be written with co-creator Tria Chang. We were eager to tell the story of our bridging work through vignettes about our dinner guests. We also liked the idea of having a book as an artifact to memorialize our work in the context of the political moment. It was disappointing that publishers passed on it, but writing the proposal did help us take stock of our progress and "assets," refine our vision — and get a glimpse into the world of publishing.
How does your identity influence the way you go about your work?
My Taiwanese immigrant parents came to the U.S. for graduate school. They lived off small stipends, learned English in between classes, faced discrimination — and generally struggled to find their place and make sense of a new culture and environment. With hard work, good timing, favorable immigration policy and a good economy, they were able to build a comfortable life for me and my brother. Through their example and guidance, they instilled in me tenacity and the practice of gratitude. I learned from them the ability to not be discouraged by rejection, recession or moments of self-doubt. They taught me life might not work out the way you planned or wanted, in small and big ways, but there is always something to be thankful for and it's important to honor that.
What's the best advice you've ever been given?
This quote from Steven Pinker, the cognitive psychologist, linguist and popular science author: "We will never have a perfect world, but it's not romantic or naive to work toward a better one."
Create a new flavor for Ben & Jerry's.
It's called It Takes Two to Taro and it's based on one of my favorite root vegetables, which is often used in Asian cooking and desserts. This is cheesy, but taro's light purple color is a blend of red and blue, and that represents my group's spirit of bridging divides.
What's your favorite political movie or TV show?
For laughs, "Veep." I've heard it paints a more accurate picture of politics than "House of Cards," which I also enjoyed. These days, I've been listening to "The Weeds," the Vox policy and politics podcast. It truly gets into the weeds. And I find the banter, and the sometimes long-winded explanations full of details, comforting and illuminating.
What's the last thing you do on your phone at night?
Scroll through Twitter! It's a bad habit.
What is your deepest, darkest secret?
I rarely read all the dozens of extracurricular articles open on my browser. At the end of each week, I "clear" my tabs by bookmarking them with the intention to get to them at "another time."