The Fahey Q&A with Daela Taeoalii-Tipton, who pushed for Virginia's new mapmaking rules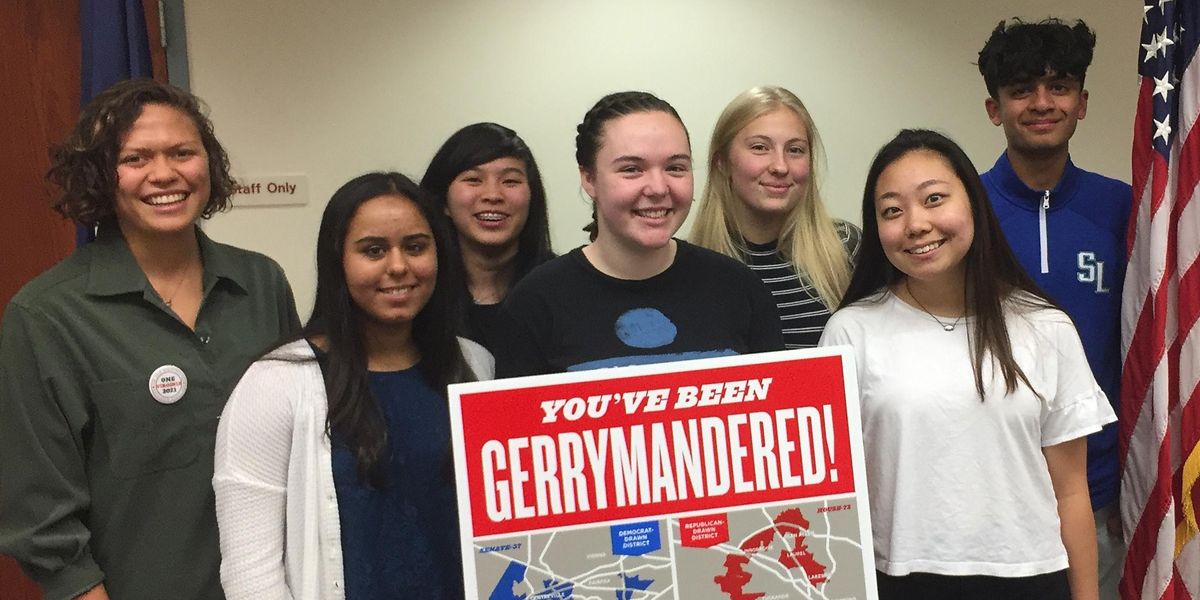 Courtesy Daela Taeoalii-Tipton
After organizing the
Voters Not Politicians
2018 ballot initiative that put citizens in charge of drawing Michigan's legislative maps, Fahey became founding executive director of
The People
, which is forming statewide networks to promote government accountability. She interviews colleagues in the world of democracy reform each month for our Opinion section.
Since graduating from Stanford with a degree in earth systems, Daela Taeoalii-Tipton has come to realize that democracy reform is a key step toward achieving environmental justice. Last year she joined Green Corps, which connected her with the passionate movement working to eliminate partisan gerrymandering in Virginia. She went on to serve as deputy director of FairMapsVA, which helped persuade 66 percent of the state's voters to approve a new commission for drawing the state's legislative and congressional boundaries.
Our recent conversation has been edited for clarity and brevity.
---
Fahey: Tell us about your win!
Taeoalii-Tipton: Question 1 was approved 2-to-1, really exciting and better than we anticipated — because there were some large counties with Democratic bases that had come out against it. Even with that opposition, voters chose a bipartisan redistricting commission, which will bring citizens to the table, over the status quo. Our campaign immediately made it clear in our post-election announcement that, regardless of how you voted, we're here to collaborate and do our best to have the most successful redistricting process possible.
Fahey: Can you explain how this changes the way electoral lines are drawn in Virginia?
Taeoalii-Tipton: Instead of the politicians in power picking their voters every 10 years — as has always been done in Virginia — eight legislators and eight citizens, balanced by party, will draw districts in a completely transparent way. For the first time, there will be public meetings and hearings so citizens can be informed on the drawing of fair maps. The amendment also creates new civil rights protections in the state Constitution, which is important since the Voting Rights Act got weakened by the Supreme Court in 2013. No matter what happens at the federal level, there are now protections in our Constitution to make sure "districts shall provide, where practicable, opportunities for racial and ethnic communities to elect candidates of their choice."
Sign up for The Fulcrum newsletter
Fahey: Can you explain the enabling legislation and why it's important?
Taeoalii-Tipton: The law, enacted two weeks after Election Day, takes our commission to the next level. The General Assembly simply won't approve constitutional amendments that are many pages long, so our ballot measure only set the framework of the commission. The enabling legislation restricts conflicts of interest by prohibiting commissioners who have served in a partisan capacity. It ensures commissioners reflect the diversity of Virginia. It dictates transparency, with all commission data public under the Freedom of Information Act. And if the commission is unable to agree on maps or the General Assembly doesn't approve the panel's maps, which means the state Supreme Court of Virginia has to step in, it requires the court to appoint one person from each party to draw the maps.
Fahey: The application for citizens to serve on the commission is already open. Who should apply and how can they?
Taeoalii-Tipton: We want to see a diverse applicant pool so the commission ultimately reflects the state's racial, ethnic, gender, and geographic diversity. You don't need to have data analysis skills or experience with mapping software to be qualified. The best commissioners are going to care that communities are fairly represented by district maps — citizens involved in their local communities and good at listening to others. Potential applicants can find information online. The deadline to apply is Dec. 28.
Fahey: How did your previous work lead you to redistricting reform?
Taeoalii-Tipton: I grew up in Salt Lake City, surrounded by beautiful mountains and deserts, and one of my favorite things was going outside to learn about the local ecosystems. My college work focused on food sovereignty and climate change adaptation because my family is Pacific Islander — they're from Samoa and Tonga — and climate change is a really big issue there. I was mystified to learn how, even though many Americans support climate action regardless of party affiliation, our policies and politics don't reflect that. Digging deeper, I learned about the pitfalls of our democracy and the power of organizing to promote long standing change that's impossible for politicians to ignore. Though not directly related to issues like environmental justice, democracy reforms are foundational to ensuring all of our voices are valued and our elected officials truly represent the people.
Fahey: Your initiative is unique in that the two major parties actually worked together on reform. How did your group foster such bipartisan support?
Taeoalii-Tipton: There was a strong emphasis on making sure our board was bipartisan and the legislators we worked with were bipartisan. That meant Republicans who voiced their support for redistricting reform when their party held control of the General Assembly, and Democrats who advocated for reform even when they took the majority last year. But we also were purposeful in our communications: We wanted volunteers and voters to understand that redistricting affects all of us, and just because you may have a representative that truly represents you, that doesn't mean all folks enjoy the privilege. We helped voters understand that both parties gerrymander, all voters suffer, and that's why it's so important to have a nonpartisan movement.
Fahey: If you were speaking to a high school student or a new immigrant to this country, how would you describe what being an American means to you?
Taeoalii-Tipton: I sometimes struggle with this because the foundation of our country has been cracked from the beginning, based on who was in the room writing our founding documents, the enslavement of African people and the stealing of land and livelihood from indigenous peoples. Sometimes it's hard for me to see how our country could ever move past that. But working in this nonpartisan movement and seeing people come together to recognize the sovereignty of one another's voice and votes — regardless of background and party affiliation — has helped me feel so much more hopeful about our country moving forward.