American democracy movement on the rise
Jun 10 2019
Silver is the director and co-founder of RepresentUs, a right-left anti-corruption group.
We see the breathtaking headlines so often, it's hard to muster the sadness and outrage they deserve: Nearly half of American families are unable to afford basics like housing and food. Bloomberg News reports that nearly 40 percent of Americans would struggle to cover a $400 emergency. Low unemployment and headlines about a strong economy bely massive swaths of Americans struggling just to make ends meet. Our roads and bridges are in disrepair. Average life expectancy, infant mortality, our educational system, and myriad other indicators continue to fall in global rankings of developed nations. Public trust in government and our elected leaders is anemic, while gridlock and polarization define politics. A soft civil war is driving everyday Americans apart in dangerous, foreboding ways.

But amidst this bleak landscape, something special is happening across our nation. Record numbers of Americans, liberal and conservative, are connecting the dots between the political dysfunction and its root cause: broken election, campaign finance, and ethics laws that skew incentives, and actually cause our elected leaders to behave badly. In 2018, a record number of democracy reforms won at the ballot and in state legislatures: anti-gerrymandering, ranked-choice voting and transparency, to name a few. Laws that empower voters with more choice and more voice, and restore trust in American democracy. The victories were driven by local grassroots leaders from the right and the left, finding common ground in support of common sense solutions. Washington politicians could learn a lot from what's happening in the states where people are putting country over party.
The movement's recent wins were celebrated—and the next wave of reform was mapped out—at the Unrig Summit in Nashville earlier this year. More than 2,000 people, including attendees from all fifty states, participated in what was the largest gathering of this cross-partisan democracy movement to-date.
What's really powerful about this is that if you look at the arc of American history, this is how change happens. From women's suffrage to marriage equality, from prohibition to term limits, reforms that faced seemingly insurmountable obstacles in Washington, D.C., prevailed across the nation. This is how change happens.
---
It is now up to us – every American – to take this nascent democracy movement and turn it into a big, powerful democracy movement: to leverage the momentum from these local victories, and begin shifting it from a political movement to a cultural movement. Issues such as marriage equality and criminal justice made progress because they were able to take once-obscure issues and make them kitchen table issues.
To do that we need to get 3.5 percent – or 11 million Americans – actively engaged in the American democracy movement. Why this number? A study from Columbia University looked at data from 1900 to 2006 and found that every political movement around the world that got 3.5 percent of the population actively engaged in their cause won.
Progressives and conservatives can unite around the reform that makes all other reforms possible. Skeptics of strange bedfellow coalitions need only look at the math. According to Gallup, only 26 percent of the country is liberal, 35 percent is conservative, and another 35 percent are moderates. No single ideological segment can win alone. And polling indicates that all of these groups support policies that unrig politics. And they must be the right policies; those that sit at the intersection of policy impact and political viability. Policies that are transformative, game-changing and winnable, backed by a unified movement that is singing from the same hymnal in a way that goes beyond cerebral arguments and deeply connects with voters at an emotional level.
That's the key to winning. This is how we reclaim our precious democracy. And if we do it well, we can manifest a future where our leaders put country over party. Where voters matter more than big donors. Where we have real, meaningful choices on Election Day, and where civility and compassion define, rather than defy, government.
Millions of Americans feel that we the people are destroying ourselves from within. But I have faith, because nearly all of us care deeply about this earth and all the people on it. Millions more Americans are having the lightbulb moment when we realize that unrigging our political system holds the key to advancing the issues we care about most and making our country work for everyday Americans.
I've never been more certain that if we take the 2018 wins and we unite around this vision, we will continue to see a massive upswell of reforms sweep across America—all the way to Washington, D.C. Today, there are more than 100 important campaigns coalescing across the nation for 2019 and 2020: from ranked-choice voting in Massachusetts, to dark money disclosure in Arizona, to anti-gerrymandering in Arkansas, there are dozens of other emerging campaigns in cities and states across the United States. These reforms hold the key to fixing our political system and ultimately breaking the cycle of corruption in American government.
Related Articles Around the Web
From Your Site Articles
Alex Wong/Getty Images
Stacey Abrams, who gained national attention during her failed 2018 bid for the Georgia governorship, is urging Congress to restore federal oversight of elections in some states.
Had she won the extremely close contest, Abrams would now be the first black female governor in America. She and her fellow Democrats maintain the election was not fairly conducted in part because her Republican opponent, Brian Kemp, was secretary of state – and therefore Georgia's top elections official – at the time.
Abrams was the most prominent witness Tuesday at a House Judiciary subcommittee hearing on civil rights and elections in the six years since the Supreme Court eviscerated the heart of the 1965 Voting Rights Act. In Shelby County v. Holder, the court struck down the part of the law requiring advance federal approval before any changes in voting laws or practices in parts of country with a history of voter discrimination. All of Georgia had been subjected to this so-called preclearance requirement, which the court ruled is now unconstitutionally outdated.
Calling for Congress to come up with a new system for preclearance that could withstand another such challenge, Abrams said that jurisdictions formerly covered by the law "have raced to reinstate or create new hurdles to voter registration, access to the ballot box, and ballot counting."
Abrams said a voter registration group she created in Georgia, which was active in her 2018 race, submitted thousands of forms to Kemp's office and soon discovered "artificial delays" in processing those registrations. The state's requirement that names on registrations exactly match records of other government agencies sidetracked thousands more.
Both practices had a greater impact on black citizens, she said, because they are more likely to register through third-party groups like the one she founded, Fair Fight Action.
And both, she said, would have been stopped in advance under preclearance.
Abrams also charged that Kemp improperly purged names from the voter rolls.
"By denying the real and present danger posed by those who see voters of color as a threat to be neutralized rather than as fellow citizens to be engaged," Abrams said, the six-year-old Supreme Court ruling "has destabilized the whole of our democratic experiment."
After the election, Abrams created Fair Fight Action to combat the tactics used against her. It has also sued the Georgia secretary of state and is asking the federal courts to revive preclearance for any election law changes in her state.
House Democratic leaders have written legislation creating a new set of rules for the Justice Department to use in determining which states must get such preclearance, and it has more than enough sponsors to pass. But the bill would almost certainly be shelved by the Republicans in charge in the Senate.
Related Articles Around the Web
From Your Site Articles
The National Institute for Civil Discourse has a message for the 20 Democratic presidential candidates who will participate in debates on Wednesday and Thursday nights: Remember first grade.
In other words, don't poke your neighbor, wait your turn, and if you can't say something nice, don't say anything.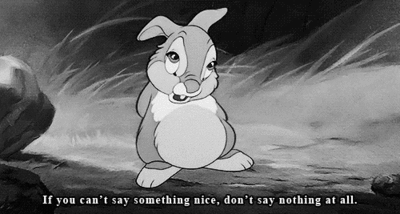 Giphy
Seriously, the institute, which studies and promotes civility in political debate is reminding candidates of standards it developed in 2015 in advance of the last presidential election season.

They say that politicians living up to basic standards of civility, especially when they're on national television, is essential if the angry tribal nature of America discourse is ever going to ease. "Zingers and insults might get headlines, but it's leading to a culture of candidates who stand out by throwing punches and amplifying the polarization of our politics," said Keith Allred, the institute's executive director.
The guidelines for the candidates are:
Be respectful of others in speech and behavior.

Giphy

Answer the question being asked by the moderator.
Make ideas and feelings known without disrespecting others.
Take responsibility for past and present behavior, speech and actions.

Giphy

Stand against incivility when faced with it.
The institute also developed guidelines for the moderators of the debates. (NBC and MSNBC are providing the ones for these debates.) They are:
Address uncivil behavior by naming it and moderating the conversation to move toward more respectful dialogue.
Enforce debate rules equally.
Hold candidates accountable by challenging each candidate to speak the truth and act with integrity.

Giphy

Treat all candidates equally in regard to the complexity of questions and debate rules.
Be respectful when interacting with candidates.
The NICD said its five-point plans for all the participants emerged from research on deliberation techniques, surveys to gauge citizens' definitions of what constitutes civil and uncivil language in public life, and conversations with elected officials and members of the press.
Related Articles Around the Web
From Your Site Articles