Big win for voting rights: S.C. drops demand for full Social Security numbers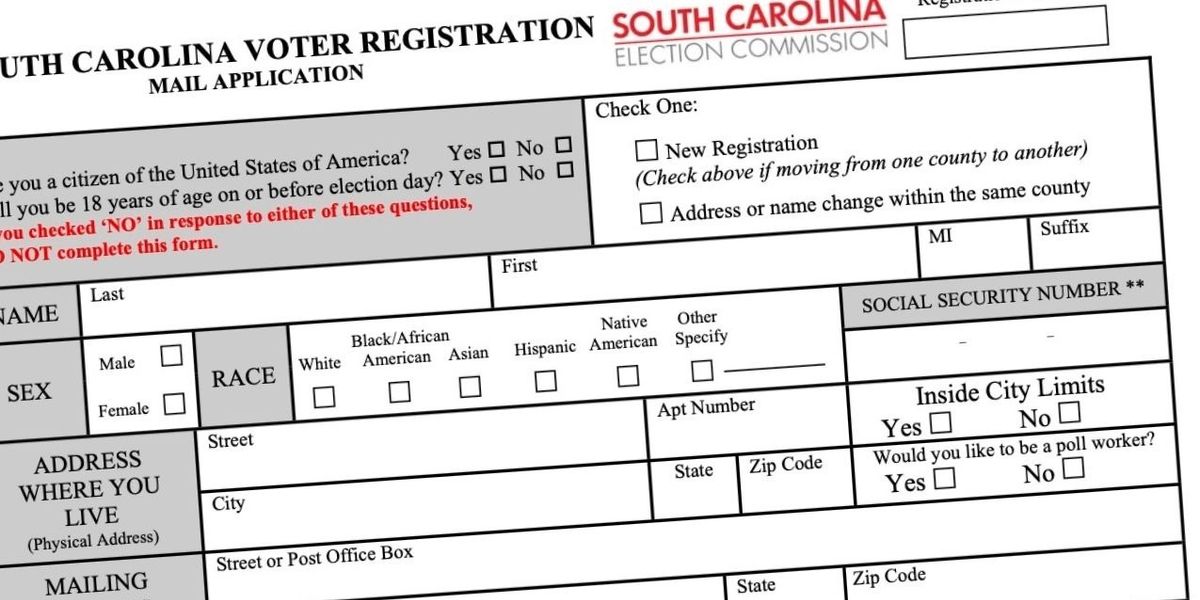 South Carolina Election Commission
South Carolina has agreed to drop its requirement that people registering to vote disclose their full Social Security number, Democratic campaign leaders announced Tuesday.

They hailed the agreement — in response to a lawsuit filed by the state's Democratic Party and the party's Senate and House campaign arms — as one of the most important victories yet for one of their major 2020 strategies: filing voting rights lawsuits in many competitive states, hoping the courts will strike down an array of election regulations in time to help boost the party's turnout this fall.
"This is a massive early win," said Rep. Cheri Bustos of Illinois, chairwoman of the Democratic Congressional Campaign Committee.
---
One million eligible South Carolinians are not registered, Bustos said, claiming the state's unusual Social Security requirement was part of a successful effort by Republicans to hold down those numbers among African-Americans. Three in 10 people in the state are black and they vote overwhelmingly Democratic.
"These things are still lingering in South Carolina and across the South," the most prominent elected black Democrat in the country, House Majority Whip James Clyburn of South Carolina, said of the history of voter suppression of African-Americans.
Clyburn said black people, especially, are uncomfortable giving out their full Social Security numbers and so the change announced Tuesday should prove a boon to his party. He said state Democrats have a plan in place to begin registering and turning out voters. While the party's chances of coloring the state blue on the presidential map this fall are slim, it is fighting intensely to hold on to one of the party's two House seats and is making a spirited run to unseat GOP Sen. Lindsey Graham.
Sign up for The Fulcrum newsletter
State Attorney General Alan Wilson, a Republican, wrote federal Judge J. Michelle Childs that he was modifying the original 1967 attorney general's opinion backing the requirement of a full Social Security number. While that opinion was still "technically correct," Wilson said, the more modern practice used in millions of commercial and governmental transactions is to require just the last four digits.
Wilson also told the judge his office's views were also changing based on one of his predecessor's formal opinions, which said all doubts on such issues should be resolved "in favor of the right to vote, which is a fundamental right."
Childs has yet to agree to the proposed settlement.
The plaintiffs maintained the rules violate both the First Amendment's rights of speech and political association and the Civil Rights Act, because the requirement creates an unnecessary obstacle to voting.
South Carolina is one of just three states that require full Social Security numbers be included on voter registration forms. The others are Virginia and Tennessee. While federal law has prohibited requiring people to disclose their whole Social Security number since 1974, the states were grandfathered in because their requirements predated that law.
Bustos said the victory shows the value of the strategy put forth by the two campaign committees, which are spending tens of millions of dollars on voting rights lawsuits this election cycle. So far more than a dozen have been filed. "The work is long term; it's a major investment," she said.
According to Bustos, legal victories had already have been achieved in three other states, all of which will be intensely contested this fall after President Trump carried them narrowly last time:
In North Carolina, the General Assembly has reversed the elimination of early voting on the last Saturday before Election Day. Bustos said African-Americans are most likely to vote on that day. State and national Democrats had filed a lawsuit over the issue.
In Michigan, the settlement last summer of a lawsuit funded by the DCCC will make it easier for students on college campuses to register. Changes approved in a ballot initiative in 2018, including no-excuses absentee voting, same-day registration and on-line registration, will make it easier for those students to cast their ballots.
In Florida, a federal judge in November ruled unconstitutional a requirement that all candidates of the party that holds the governor's office be listed first on the ballot. The judge said the requirement had given Florida Republicans an advantage of 5 percentage points in elections over the past two decades.