Trump team sues to stop New Jersey from joining list of vote-by-mail states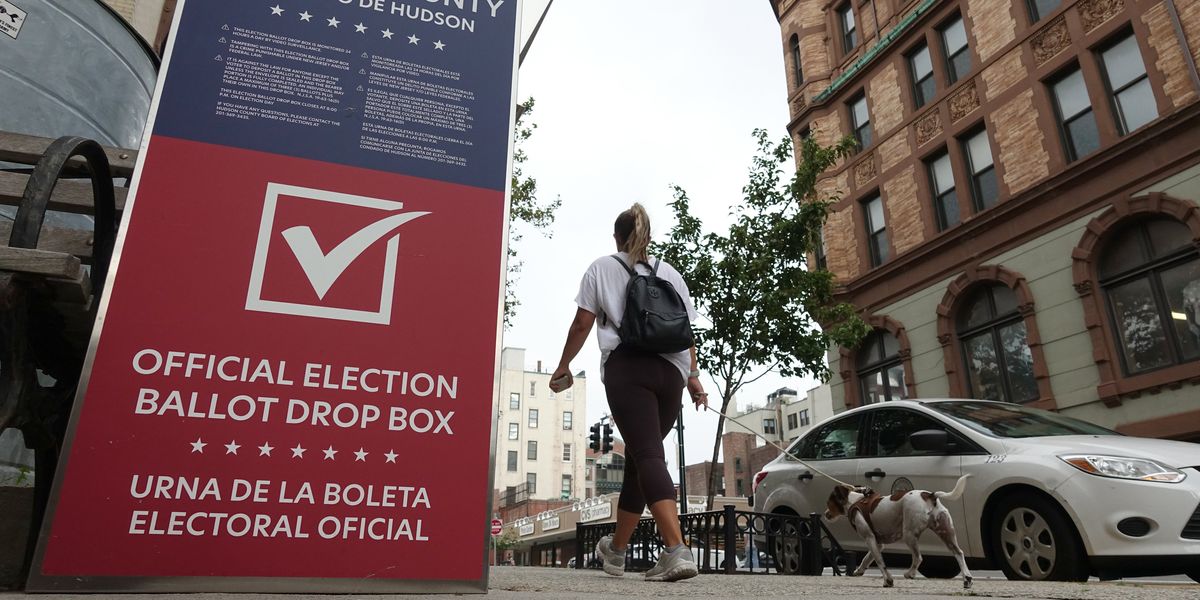 Gary Hershorn/Getty Images
The Trump campaign has sued to stop New Jersey from carrying out its new system for maintaining electoral democracy during the pandemic: sending all registered voters a mail-in ballot but also allowing them to easily vote in person instead.

The lawsuit was filed Tuesday night, just four days after Democratic Gov. Phil Murphy announced the plan.
It's the second time the campaign and the Republican Party have gone to federal court to fight a state's plans for switching to a mostly vote-by-mail election this year — which the president claims without evidence will guarantee widespread fraud aimed at rigging the contest against him. They sued Nevada two weeks ago.
---
The president has sought to draw a distinction in recent weeks between the two main forms of voting from home. He now says the most common system, the voter requesting and returning an absentee ballot, is fine by him — and in fact he did so in this week's Florida primary. But states that proactively send ballots to all voters, he alleges, will mean "millions and millions" of forms never get to a registered voter and instead will be scooped up and cast illegally. This fear has next to no basis in fact.
Sign up for The Fulcrum newsletter
There has been no widespread cheating in modern American elections, and nonpartisan experts say neither party automatically benefits when states expand access to mail-in voting.
Five states were committed before the coronavirus outbreak to holding all elections mainly by mail. New Jersey and Nevada have been joined in making the switch for this year only by California, Vermont, the District of Columbia and almost all of Montana.
Trying to reverse the switch in Nevada, which Trump has a shot at carrying, has some viable political rationale because Republicans tend to do better in low-turnout contests. The same goes for Pennsylvania, where the campaign filed its first lawsuit with a different objective — trying to reverse easements to the rules for using mail-in ballots this year.
But, beyond the fact that Trump was at his New Jersey golf club as the new election plan was announced, it's not clear why his team decided to spend resources suing in one of the nation's bluest states. He got just 41 percent of the vote there last time, the seventh straight loss of the state by the GOP nominee, and in the 2018 midterm the Democrats picked up three House seats and now hold 10 of 12. Three of those congressional seats are being hard-fought this fall, but there are no state contests on the ballot.
The main legal rationale for the suit is that Murphy made a "brazen power grab" and unconstitutionally seized powers belonging only to the Legislature when he changed election procedures by executive order.
Friday's order says all 6.3 million registered voters will be sent a ballot and that plenty of secure drop boxes will be available as an alternative to mailing them back. In addition, Murphy said over the weekend, he will also order an extension so that ballots postmarked by Election Day but delayed in the mail will be tabulated.
For those who want to vote in person, at least half the normal number of polling places will be open Nov. 3, but people who show up there will generally have to cast provisional paper ballots — which won't be counted until election officials determine that a duplicate did not also arrive in the mail.
This hybrid system "will violate eligible citizens' right to vote," the GOP lawsuit alleges. "This massively increased volume of provisional ballots raises grave concerns about increased lines and wait times to vote and the state's ability to properly process each and every provisional ballot."
The suit points to the recent case of voter fraud in a municipal election this spring in the state's third largest city, Paterson. And Justin Clark, Trump's deputy campaign manager, wrote an op-ed for The Wall Street Journal pointing to a 2016 investigation by the Asbury Park Press that found 2,460 voters on the New Jersey rolls had been dead at least five years and 60 had cast votes from the grave. The paper said, however, that clerical failures were to blame and that no fraud was suspected.