The state of voting: May 16, 2022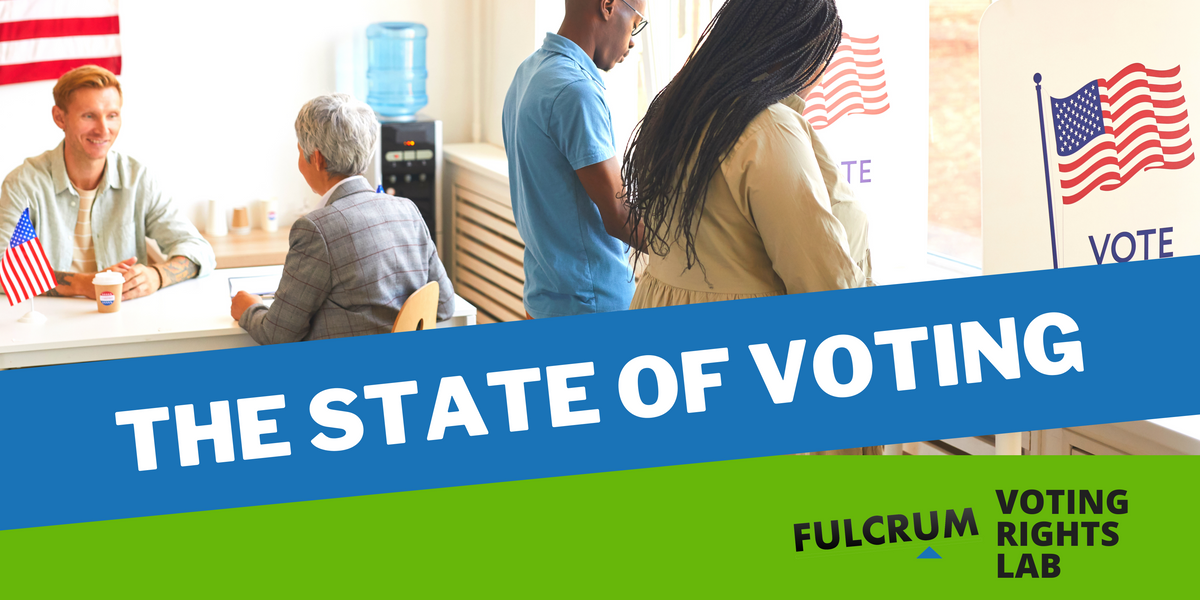 This weekly update summarizing legislative activity affecting voting and elections is powered by the Voting Rights Lab. Sign up for VRL's weekly newsletter here.
The Voting Rights Lab is tracking 2,131 bills so far this session, with 573 bills that tighten the rules governing voter access or election administration and 1,015 bills that expand the rules. (The total number of tracked bills dropped significantly from last week because VRL no longer includes legislation related to redistricting.)
Lawmakers in Missouri and New Hampshire are leading the news this week after sending bills that tighten voter ID laws to their respective governors for signature. Kansas enacted new legislation affecting election administration and restricting voter access. South Carolina created in-person early voting, and the same Missouri bill that enacts strict voter ID rules will also guarantee early in-person voting.
The Texas Court of Criminal Appeals (the highest court in Texas) ordered a lower court to reconsider Crystal Mason's conviction because it failed to find proof that Mason knew it was a crime for her to vote while on supervised release.
Looking ahead: Several elections bills remain pending in Arizona, but legislators there are only meeting sporadically due to a continued impasse in budget negotiations.
Sign up for The Fulcrum newsletter
Here are the details:
---
A new South Carolina law creates in-person early voting for the first time in the state. Late on Friday, Gov. Henry McMaster signed H.B. 4919, a new law that will open polling places for in-person early voting for a period of two weeks before Election Day. Prior to the enactment of this new law, South Carolina was one of only six states that did not offer early voting. The bill also restricts absentee voting in certain ways, including a prohibition on drop boxes and a requirement for voters to provide a specific ID number when applying for an absentee ballot. South Carolina is one of 17 states that still require an excuse to vote by mail.
Missouri's legislation creating in-person early voting, but also stricter voter ID rules, is headed to the governor. Both chambers of the Missouri General Assembly took final votes on H.B. 1878 last week, and the bill is now ready for the governor's signature. This bill would create two weeks of in-person early voting, allowing Missouri voters to cast a ballot in-person prior to Election Day, via in-person absentee voting. Following enactment of the new South Carolina law, Missouri is now one of only five states that do not offer in-person early voting. The bill would also make the state's ID law more strict by requiring photo ID for all in-person voting in the state. Under existing Missouri law, voters are permitted to provide a variety of ID types, including certain types of non-photo ID.
New Hampshire's strict voter ID bill passed both chambers and is now headed to the governor. The Senate concurred with the House version of S.B. 418 last week, so the bill – which would make state voter ID law much more restrictive – is now headed to the governor's desk. Current New Hampshire law allows voters without ID to cast a regular ballot if they complete an affidavit affirming their identity, under penalty of perjury. This bill would eliminate that alternative for some voters. Most states with voter ID laws offer an alternative method of voting to ensure the identity of voters without ID can still be verified. This new bill would put New Hampshire in the minority of states by doing away with that option.
A Texas appeals court must reconsider conviction for a woman who voted a provisional ballot while on supervised release. Crystal Mason was convicted of illegally voting in 2018 and sentenced to five years in prison despite the fact that her ballot was ultimately rejected and she contended she was encouraged by election workers to cast a provisional ballot. An appeals court upheld the ruling two years later, but last Wednesday, the highest court in Texas ordered that court to reconsider its ruling because it failed to require proof that Mason had actual knowledge that it was a crime for her to vote while on supervised release. During the 2021 legislative session, House members attempted to amend the voting statute to require prosecutors to prove the specific intent to cast a ballot while ineligible to do so, but that amendment ultimately failed.
Kansas enacted new voter list maintenance and restricting voter access. Kansas enacted a new law requiring election officials to begin the process to purge voters from voter registration lists if they do not cast a ballot for four years. Under current Kansas law, as in most states, non-voting does not trigger a removal process. The new law also requires election reviews through an unspecified process that targets certain jurisdictions.