Long lines, polling site angst, missing ballots sully Georgia primary
https://twitter.com/saramswann?lang=en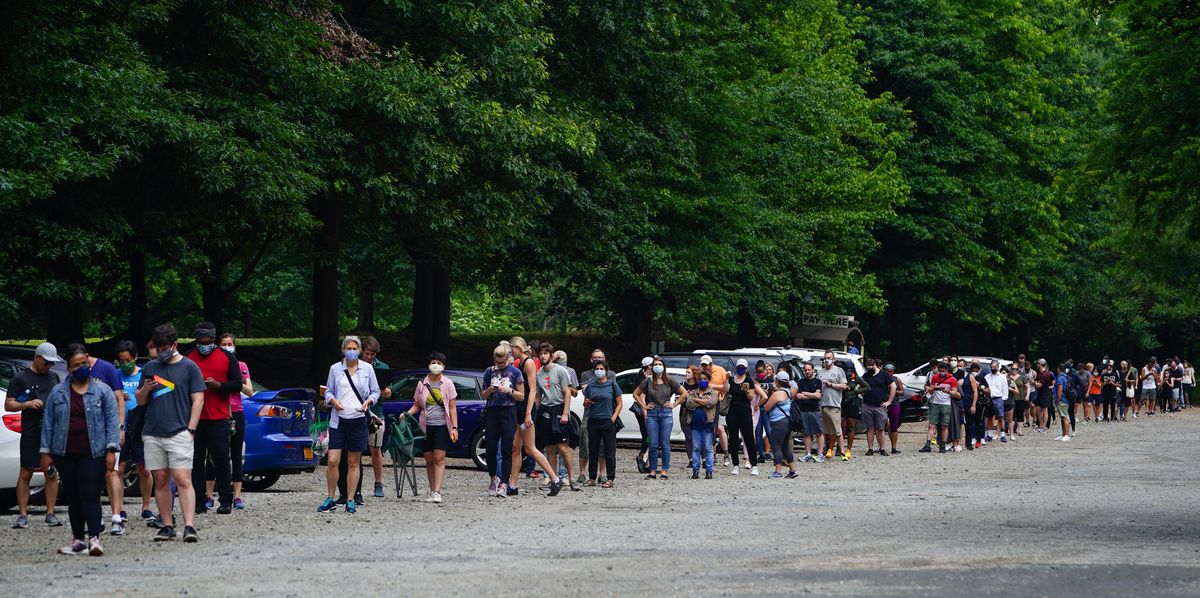 Elijah Nouvelage/Getty Images
It didn't take long for problems to become clear on this month's second big day of voting.

But the challenges seemed almost entirely in one place: Georgia, by far the biggest of the five states with primaries Tuesday, and a rising presidential battleground after emerging as a singular focus of voting rights advocates for two years.
Thousands, especially in and around Atlanta, faced hours-long lines from the time the polls opened — and then were confronted by frequently malfunctioning equipment and diminished teams of inexperienced poll workers. Many others who took the state's advice and sought to vote remotely said they'd never received a mail-in ballot.
The varied troubles with the coronavirus-delayed primary, being conducted after two postponements in the ninth largest state, were the latest foretaste of the myriad challenges facing a presidential election during a pandemic.
---
And that looks to be especially true in places like Georgia, where perceptions of institutionalized voter suppression have already depressed confidence that elections are both healthy and fair — and where this month's protests against excessive policing and racial injustice seem likely to generate a boost in registration and turnout.

The day is "turning out to be a self-inflicted mess," Nancy Abudu of the Southern Poverty Law Center said in the early afternoon. "This is no way to run a democracy in 2020. Georgia state leaders need to learn from today to ensure that for remaining elections this year, every eligible voter can easily cast a ballot and have that ballot counted."
Sign up for The Fulcrum newsletter
State officials drastically reduced the number of in-person polling sites to minimize voters' and election officials' risk of Covid-19 infection, meaning some locations were expecting to see as many as 10,000 voters. Delays because of social distancing and disinfecting practices were sure to compound the delays.
Tuesday was also the debut of paper-backup-generating touch-screen voting booths that have replaced all-electronic equipment statewide over the past two years — and in many precincts, the machines simply did not work.
Long wait times were especially apparent in cities and surrounding suburban areas. Mayor Keisha Lance Bottoms of Atlanta called attention to these issues on Twitter about 30 minutes after polls opened, noting they were confined not only to her city but were spread into suburban Fulton County.
"If you are in line, PLEASE do not allow your vote to be suppressed. PLEASE stay in line," she tweeted. "They should offer you a provisional ballot if the machines are not working."
A record-breaking 1.5 million people responded to an invitation from GOP Secretary of State Brad Raffensperger — sent to all 6.9 million registered voters — and applied to vote by mail, and his office said 96 percent of the ballots requested had been delivered last week. By Tuesday almost 1.2 million early in-person and absentee votes had been cast.
There is not yet a clear understanding of how many more ballots will pour in by Tuesday night and how many were not delivered in time, but many voters who ventured out Tuesday said they did so because their absentee ballot had not arrived.
Fewer than 40,000 people typically vote absentee in a Georgia primary because a particular excuse is normally required.
"Right now, with the nation rife with racial tension and a pandemic laying claim on black lives, it's more important than ever that we show up at the polls and make our voices heard," said LaTosha Brown and Cliff Albright, the co-founders of the Atlanta-based Black Voters Matter Fund. "But we can only do that if leaders do their jobs and make our elections fair, safe, and open."
Gabriel Sterling, the state's voting implementation manager, disputed Raffensperger's reports of equipment problems and blamed a shortage of experienced poll workers because of the coronavirus.
"We have reports of poll workers not understanding setup or how to operate voting equipment. While these are unfortunate, they are not issues of the equipment but a function of counties engaging in poor planning, limited training, and failures of leadership. Well over 2,000 precincts are functioning normally throughout the state of Georgia," Sterling said.
The election includes the Democratic presidential primary as well as partisan primaries for Congress and state offices and some nonpartisan local elections. Interest has been heightened especially for Democrats, who view Joe Biden as a genuine contender for the state's 16 electoral votes and think they have a shot at electing a senator from their party for the first time in two decades.
The elections in the other four states were unfolding with less tension:
Nevada automatically sent all 1.8 million registered voters a mail-in ballot for the primary. As of Monday, more than 343,000 had been returned. Although a majority of Nevadans will vote remotely, in-person polling sites are also available.
North Dakota was the only state Tuesday to conduct its primary exclusively by mail. The state doesn't have voter registration, so election officials sent absentee applications to all residents of voting age, about 585,000. Mail ballots had to be postmarked by Monday to be counted.
South Carolina officials temporarily lifted the excuse requirement for absentee voting, but didn't go as far as to mail applications to every voter. Information on voter turnout won't be released until after polls close at 7 p.m., but participation in the primary is expected to be at a record high.
West Virginia voters were sent applications to vote by mail, but they also had the option to vote in person early and on Election Day. Voters with disabilities were allowed to cast their ballots online. Of the more than 260,000 who requested to vote by mail, 76 percent of them had already returned their ballot before the primary. Ballots must be postmarked by Tuesday and received by June 15 to be counted.